Apologies in advance about this, folks, but it's driving us mad. We got into a Twitter argument with some Tory balloon last night and this morning, and to cut a long story short it got us looking at the 1951 UK general election result.
History records it as a Tory majority, securing just over half of the Parliamentary seats (321 of 625) and forming the government under Winston Churchill despite narrowly losing the popular vote to Labour (48% to 48.8%).
But if you examine the result in the House Of Commons Library the numbers don't add up, and we can't figure out why.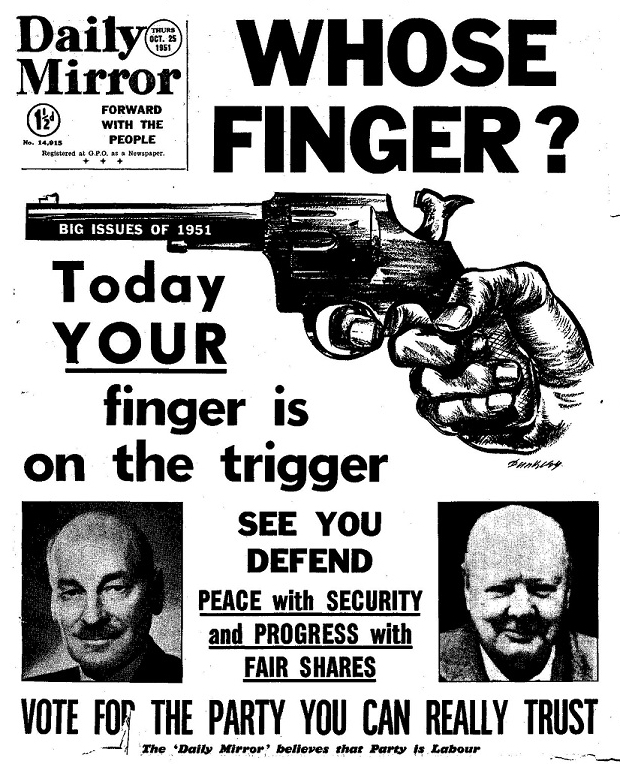 The top-line summary agrees with the one on Wikipedia: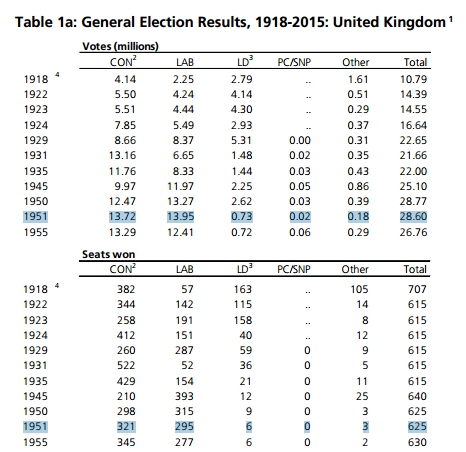 The problem arises when you look at the breakdown for the four UK nations.
In England and Scotland the election was basically a dead heat both in terms of vote share and MPs elected, and Labour had a landslide in Wales that was far bigger than the Tory win in Northern Ireland, so how come Churchill ended up PM?
(In Northern Ireland, the footnotes say that "NAT" means "Nationalist/Anti-Partitionist", which is presumably whatever the 1951 Parliamentary equivalent of Sinn Fein was.)
Because alert readers will have noticed that if you sum the above figures you get this:
CON: 302 (252 England, 35 Scotland, 6 Wales, 9 NI)
LAB: 313 (251 England, 35 Scotland, 27 Wales, 0 NI)
OTHERS: 9 (6 Liberal, 2 Nat and 1 "Irish Labour".)
TOTAL: 624
So for a start we've lost one MP entirely, which seems a little careless. (We thought it might be the Speaker, who gets elected for a party but then becomes a neutral, but since the UK table adds up to 625 that doesn't make sense.)
[EDIT 12.11pm: one such alert reader helpfully advises that "The Barnsley Socialist candidate died during the GE campaign. The seat was contested later."]
But more to the point, how have 302 Tory MPs become 321 and formed a majority government? No matter what you do with the nine Liberals, two Irish nationalists and one Irish Labour MP (and it would appear unlikely that the latter three in particular would ever form any kind of alliance with the Tories), Labour has an absolute majority – 313 is, by the narrowest possible margin, more than half of 625.
Nothing in the notes offers any explanation for where 11 Labour MPs have gone:
According to Wikipedia the Tory 321 is made up of a coalition between the 302 actual Tories plus 19 MPs from the weird "National Liberal" splinter party that was around between 1931 and 1968.
But the HOCL tables say – in footnote 2 – that they're already including National Liberals in the Tory figures that add up to 302. (And indeed they must be, because there are only nine other MPs in total.)
We've written to the HOCL to see if they can shed any light on the matter. But if anyone could explain it to us in the meantime we'd be most grateful.