For independence supporters of a certain age, the 1979 devolution referendum is one of the most infamous moments in Scottish history. While a wafer-thin majority of Scots voted Yes to devolution, an electoral fiddle conceived by a Labour MP meant that it didn't happen, and part of the reason was that in effect, dead people were counted as No votes.
(We won't go into all the details here, but basically an impossible threshold was set for turnout, and people who'd died but hadn't yet been removed from the electoral roll were counted towards the calculation of that threshold.)
We were put in mind of it by an odd development this evening.
Earlier today we were a bit startled when the New Stateman's George Eaton tweeted: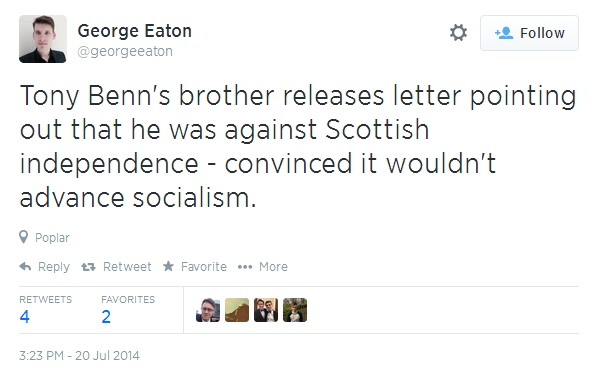 (Alert readers who click the image will note our series of sarcastic joke replies.)
But then this evening the story popped up on the Herald website under the title "Tony Benn would have opposed independence, says brother", having also appeared in the Independent under the even more bizarre "Tony Benn opposed Scottish independence but died before he could say so in public".
Which left us wondering if perhaps we'd been living in some sort of freaky dream world for the last couple of years, because Tony Benn having been opposed to Scottish independence is news on a par with discovering that Tom Jones is from Wales, and he spent half his life expressing that opposition clearly and unambiguously in public.
We've been writing about it on this site since October 2012, and then again in January 2013, and yet again in May 2013, and then on his death in March 2014. It's perhaps the least well-kept secret since Elton John turned out to be gay. So what on Earth is it doing being reported as news when the poor man's been cold in his grave for months?
We can only assume that the press was desperate to report something bad about independence, on a weekend where Jean-Claude Juncker has said an independent Scotland would get preferential treatment over EU membership, a former chief medical officer has said independence would be good for Scotland's health, and a former Scottish Senior Citizens' Unity Party MSP said that "a Yes vote offers our older people the best prospect of a better and fairer pensions system".
(Not to mention a senior former Labour defence minister also backing a Yes, and polls finding a record high number of Labour voters also backing independence.)
All the same, it's a bit of an odd one. Which newly-laid corpse will the No campaign exhume next, so desperately short are they of living volunteers that they're bussing gullible teenagers up from bits of Liverpool to do their lying for them?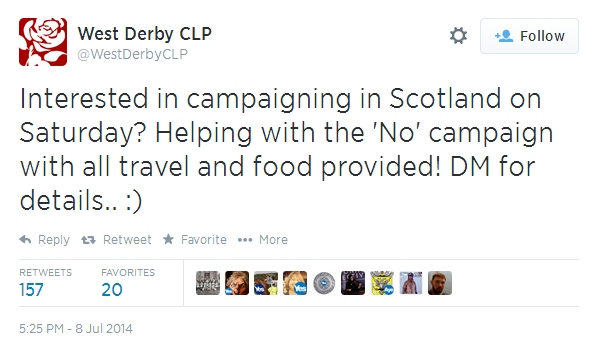 Our money's on Margaret Thatcher. Literally nothing would surprise us any more.