Tony Benn, who died today at the age of 88, was an archetypal British nationalist. He wanted Britain out of the EU, but opposed Scottish independence on the grounds that it would turn his mother into a "foreigner".
Nevertheless, even to a lot of people on the Yes side he represented, in the words of pro-independence New Statesman columnist James Maxwell this morning, "a Britain I could've voted for". (NB Retweets are not necessarily endorsements.)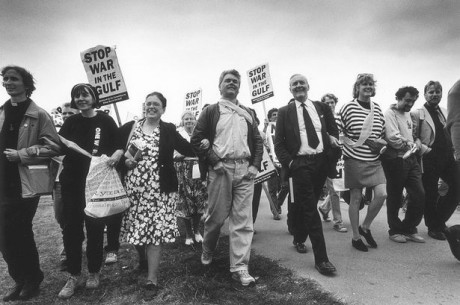 A man who went to court to fight against his own personal privilege, Benn was an anachronism in a country full of politicians who spend much of their time battling to protect their access to the great trough of public money on the banks of the Thames.
So it's no surprise that his passing has unleashed a tidal wave of hypocrisy.
Ed Miliband was quick off the mark to lionise Benn as "a champion of the powerless". But Mr Miliband's Labour takes a rather different attitude to society's downtrodden:
"We were set up as the party to represent the values of working people, working being the key word. We weren't set up as some sort of charity to help the poorest in society – the long-term unemployed, the benefit dependent, the drug addicted, the homeless." (Tom Harris, Labour MP for Glasgow South)
Modern Labour regard the powerless as scroungers and skivers demanding "something for nothing", fit only to be made to endure humiliating "work capability assessments" (introduced by Gordon Brown in 2008) and then forced into unpaid labour for wealthy corporations. Miliband plans to continue and expand the "workfare" programme, pioneered by Tony Blair, if elected in 2015.
(When Benn wrote to the Guardian in 2010 calling for opposition to Tory welfare reforms and austerity cuts, just TWO out of 258 Labour MPs signed his letter.)
But then, none of this is news in the context of Tony Benn. We already knew what he thought of the 21st-century Labour Party, in unequivocal terms. As its scions and tribunes line up to issue streams of hollow platitudes through crocodile tears for TV cameras all day, readers might wish to remind themselves of Benn's view of them.
As a pro-independence, pro-EU site with no aversion to "foreigners", we disagreed profoundly with Tony Benn on subjects relating to nationalism. But on almost every other subject he was a man we held in the utmost respect. The organisation calling itself the Labour Party today is a cynical travesty, an insult to everything he stood for and a complete betrayal of the socialist values Benn espoused for his whole life.
Don't take our word for that. Let the man himself tell you, even as he rests in peace. We don't know how they dare to show their faces today.