This came out quite a few days ago, but didn't get the attention it merited. Once again, we invite readers to ponder the "invisible hypothetical" of whether the Scottish media would have shown such complete disinterest in a piece of investigative journalism which revealed an elected representative of the SNP and some of its prominent activists discussing their own party's complete uselessness.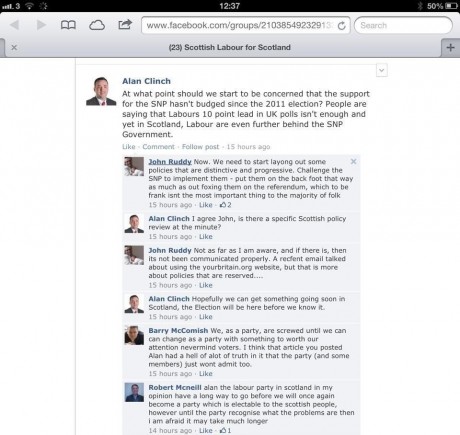 We do accept that Scottish Labour being in shambolic disarray isn't exactly hold-the-front-page stuff, and is in fact somewhere on a par with "Rain forecast for Hebrides" or "Scottish rugby team beaten at Twickenham". But clearly the bar for headline stories is rather lower than it used to be, so you'd think it'd at least get a passing mention.
Alan Clinch, the instigator of the exchange above, is an interesting chap. He's the treasurer of Motherwell & Wishaw Constituency Labour Party and a councillor for Murdostoun in North Lanarkshire, a place which sounds like it should be a neighbouring borough to Burnistoun but apparently isn't.
Back in June 2011, before Wings Over Scotland existed, he wrote one of the only interesting articles ever to appear on Labour Hame, and in my capacity as a "Hamish McSeparatist" I dropped him a line that same day suggesting we might do something about it. We chatted a bit off and on over a few weeks, but never quite managed to agree on a format for a bipartisan discussion and "banter" site, the conversation tailed away and well, the rest is history.
I still agree with the core point of his article, and this site's moderation policy is really all we can currently do to uphold the principle. We are not and don't claim to be impartial, but nobody who comes here from the No camp in good faith has been or will be censored, and we do all we can to encourage commenters to treat others who express dissenting views as they would wish to be treated themselves, if there were any Unionist websites which actually allowed unmoderated comments without habitually block-deleting and banning supporters of independence.
We got back in touch with Alan Clinch, asking if he might like to discuss the subject in one of our debate features, but sadly didn't get a reply. We hope he hasn't been gagged by his party as punishment for the embarrassing leak.
It may be the case that the aim we both share – that of a place where nationalists and Unionists could enjoy a bit of lively to-and-froing and intelligent discourse without it being instantly soured by rancour and trolling – may be an impossible ideal, but we'd still love to see someone give it a try. Remember, folks – whoever wins in 2014, we all have to somehow get along afterwards.
The most workable concept we came up with between us back then was a Facebook page with a moderator from each party (or from the Yes and No camps), where abusive members would be banned but only on a unanimous vote. So we're throwing that germ of a notion out there to see if it might possibly fall on fertile ground. We're a bit too busy to do it ourselves now. But how about you?