In our latest Panelbase poll, as usual we took the opportunity to ask various social-attitudes questions as well as political ones, and some which span both categories. One of the most controversial posts ever on Wings addressed the subject of Gaelic, and having given everyone two-and-a-bit years to calm the hell down we thought we'd see what the Scottish electorate thought.
That's a pretty tight call. Let's have a wee delve in the data depths.
Men were marginally in favour of preserving the language with women a little more strongly against, but the first surprise for us was that the young were far keener than the old. The 16-34 age group scored a net 9% positive (44% to 35%), but the over-55s were heavily against spending any public money on it, by 53% to 35%.
Rather more predictably we found that the issue has become heavily politicised, even despite it notionally having cross-party support throughout the parliament. The Gaelic Language (Scotland) Act – which mandates stuff like the infamous roadsigns – was actually passed in 2003 by a Labour/Lib Dem administration, and even the Tories were campaigning on a manifesto commitment to promoting Gaelic as recently as 2011.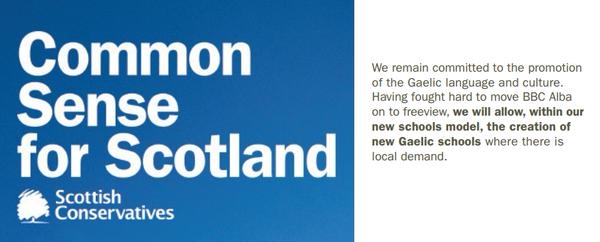 Nevertheless, Yes voters came down in favour of promoting Gaelic by a hefty 21-point margin (53-32), almost precisely mirrored by No voters opposing it by 23 points (31 to 54). There was also a 14-point net positive from Remain voters, set against a 29-point negative from Leavers.
Voters from the two main Unionist parties were the most heavily anti, by margins of 37 points (Tories) and 14 points (Labour), while the Lib Dems were almost dead-heated at 44-43 in favour, with SNP voters backing the ancient language spoken by around 1% of Scots to the tune of a whopping 30 points.
More and more in Scotland, voters are choosing to politicise even the things that the political parties themselves (mainly) don't politicise. It's an interesting and probably not hugely healthy state of affairs. As for our own views on this particular subject, we think ++ KZZZRT ++ TECHNICAL FAILURE ++ PLEASE STAND BY ++