We're going to let this speak for itself.
As we write, the story is almost 14 hours old. As far as we've seen, there hasn't been a single representative of the SNP or Scottish Government interviewed on air, nor has any broadcaster said that they've asked for an interview and been refused.
The Telegraph story has not been edited to note the categorical denials of every single person who was present in the room when the alleged remarks were made. Its Scottish political editor Simon Johnson has declined to offer any explanation for why the First Minister was not asked to comment.
The paper has instead piled on more vitriolic attacks, backed up by other right-wing media insisting that it's true. Numerous other journalists have circled the wagons to defend Johnson and the Telegraph. Chris Deerin of the Daily Mail, characteristically, has taken leave of his senses.
Labour are still doggedly treating the story as true, with the sole honourable exception of Malcolm Chisholm MSP. They've made new tweets about it this morning, and Ed Miliband has appeared on TV calling the claims "damning revelations".
Meanwhile, this has happened: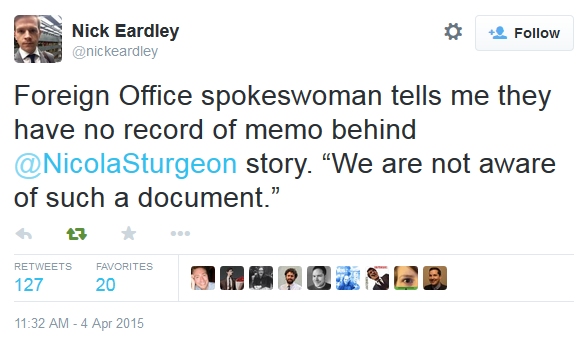 It's hard to keep up with the pace of events. We're doing our best, folks.