As we forced ourselves unwillingly through the full text of the Strathclyde Commission report in the name of professionalism this afternoon, it struck us that perhaps in our partisan haste we'd been just a tiny bit harsh on it.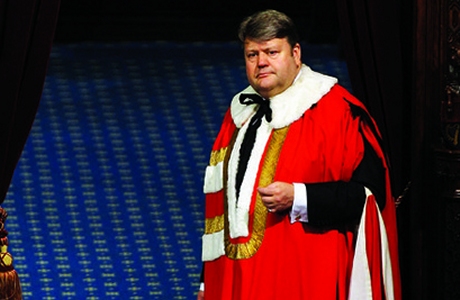 After all, while the extension of tax powers is at best an empty charade and at worst an expensive millstone around the neck of the Scottish Government's budget, and the proposals for devolving elements of welfare vague and highly unlikely to ever be implemented, there are a couple of recommendations that would, while minor in the context of Holyrood's overall finances, at least be welcome.
Something nagged at the back of our mind, though.
Lord Strathclyde is unambiguous about Air Passenger Duty, a tax the Scottish Government has long wanted control of. "We consider that Air Passenger Duty should be devolved", says the report on page 15. And on VAT, while a lot less forthright, he does put forward a case:
"Were it not illegal under EU law, we would have been inclined to recommend that VAT be devolved to the Scottish Parliament.
Well, that's a shame.
"However we recommend that, as an alternative, there should be serious examination of the case for a share of VAT receipts raised in Scotland being assigned to the Scottish Parliament. This would mean that Scottish Ministers would get the benefit of any increase in economic activity in Scotland and would thereby reap a fiscal reward were their economic policies to prove effective."
Now, "serious examination of the case" is a hefty dose of weasel words – wasn't "examining the case" exactly what your commission was supposed to be doing for the last 15 months, your lordship? You looked into it for a year and a quarter and arrived at the conclusion that someone should look into it? Well, take a lollipop for trying.
But nevertheless, a share of Scottish VAT receipts coming to Holyrood would be an unequivocally welcome step – depending, of course, on whether it was balanced by a reduction in the Barnett Formula, two words which don't appear anywhere in the report.
(Nor does the near-synonymous phrase "block grant". Readers more cynical than us might be tempted to arrive at the conclusion that talking about devolving taxation to Scotland without spelling out exactly what the ramifications for Barnett would be was a staggeringly disingenuous omission.)
So, Air Passenger Duty and VAT? Something tangible, at any rate, and certainly more than Scottish Labour were prepared to offer. But wait. What's this lurking in a dark and dusty corner of the Wings library?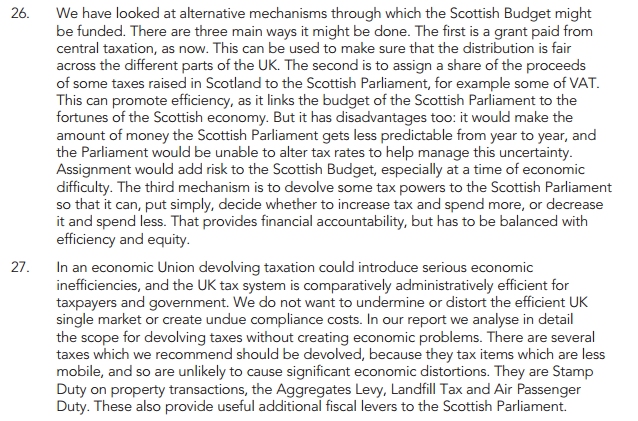 Correct us if we're wrong, readers, but that looks an awful like a couple of paragraphs from the final report of the Calman Commission, published not so long ago (June 2009) after the Unionist parties' supposedly definitive joint deliberation on devolution.
The Calman Commission recommended that Air Passenger Duty SHOULD be devolved, just like the Strathclyde Commission has. It may be worth bearing that in mind when contemplating the likelihood of it actually happening this time.
The Calman Commission also concluded that a share of VAT should NOT be assigned and general taxation SHOULDN'T be devolved, because it could introduce "serious economic inefficiences" – presumably the hundreds of millions of pounds this site has repeatedly pointed out would be wasted on pointless duplication of HMRC resources.
We feel, therefore, that we may be able to hazard a guess at the outcome of the "serious examination of the case" for VAT-assignment suggested by Lord Strathclyde.
(In fairness, Calman rejected it because Holyrood wouldn't be able to adjust tax to compensate in bad years, but while that problem is solved in theory by the proposed devolution of income tax, we've already established why it can't be done in reality.)
Or if you need a tl;dr version of all the above: "Yeah, yeah, heard it before, pal."