If you're a person (unemployed or working) subsisting via state welfare in the UK, there can be no more genuinely, blood-runs-cold, terrifying phrase in the English language than a Tory saying they've come up with "fresh thinking" on poverty and benefits.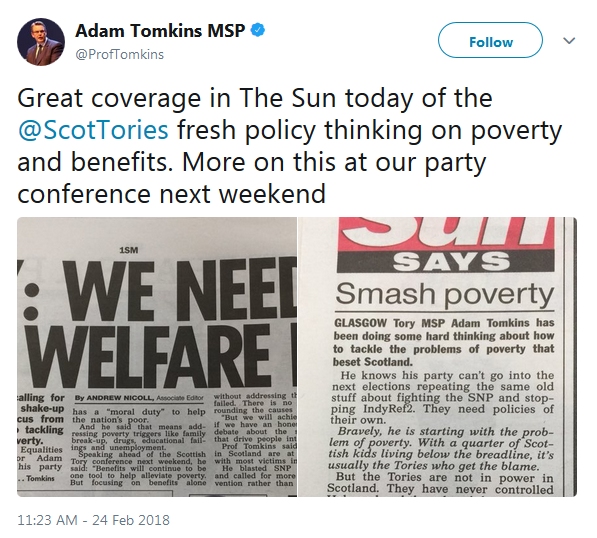 Because – and if you're only going to trust us on one thing in your life, trust us on this – it never, ever means your life's about to get better.
The Scottish Sun is very often unfairly tarred with the brush of its loathsome English counterpart despite being politically a very different beast. While it's obviously by no means a mouthpiece of socialism we'd still place it well to the left of almost every other significantly-sized paper in Scotland other than the Daily Record – certainly more centrist than the Scottish editions of the Mail, Express and Times and beyond much doubt the Scotsman and Herald too, let alone the frothingly-Tory big regional titles like the Press & Journal.
(Describing the Scotsman in particular as "significantly-sized" is an increasingly contentious categorisation, we'd grant you.)
So we're going to cut it a little slack and assume that this morning's editorial was driven mainly by the barren news desert that Scottish politics has been for the whole of February, and the desperation to have SOMETHING to fill the politics pages with other than yet another piece of depressing reader-repellent about the black pantomime of Brexit and the wrangling between the Scottish and UK governments over powers that will or won't come to Holyrood. (PRO TIP: it's "won't".)
"The Tories are not in power at Scotland" is a technically true statement, but in the context of welfare its relevance is inexplicable. Almost all of welfare is reserved to Westminster – despite the very-recent devolution of a small fraction of it – where the Tories very much ARE in power and have been for the best part of a decade.
The editorial describes Tomkins as "brave" for addressing the issue even though it points out that he hasn't actually proposed anything yet. What we do know is that his solution isn't the genuinely revolutionary and radical Universal Basic Income, because after advocating that policy in January last year he did an abrupt U-turn a few months later for no reason he's ever outlined.

And to be honest, if we wanted to see something truly brave we'd invite whoever wrote the editorial to explain to an audience of benefits recipients how government welfare policy of the last couple of decades – under both Labour and the Tories – could be characterised by anyone with even a passing grip on sanity or basic human decency as "throwing money at the problem".

And alert readers may recall that the Tories' last bout of "fresh thinking" on welfare led to the calamitous and ruinous introduction of Universal Credit: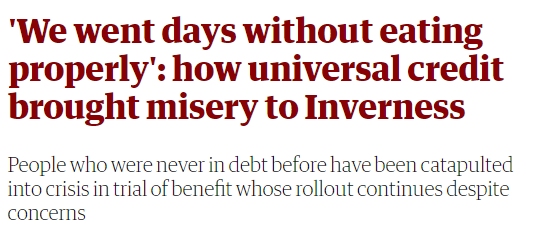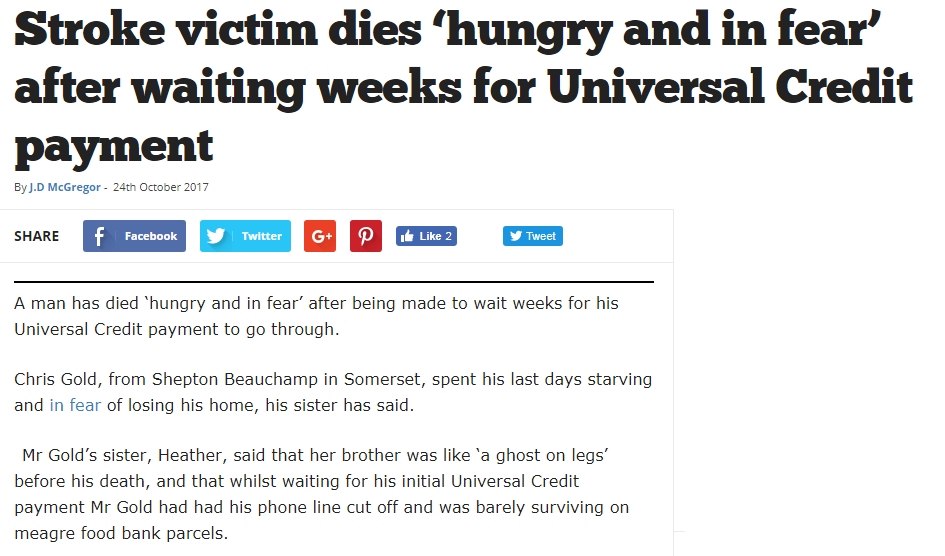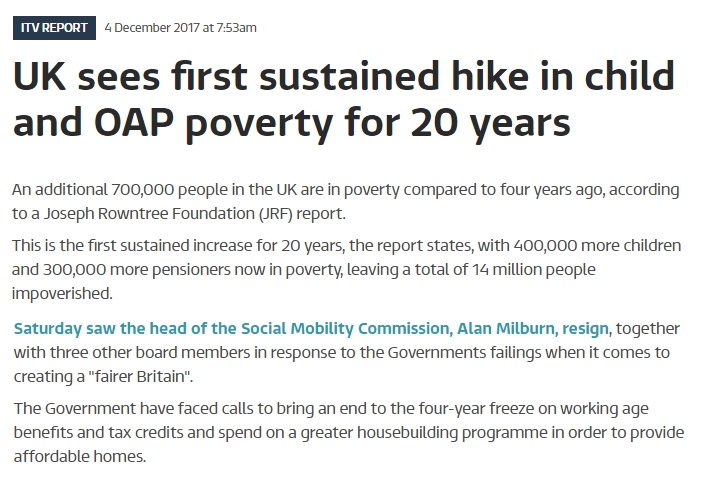 The cost to the taxpayer of inflicting this murderous disaster on the poor is now well into ELEVEN figures but the Tories are blundering on doggedly with it anyway.

Presumably on the grounds that it hasn't thinned the numbers enough yet.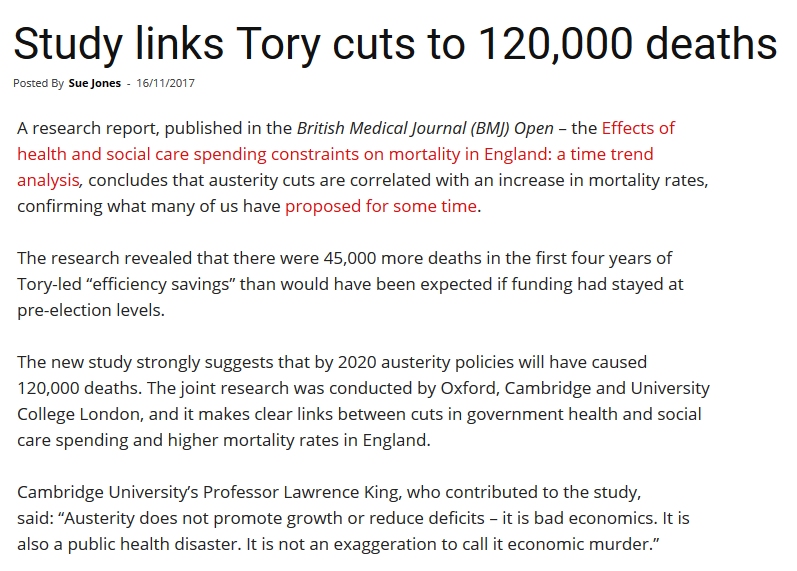 So the prospect of Adam Tomkins waggling his clueless oar of ideological dilettantism in their lives will, we suspect, bring the poor nothing but yet more boulders to pile onto the weight already crushing them with stress and anxiety.
Regardless of who's in power at Holyrood, his party is responsible for the vast majority of this mess and it can't be fixed in Edinburgh – at least not while Scotland remains part of the UK.
And as for why Scotland's best-selling popular tabloid – a hard-won status that it didn't earn by aping its revolting southern cousin – thinks it's something worth applauding with blind optimism, we can only profess ourselves bewildered.