We've been poring over the fascinating document released yesterday by the Fraser Of Allander Institute, examining in detail the prospects for the Scottish Government's budget in the coming years.
Admittedly at first we were chiefly doing it in order to embarrass the increasingly angry and belligerent BBC presenter Andrew Neil, who insisted repeatedly last year that there'd been no real-terms cut to the Holyrood budget since the Tories came to power.

That claim put Neil at odds with all manner of people pointing out that the opposite was true, to which we can now add the FoAI: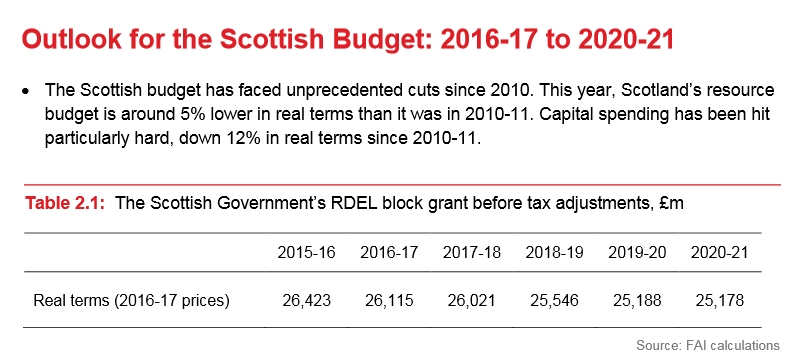 But we already knew Andrew Neil was an idiot, so that was no big deal. It was another chart in the document that caught our eye and made us think.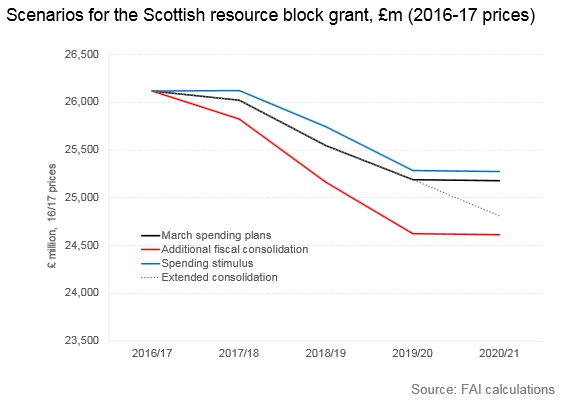 The four lines on that graph indicate the size of the cuts coming from Westminster to the Scottish budget over the course of the current Parliament, given four different scenarios of UK government policy, of which the red and dotted lines are most likely.
(Because Brexit is all but certain to cause additional damage to the UK's finances that wasn't foreseen when the government was producing its spending plans.)
And the interesting thing about them is that they won't change no matter what happens to the price of oil. Brent crude could quadruple in price tomorrow and all of the extra money would just vanish into the maw of the Treasury, where it would make little difference to the UK and bring only a dribble of Barnett Formula cash to Scotland.
(Less than ever before, because the Scottish Government is now required to raise a much bigger proportion of its revenue from personal income taxes within Scotland and less through the block grant. Holyrood isn't allowed to get its hands on corporation taxes, so it would see almost none of the benefit of billions in extra cash flowing from the North Sea to Whitehall were the price to rise.)
In other words, as long as Scotland stays in the UK, it'll get billions of pounds worse off in the future no matter whether the price of oil goes up or down. (An independent Scotland could only gain, because revenues are currently more or less zero.)
And we suppose that does put an end to the awful "volatility" of the resource, which the No campaign droned on about endlessly during the indyref. Because there's nothing volatile about a line that always goes down.