The No camp really do seem to be the world's worst winners. In a mischievous piece of trolling today, the First Minister announced that the SNP's policy of not voting on English matters at Westminster was to come to an end, and that it would intervene for the protection of the NHS, on the reasonable grounds of avoiding Barnett cuts to the Scottish budget were privatisation south of the border to lead to lower spending.
The reaction from Labour and the Tories was predictable, with the latter accusing Sturgeon of throwing principle "out the window". George Osborne, furthermore, was quoted in the Telegraph telling a Commons committee that:
"I think it would be very unfair to the whole United Kingdom if we had a Chancellor of the Exchequer who was beholden on Scottish Nationalist votes in the next Parliament."
And readers might be forgiven for thinking "Hang on, isn't that what you wanted?"
Because while the infamous "Vow" promised Scots that a No vote was still a vote for change, there was no mention of "English votes for English laws". (Nor would there have been, because Labour object bitterly to the idea.)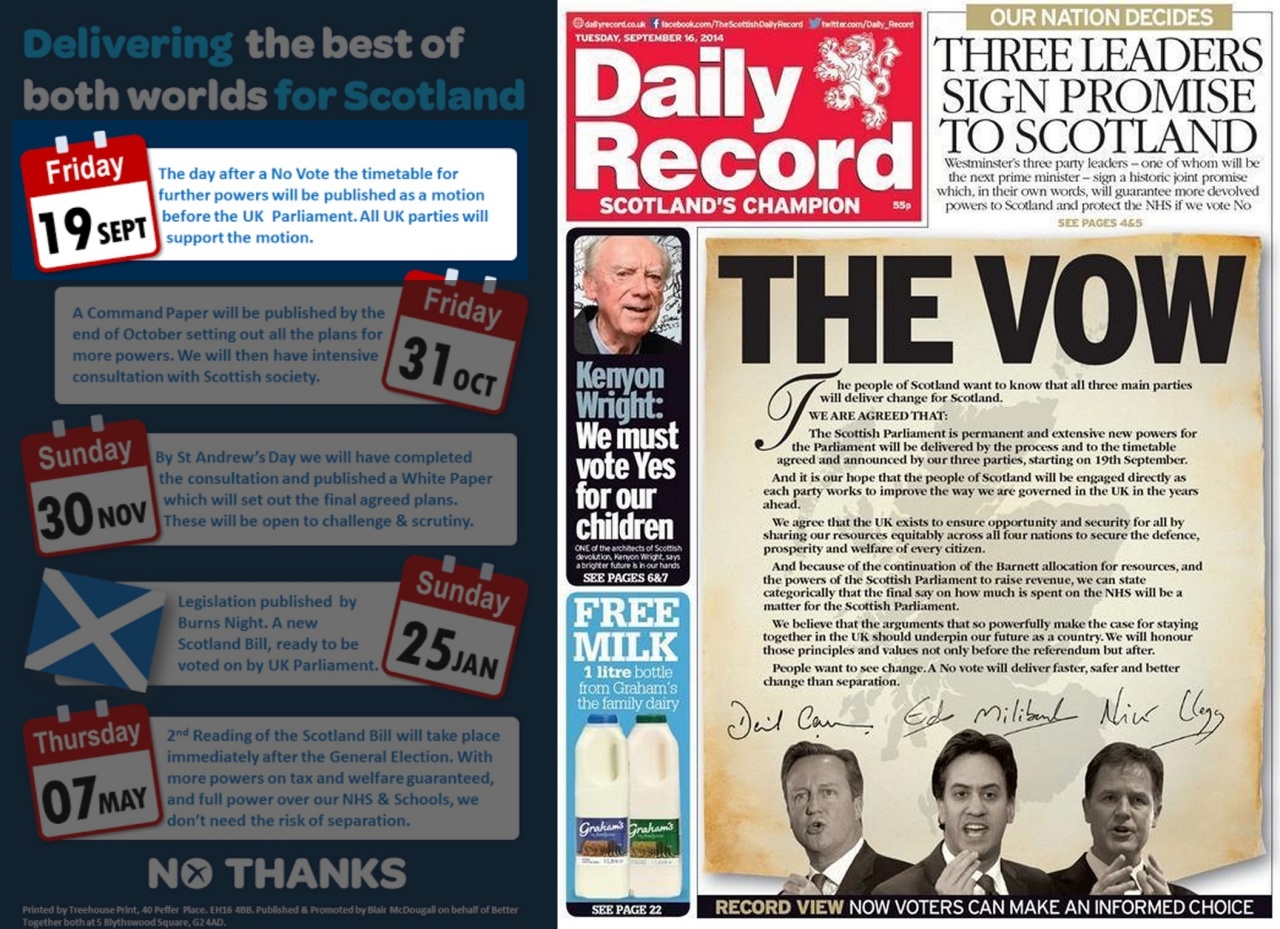 Nor was EVEL mentioned on the "timetable for change" pledged by Gordon Brown and "Better Together". No quid pro quo was mentioned as a condition of the promised extra devolution. The three leaders begged Scotland to stay in the UK, and by extension for its MPs to stay in the UK Parliament.
And if Scotland is an equal partner in the UK, then its MPs must be equal to those from anywhere else. And if the UK is a democracy then SNP MPs must logically be as entitled as anyone to vote in that Parliament. So there's no difference between a Chancellor "beholden on Scottish Nationalist votes" and one beholden to Lib Dem votes or UKIP votes or Ulster Unionist votes or Green votes.
The UK government is chosen by the people of the whole UK, including Scotland, and if you can't convince them to give you a majority then that's tough luck – you have to work with whoever they give you. The SNP tried to remove their MPs from George Osborne's parliament, but he and his friends in Labour and the Lib Dems insisted that they stay, and indeed played every dirty trick in the book to ensure it happened.
So the Chancellor, whoever it might be in May, has made their bed and must lie in it. They wanted Scotland's MPs in their Parliament, they got them, and now they have to deal with the consequences like adults instead of bleating and whining about it every other day. If they don't like it, we have a solution.