The latest development in our prospective debate: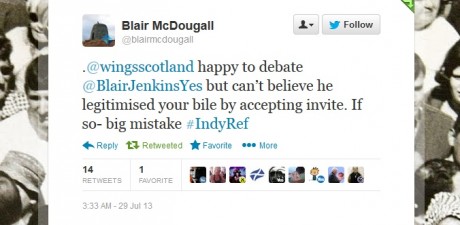 Bit snippy, but we'll take it.
While we've already had an acceptance from Yes Scotland, we're not quite there yet. Mr McDougall seems to have misunderstood the invitation slightly:
"The meaning appears to be clear enough: if both sides get to choose their own participants rather than the opposition's, Alistair Darling will publicly debate with whoever the Yes camp chooses to represent it.

Logically, that would include Darling's direct counterpart, the Yes Scotland chairman Dennis Canavan. The gauntlet would seem to have been thrown down. We're pretty sure that Dennis Canavan will be up for it."
We replied this morning clarifying that we were specifically attempting to arrange a debate between Alistair Darling and Dennis Canavan (as the respective campaign chairmen), rather than between Mr McDougall and his counterpart as Yes campaign director Blair Jenkins.
(But we're glad Mr McDougall seems to have accepted the correctness of the premise that those in equivalent posts in the two campaigns should debate each other.)
We've had no further answer yet, but we'll keep you posted.