Crikey, Euan McColm seems to have an awfully thin skin. Today, for the second time this month, Wings Over Scotland has found itself the recipient of a cryptic threat, which on this occasion coincided with a spot of maintenance by our webhosts and accordingly caused some momentary alarm among readers.
Mr McColm apparently feels that yesterday's post and/or some of the comments below it constitute his being, and we quote, "defamed to fuck on a cybernat smear site", though despite our asking him some time ago to specify the offending material so that we might take any appropriate action he's declined to identify any.
So far so ho hum, then, except that for some inexplicable reason Mr McColm is threatening to take his anger out on the SNP, and the party's spin-doctor Kevin Pringle in particular. This morning he issued the menacing warning "dear @theSNP and @KevinJPringle.  please thank @WingsScotland for what you are about to receive", in a tweet he's subsequently deleted.
Mr McColm has also deleted all the other tweets he directed to us, but you can see the original and some of the others here: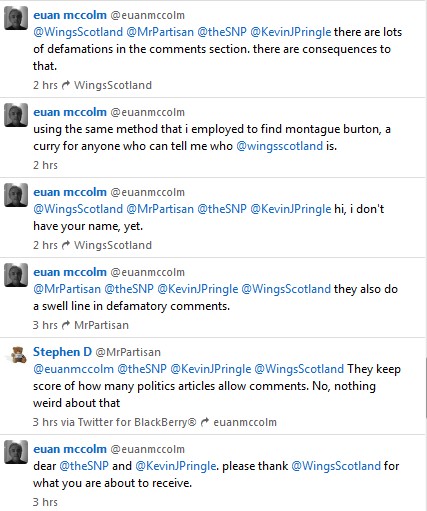 (Incidentally, the second and third tweets down in the image above see Mr McColm suggesting that he doesn't know my name, which is odd as it's clearly printed directly below the headline of every post I make on the site. He's not the first Scotsman writer whose journalistic skills weren't quite up to that level of in-depth investigation, and he also didn't reply when I asked if I was eligible for the free curry.)
Now, this sort of moaning is pretty humdrum everyday stuff which comes with the territory if you dare to stick your head above the parapet and offer a political viewpoint on anything, let alone if you dare to critique the media itself. It's water off a duck's back to us. But it's another tweet, which Mr McColm hasn't yet deleted (and which was in any event helpfully retweeted by our dear friend Tom Harris MP and by unsuccessful Conservative "2010 Holyrood election" candidate Allan Smith), that takes this case somewhere altogether more sinister.
Euan McColm is a professional journalist regularly employed by the Scotsman, which claims political neutrality. Yet here, we appear to see him directly threaten to publish a story he considers will be damaging to the SNP and/or to Kevin Pringle personally, for purely vindictive reasons resulting from him being criticised on a website run by a 20-year Liberal Democrat voter.
We would invite readers to bear that fact in mind the next time a Scotsman column with Mr McColm's name on it professes to be conducting an impartial analysis of Scottish political issues, and we'd further invite them to consider the point of issuing this threat in public, and in what ways it might conceivably be intended to intimidate or influence the actions of SNP MSPs and the independence campaign generally.
We keenly await hearing from Mr McColm's solicitors with regard to the alleged defamation. Our contact form is at the top of the page.