In addition to the Survation poll that was in the field last week and which we've been reporting on, there was also a Panelbase one going round at the same time.
(It's as yet unpublished, and having been sent a few of the… interesting questions in it by some people who took the poll we're very excited to find out who commissioned it. Our money is on either George Galloway's furious new list party – which incidentally just had its registration refused again by the Electoral Commission – or the collection of anonymous hyper-Unionist nutters ironically calling themselves "The Majority".)
But as the opportunity was there we slipped a couple of questions of our own in too, and the findings from one of them were pretty dramatic.
Because SNP loyalists on social media endlessly insist that nobody outside the Twitter political bubble cares much about the scandal over the Scottish Government's conduct regarding Alex Salmond, and it turns out that's not true.
Because despite her high popularity ratings, more than two thirds of Scots still think the First Minister should quit if either of the two current inquiries conclude that she lied to Parliament.
(The whole question text was "Two inquiries are currently investigating whether Nicola Sturgeon lied to the Scottish Parliament about her knowledge of false allegations of misconduct against Alex Salmond. The Ministerial Code – the rules under which the Scottish Government operates – stipulates that any minister found to have deliberately misled Parliament should resign.
If it is found that Nicola Sturgeon did lie to Parliament, should she resign?")
That's a considerably higher number than we were expecting. We thought that at least a large bulk of SNP voters would defend her while Unionists would want her head. The second part was mainly right, but in fact the SNP vote was split right down the middle.
Almost exactly half of the people who voted for the SNP just a year ago said Sturgeon should go if she was found to have lied, along with around three quarters of Lib Dem and Labour voters and over 90% of Tories.
(We're quite startled by the 22% of Labour voters and 27% of Lib Dems who want to keep a lying opposition leader in office, along with 8% of Tories. We can only assume she's the SNP leader they consider least threatening.)
Most Yes voters (54-46) also wanted her to go in those circumstances: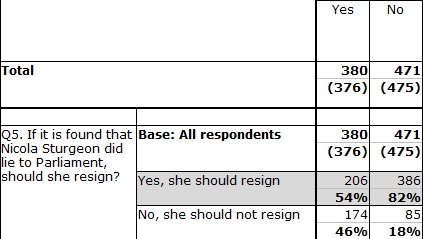 There was no significant difference by sex – men want her to resign by just over 2:1 if found to have lied, women by just under.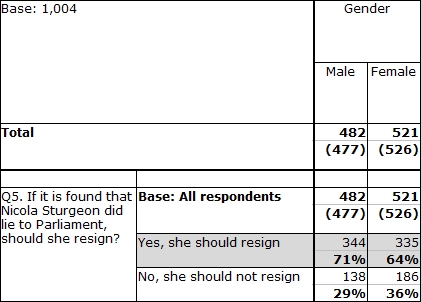 Most of that difference was accounted for by Sturgeon's core demographic of younger women, who were a long way out of step with both older women and men of all ages. Younger women were almost 50/50, while older women wanted her to step down by over 3:1 and the middle female group by 3:2.
For respondents who DIDN'T want her to resign even if found to have been lying, we also offered a blank text box – with no prompts or suggestions – where they could explain why, and the results of that were quite surprising too.
(Panelbase, not us, have grouped and paraphrased them below. Some people gave more than one reason so the total adds up to a bit more than 100%.)
We'd expected the main reason to be something along the lines of "the pandemic is too important for a change of leadership", but in fact it came in a distant second with 21%. As it turns out, most people in the group that's content to have a liar for First Minister were willing to accept it if they simply thought they were a good leader overall.
One in six thought any lie would have been unintentional (which shows an alarming misunderstanding of what a lie is and a failure to read the question properly), while just 8% tried the Priti Patel defence, and only 5% agreed with the view expressed this week by a young SNP Women's Officer that nobody cared about the whole thing.
(Of the 9% of "Other" reasons, around 3% – ie 1% of the total poll sample – were people expressing variants of some kind on the view that Salmond was actually guilty or just a bad man who had it coming to him.)
So if the First Minister's plan is to just ride out any unfavourable inquiry findings on the back of her popularity, she may be in for a nasty shock. Only the most absolutely hardcore among her faithful are willing to have a liar in Bute House.
It seems that Scotland wants the truth, whether the First Minister can handle it or not.