Perhaps we're being overly suspicious here. But the "sex scandal" incident currently surrounding Glasgow City Council leader Gordon Matheson actually happened over a month ago – December 12th to be precise. Having evaded the attention of the press for so long, there's no obvious reason for the story to have suddenly broken now.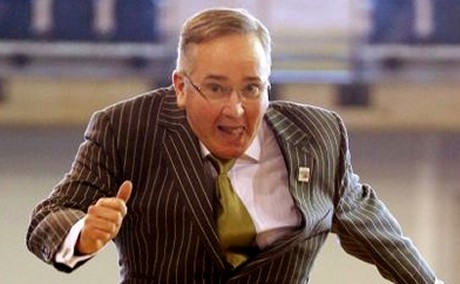 Except, that is, if there was another story centred on Glasgow City Council – a much more serious one, that the Labour council wanted to deflect attention from with a juicy bit of sleaze gossip. And hey, guess what?
"Career council official Saez was made redundant in 2011 as boss of the Glasgow East Regeneration Agency, a charity set up by the city council to help relieve poverty. He was paid a statutory severance payment of around £40,000, pension contributions of around £200,000 and a discretionary top-up of £232,708.

His payout – waved through by Labour councillors – was condemned as "misconduct" by the charity and 'wholly unsatisfactory' by Scotland's charity watchdog this week in an unusually strongly-worded report."
(Matheson isn't all that popular within his own council group anyway, which might explain why it could be quite content to offer him up as a sacrificial lamb.)
The Saez story has of course had some coverage in the media. But despite being condemned by the Office of the Scottish Charity Regulator as a clear-cut waste of quarter of a million pounds of taxpayers' money on giving an individual a "bung" entirely for his own individual benefit, it's had vastly fewer column inches than the huge manufactured storm that was generated by the Scottish Government spending less than twice as much sending a full official delegation on a wholly-legitimate trip to the Ryder Cup to generate business, jobs and tourist revenue for the country.
(And it gets odder. The Scotsman did also report the Saez story, but curiously seems to have hidden it from its search function. Enter "Ronnie Saez" into the box and it'll return no results, suggesting you meant "Ronnie Suez". Even more strangely, if you Google "ronnie saez scotsman" you still get no results, despite his name appearing in the piece. After its initial appearance we only managed to find the story at all by noticing the fairly distinctive phrase "charity watchdog" in the BBC article discussing what the Scotsman had said, and searching for that instead.)
As we say, maybe we're reading too much into it. But of all the times the Matheson story could have popped up after being successfully concealed for weeks, it does seem an awfully big coincidence it surfaced right after the same Labour council had been slammed by an independent charity organisation for, in essence, stealing hundreds of thousands of pounds from poor children to feather the nest of one of its cronies – a man with whom the council still happily does business in his new role.
Rest assured, readers, that we shall – as ever – keep a watchful eye on the stories on the inside pages of Scotland's media as well as the headlines.