(No. 3246 in a long and continuing series.)
The "Better Together" campaign director has a lengthy piece on the right-wing Labour "Progress Online" website today, which we won't trouble ourselves with the usual disingenuous content of. We're not even going to challenge the comical assertion that "recent polls show that support for independence currently stands at just one in four", because if you're selective enough it IS possible to find outliers with wildly flawed methodology producing that sort of number.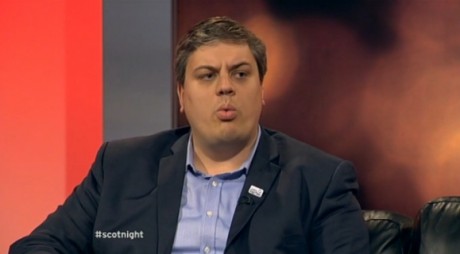 There was one claim we WOULD like to clarify, though.
It's buried below a veritable mudslide of untruth, starting with this passage:
"The first thing to understand about the referendum is that it is taking place in spite of the level of support for independence, rather than because of it. Alex Salmond has worked hard since he became first minister to try and tell the people of England, Wales and Northern Ireland that we here in Scotland are somehow desperate to break away from them. In telling this particular story he is being dishonest."
Wait, what? When has Alex Salmond ever told the people of the rest of the UK that Scotland is desperate to break away from them? This summer the First Minister was emphasising the "five unions" between the people of the British Isles that would remain strong and healthy even if Scotland voted to end the political one.
We're not aware of his ever claiming, in his entire political career, that "we in Scotland" were "desperate to break away from" the UK, only that it was the belief of himself and his party and a substantial percentage of the population.
But hey, if we were to stop and question every false claim made by Blair McDougall we'd never get anything else done. He is, after all, the least-trusted man in Scotland, with a staggering 81% of people who've heard him speak believing that he's always or mostly lying. So let's cut to the chase, skip past the next few fibs and get straight to the one we're interested in.
"Indeed, 55 per cent of people who said that they voted for the Scottish National party in 2011 have said that they are not in favour of independence."
We had to do some digging, but we eventually found what we assume to be the poll in question (because it's the only one we can find with a relevant 55% figure in it, or even a 45% one that would produce it by implication).
It's this TNS-BMRB one from last month – a survey so unsound it suggested Labour won the 2011 Holyrood election, leading psephologist Prof. John Curtice to note "Such a divergence from what actually happened in 2011 is bound to raise questions about whether TNS's sample adequately reflects the nation's political balance".
The poll's findings were deeply questionable in all sorts of ways (among them a suggested referendum turnout of just 62%, far below what any other pollster has ever recorded), but that wasn't enough for Mr McDougall, who appears to have decided that they needed to be embellished with some flat-out lies.
Because that poll didn't find 55% of SNP voters "not in favour of independence". It found 55% were in favour, with just 19% opposed and the other 26% not expressing an opinion either way.
It may be, of course, that Blair McDougall was referring to a different poll, one which has eluded our attempts to find it on Google. But we keep a pretty close eye on these things, and if there'd been a poll showing something as spectacular as over half of SNP supporters opposing independence we're fairly sure we'd remember it.
Perhaps Mr McDougall will drop us a line and point us in the direction of his figures.