Fans of TV panel shows will probably be aware of a regular strand on the BBC's Mock The Week called "Between The Lines", in which one comedian delivers lines from a speech in the persona of a public figure, while the other translates what they really mean. There's a chucklesome example here.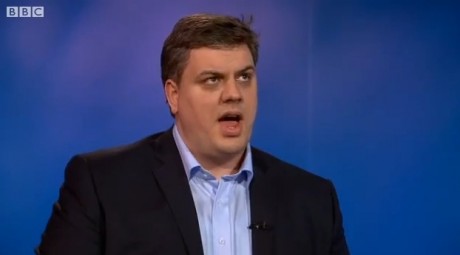 For a bit of fun we've decided to have our own attempt, with a letter sent out this week to the No campaign's mailing list by the independence debate's own Hugh Dennis: "Better Together" campaign director and creative truth interpreter Blair McDougall.
—————————————————————————————————
Dear [name of undercover agent redacted],

Finally we have left behind issues of process in the Independence debate and we are getting into the issues that really matter.
"Finally we've been forced to stop trying to create uncertainty and doubt about issues of process and get into the issues that really matter."
Today the UK Government have released their legal advice on what separation would mean for Scotland's EU membership. However, we are still denied the facts we need by the Scottish Government. Click here to demand Scottish Ministers release their legal advice.
"We didn't much like the advice we got from ours. Maybe theirs will be better."
Scots have so many questions about what separating from the UK would mean. What would our place in the world be?
"We would have a place in the world for the first time since Scotland was extinguished and incorporated into England in 1707."
What currency would we use?
"We would use Sterling."
How would our jobs and mortgages be effected?
"I don't know how to spell 'affected'. And our jobs and mortgages would, obviously, be no more affected than they are when we elect a new government now. Independence can't change the terms of your contract with your mortgage lender, duh."
We are determined to give you answers. We think you need all the facts before you make the most important decision in our history.
"Which is why we keep refusing to write to the EU and ask them for the definitive clarification of the membership status of an independent Scotland, even though we're the only people who can do it."
You will see in the news that the UK Government have taken the unusual step of publishing normally-confidential legal advice. These independent lawyers give their expert view on Scotland's place in the world if we decided to go it alone.
"They said it'd be straightforward and realistically achievable within the Scottish Government's projected timescale."
They argue that Scotland would have to start from scratch in negotiating our place in the World:
"I think the word 'world' is a proper noun for some reason."
we would need to reapply to join the EU, would lose our membership of important alliances like NATO, and lose our place on the UN Security Council.
"Unbeknownst to anyone, Scotland has a place on the UN Security Council."
The lawyers are telling us that if leaving the UK is like splitting up a marriage then the rest of the UK gets to keep the house.
"The lawyers made absolutely no mention of 'marriage' or 'houses' anywhere in their report, but you're too stupid to understand the clever legal stuff they did say."
The nationalists won't give us the most basic facts.
"We don't listen when the 'nationalists' give us the most basic facts."
Today the nationalists published an economic document that leaves us with more questions than answers. Their own expert group says some things which are common sense:
"Which I'm about to dishonestly misrepresent."
A separate Scotland couldn't just decide to keep the pound, we would need to ask the rest of the UK before we could share a currency with what would then be a foreign country.
"Sterling is a fully tradeable currency which any country on Earth can use without getting permission from the UK government."
There would not be lots of cash to throw around in an Independent Scotland. The money from Oil
"I was taught English by Johann Lamont, apparently. Or I was off sick a lot."
is already spent on public services in Scotland – we currently receive around £1200 more per person than the UK average.
"The UK is over a trillion pounds in debt, and is therefore perhaps not the best example to cite when talking about fiscal prudence. Scotland's deficit as a proportion of its GDP is significantly lower than that of the UK."
Scotland would inherit our share of the UK's debt of over one thousand billion pounds.
"As a 'new state', which is what we're claiming it would be, an independent Scotland would NOT be liable for any of the UK's debt."
What the report doesn't tell us is what Scottish Ministers plan to do. What if the rest of the UK, having seen the mess of the Euro, say that they don't think sharing a currency is a good idea?
"Scotland can use Sterling regardless of what the rest of the UK thinks."
What is plan B? Would we adopt the Euro or set up a separate Scottish currency?
"There is no need for a Plan B, as we'll be using Sterling. Although a separate Scottish currency pegged to Sterling would be a perfectly viable alternative plan, as was used for decades by the Irish Republic after it gained independence from the UK."
Given the budget will be tight, how will Scottish Ministers pay for the things they have promised us without raising our taxes? How can they promise higher benefits, cuts to big business like Amazon and Starbucks while also saying they won't increase tax on North Sea Oil?
"Scottish ministers will fund their policies with the billions of pounds they'll save in every Parliament from the defence budget alone, among other things."
After months of false statements, cover-ups and flip-flops on their own legal advice the nationalists still refuse to show us what their own lawyers have told them on Scotland's place in the World.
"I think everyone who wants independence is a 'nationalist', even the Greens and the Labour, Lib Dem and Tory voters who also support it.  And seriously, could someone PLEASE explain to me what a proper noun is? Or at least show me how to operate the automatic grammar checker on this computer?"
Sign our petition to help force the Scottish Government to come clean with the facts on a separate Scotland.
"Please don't let the Scottish Government come clean with the facts about an independent Scotland, or our campaign is REALLY screwed."
Blair

Blair McDougall
Campaign Director
Better Together
"Blair McDougall, Campaign Director, Better In North England"