Last night we observed the considerable statistical difficulty involved in getting to speak on the BBC's flagship political debate show Question Time not just once, or even twice, but THREE times, and the remarkable ease with which shouty sectarian UKIP and Loyalist bigot Billy Mitchell has achieved it.
But readers, we're afraid we must acknowledge a rare factual inaccuracy on Wings Over Scotland. Because he's actually been on it at least FOUR times.
And the odds against that happening by chance are really quite something.
The average QT audience is 200-300 strong, of whom around five will be pre-selected to ask the panel a question on air. (I know how it works because I attended one in Bath many years ago and managed to get one of mine picked. None of my subsequent applications to be in the audience have been successful.)
But perhaps 10% of the studio audience will get to speak in total in a typical episode, if not via a prepared question then during the rest of the discussion. So if you make that the criteria, the chances of getting on air in four different episodes are a mere 10,000 to 1 multiplied by whatever the odds are of making it past vetting and getting into the studio in the first place.
So let's fairly conservatively call it something like 50,000 to 1 that anyone could get into four shows and get to speak on all of them. But for one of your questions to be among the pre-selected ones multiplies those odds by five again, up to 250,000 to 1.
And yet that certainly seems to have been what happened last night.
Indeed, Mitchell seems to have been given prior access to the set and at least one of the panellists, something which definitely didn't happen when I went to the show and isn't supposed to happen.
After his brief interjection on the show in Stirling 2013, Mitchell was indulged with an extended minute-and-a-half-long rant when QT went back to the city in 2016:
(Last night he was given 1m 20s to rant uninterrupted at Fiona Hyslop from the SNP, who got around seven seconds to respond.)
And then somehow Mitchell got himself into the audience yet again the following year, 50 miles away in Kilmarnock, where his input was restricted to offscreen shouting.
Mitchell is an all-round charmer. His Facebook page reveals him as a devoted fan not only of Donald Trump but also Vladimir Putin and Nigel Farage:
And pretty much any racist redneck right-wing cause you could think of.
He's a committed Brexiter, obviously.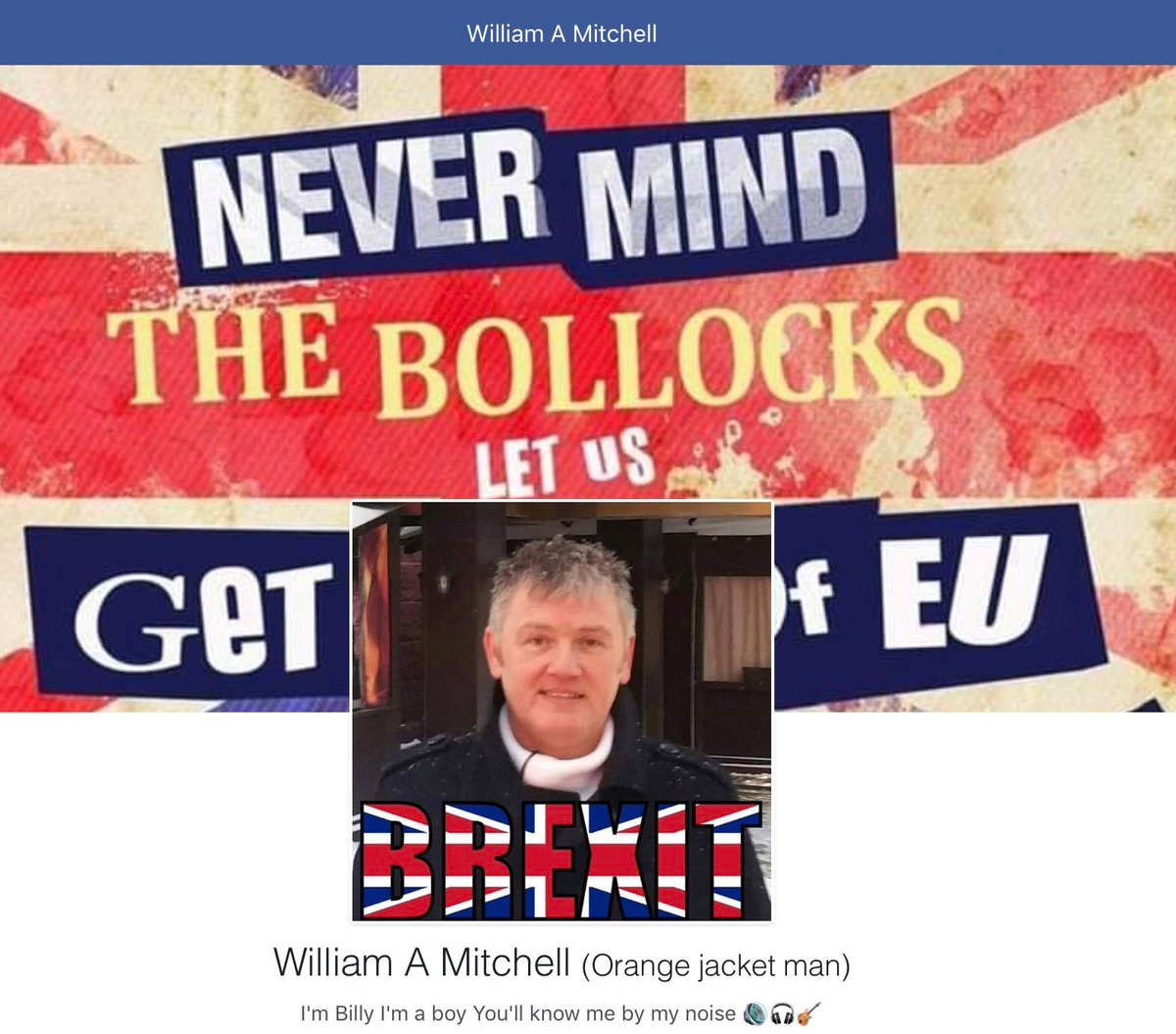 He seems very keen on being pally with the Russians, so we're sure David Leask and Jennifer Jones and Ben Nimmo will be all over him in the Herald any minute now as an obvious sinister bot planted by the Kremlin to influence British politics.
There's nothing he enjoys more than getting together with the lads to wear England shirts, have a few grins and neck a few pints in Nazi death camps.
He's such a proud Scot he went all the way to Russia to support England in last year's World Cup, proclaiming their imagined victory as the trophy "coming home".
Lest there be any doubt, he's a proper bigot, and much adored in the drum-banging, Catholic-hating cultural circles of the super-sectarian "Livi True Blues" flute band.
We could write an entire article just about the wild ride that is his Facebook likes, of which these are a mere fraction.
(Surprisingly strong showing for ballet in there, we note.)
But, well, you get the idea. These are thankfully quite extreme fringe views in Scotland, and while they're of course entitled to representation like everyone else, readers might feel that the level of airtime being given to someone who got 34 votes when he stood for election as a UKIP candidate was perhaps stretching the concepts of fair balance and "due impartiality", even by the standards of Nigel Farage's Question Time.

(For comparison purposes, when the SNP had only six MPs – still three times as many as UKIP have ever had – they averaged ONE appearance on Question Time per year.)
It would be interesting if either the Corporation or Mentorn, the show's producers, were to reveal whether Mitchell had truthfully disclosed his political affiliations and previous appearances when applying, as potential audience members are required to do. It would be quite extraordinary if he had and they'd let him on for a fourth time anyway.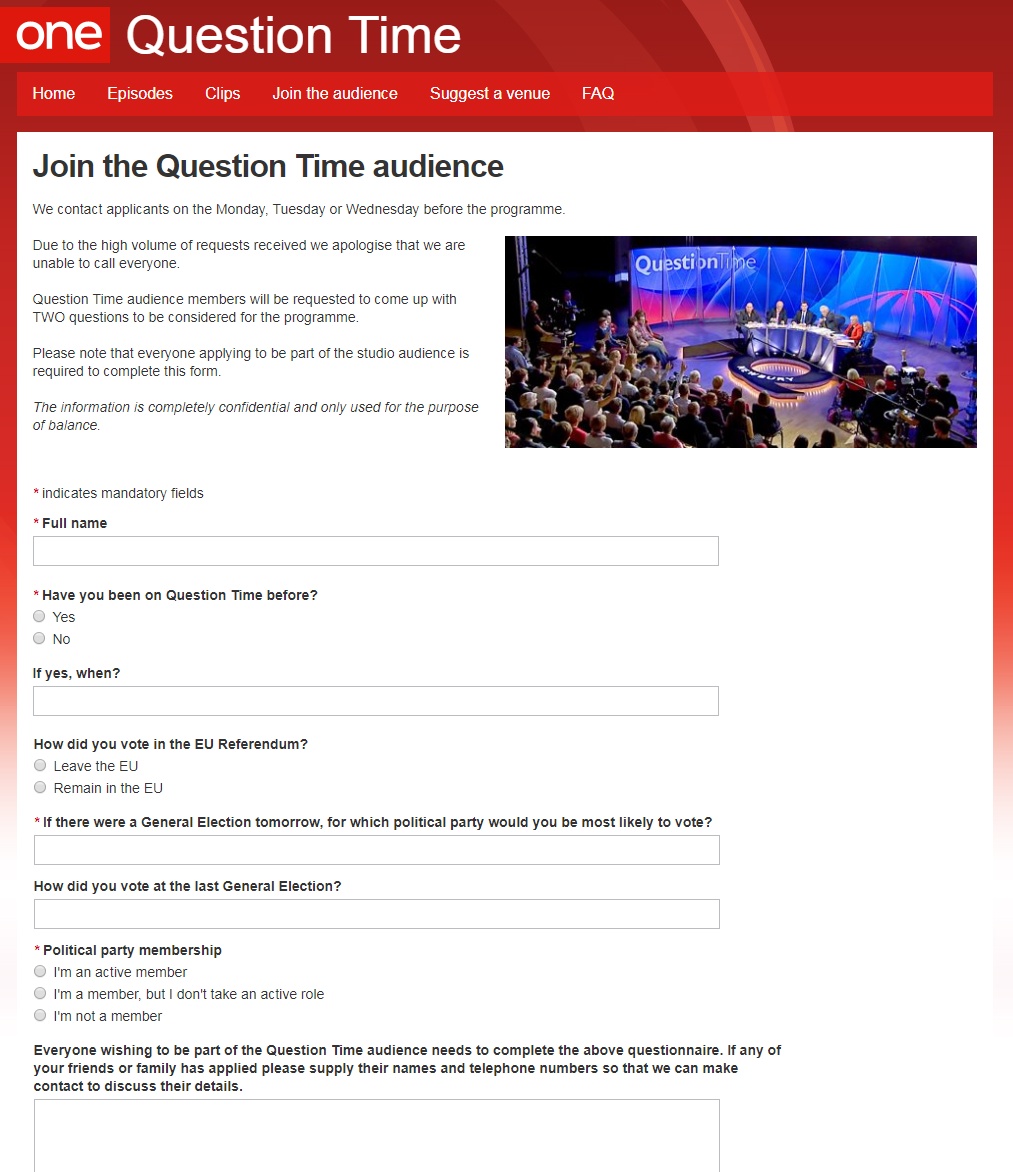 Although we won't hold our breath on that one, of course.
We're currently trying to verify several claims of Mitchell having appeared and spoken on various BBC indyref debates. (Along with unconfirmed allegations that his son also featured on last night's episode.) And according to former BBC reporter Pennie Taylor, we haven't seen the last of him on BBC Scotland shows yet.
So all we're saying is, don't be all that shocked if Billy Mitchell's big red face pops up on BBC Scotland a few more times in the coming weeks and months.
Because it's not just London palaces he appears to have a season ticket for.