Goes to the BBC, for this cracker on Friday.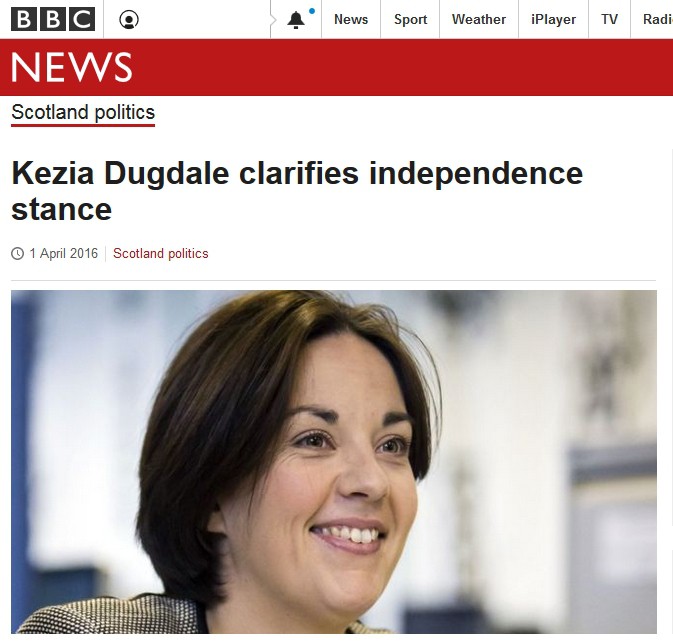 That is some arch satire right there, Auntie. Well done.
Because, of course, Kezia Dugdale did anything BUT clarify her independence stance with the comments quoted in the piece. Alert readers will remember that the confusion arose because on Wednesday Dugdale had startlingly told the nation that she'd refuse point-blank to respect any democratic mandate for a second independence vote:
…but then the next day had told the Fabian Society that should Scotland face being dragged out of the EU against its will by a Brexit vote, it was "not inconceivable" that she'd actually vote for Scottish independence in order to stay in Europe.
So clearly there was something that needed clarifying. But according to the BBC:
"She later clarified her position, pointing out that in the leaders' debate earlier this week ahead of the Scottish Parliament election, she had ruled out a second independence referendum. She said:

'We won't introduce one in government and we would vote against one if it's introduced by any other party. Our manifesto will make that commitment clear, unlike the Tories who have said they would support a second referendum if the SNP are elected on a manifesto promising one.'"
That doesn't help us out at all. Whether Labour voted for a second indyref or not would almost certainly have absolutely no impact on whether or not one happened. The question was how she would vote in one if it did.
Dugdale continued:
"I campaigned as hard as anybody to ensure that Scotland remained part of the UK. The collapse in the oil price showed that the best way to secure our public services is to stay in the UK. I would vote to stay in the UK in any future referendum."
Now, that DOES seem clearer – although it doesn't so much "clarify" the comments in the Fabian Society interview as completely reverse them. But wait:
"Both Brexit and leaving the UK would be bad for Scotland. If we leave the EU because of Tory infighting Nicola Sturgeon will do everything she can to use that as an excuse for another independence vote.

I want to stay in both unions and will vote to stay in both."
And suddenly it's a bit vague again. Because the entire point of the scenario being put to Dugdale is that you COULDN'T vote to stay in both. It'd be one or the other. Either Scotland would have to stay in the UK and thereby be forced out of the EU, or it'd have to leave the UK in order to stay in the EU.
So we still don't know. Dugdale has told us that she wants to have her cake and eat it. In the space of five days she's told us that she might vote for independence in the Brexit scenario, then that she wouldn't, then that she wants to vote for both options. But that isn't possible. You have to pick one.
Since Kezia Dugdale doesn't answer when we ask her stuff, we can only throw the question out to the mainstream Scottish media in the hope that they might put it to her directly in the hope of a straight answer:
In the entirely plausible near-future scenario where you had to choose between unions – that is, Scotland remaining in the United Kingdom OR remaining in the EU, where only one was possible – which would you vote for?
We're not holding our breath, obviously. But only when we've got a simple, direct and unambiguous response to that will the idea that Dugdale has "clarified" her stance on independence be anything but a joke.