Sorry, readers, we're getting addicted to these.
"Better Together" spokesman, 27 September 2013:
"David Cameron does not have a vote in this referendum. Alistair Darling does. He is ready to debate Alex Salmond any time and any place."
Letter from Danny Alexander MP to Alex Salmond, 30 Jan 2014:
"Alistair Darling, leader of the Better Together campaign, has said he is willing to debate with you, as leader of the pro-independence campaign, anytime, anywhere."
The Herald, 25 June 2014:
"Better Together, the pro-UK campaign led by Mr Darling, reacted angrily after STV indicated it was willing to change the date at the request of the First Minister. A senior Better Together source said Mr Darling would take part on July 16, as agreed, but not at a later time to suit Mr Salmond."
(Our emphases in all cases.)
Of course, the Scottish press has naturally been reporting the facts (that Salmond ALWAYS said he'd only debate Darling AFTER the Commonwealth Games, and that Darling is empirically, indisputably the one who's pulled out of the STV event in a strop despite saying he'd debate "any time") through their own special prism: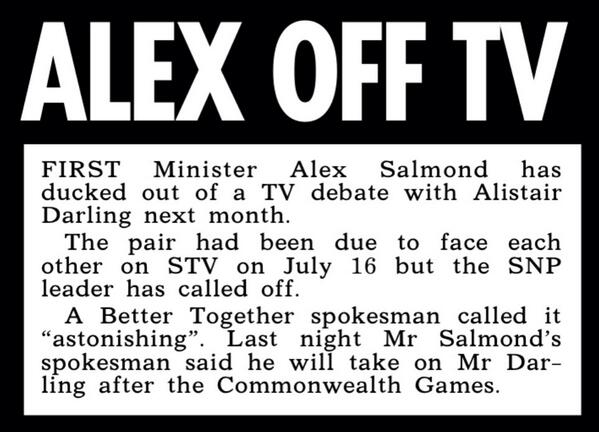 Great work there, Scottish Sun. Really, tip-top job. Take the afternoon off. Please.