Since we're (reluctantly) talking about the odious and hateful side of the independence debate today, here's crusading socialist MP and No campaigner George Galloway of the Respect party, retweeting a troll account depicting Chris and Colin Weir as a couple of fat pigs standing around in filth.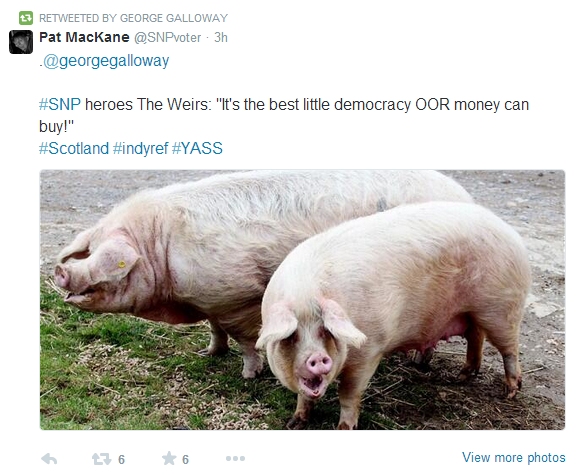 And on this occasion, the retweet IS an endorsement.
Because this isn't one of those occasions when people RT things in order to show how dreadful they are. The context of it can be clearly seen on Galloway's account: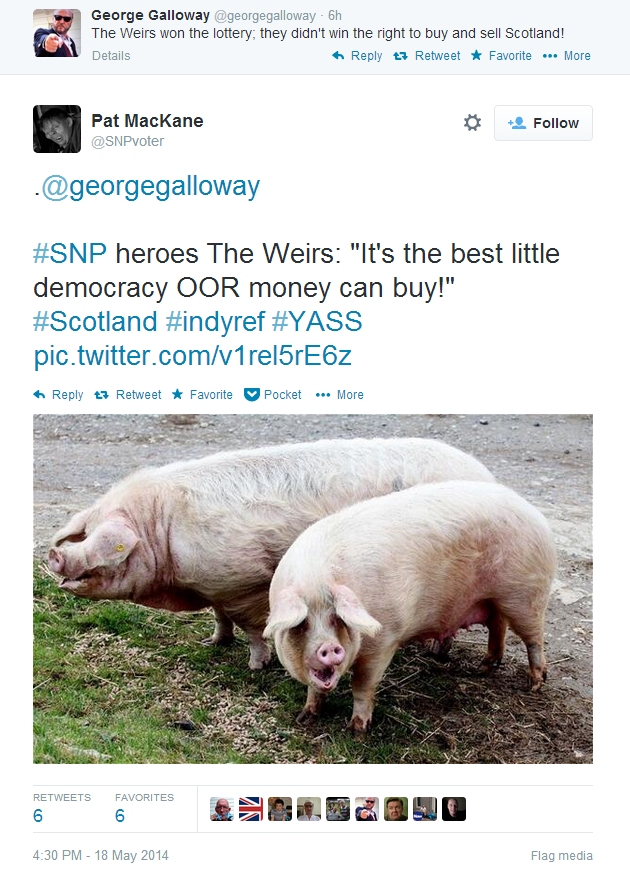 Apparently, by contributing some of their money to the peaceful, democratic Yes campaign, the Weirs – an ordinary working class couple who just lucked into riches and have given millions to others less fortunate – are trying to "buy and sell Scotland". Perhaps George would be more comfortable if they gave the cash to terrorists trying to secure Scottish independence with Armalites and bombs and rockets.
As we point out regularly, the Yes side has a handful of anonymous internet loonies who sometimes say abusive things, but George Galloway is a Member of Parliament. His salary is paid by taxpayers – by YOU – and yet he spends his time vilifying decent, honest members of the public who've done nothing illegal or immoral.
Independence campaigners should expect an endless, rancid vomit-slick of this sort of provocation in the next four months. Because the only place George Galloway and his ilk know where to fight is down in the mud and dung. If Yes supporters give in to it, he and his unsightly Ulster Unionist allies will win. Goodness knows what sort of poisonous, grotesque Scotland would emerge on the other side.