The Unionist parties are taking such a kicking in the polls for next month's Holyrood election that you could forgive them for not always knowing where they were.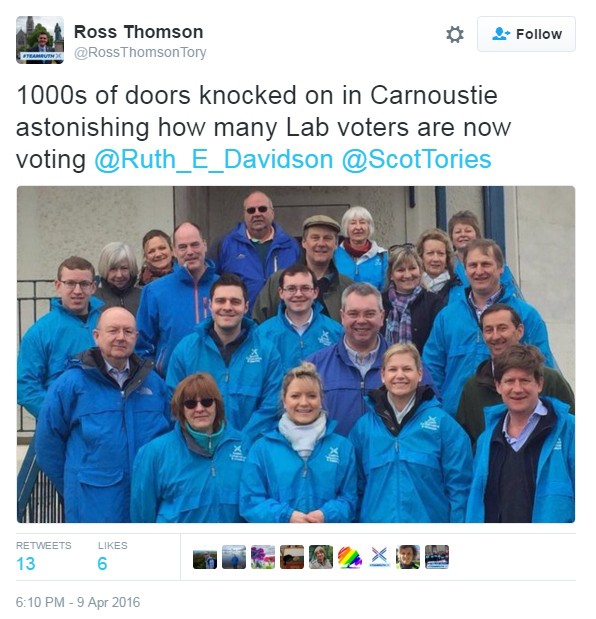 The above tweet does indeed have the potential to be "astonishing", given that (a) Ruth Davidson isn't standing in Carnoustie, and (b) the 2011 result suggests that there are only around 700 Labour voters to find in the entire town behind the "1000s" of doors that 20 Tories have impressively managed to knock by teatime.
(Indeed, the area is so Labour-unfriendly that the Tories actually managed to come 2nd five years ago, getting over 50% more votes than the Labour candidate.)
But it's not the only piece of geographical confusion afflicting the UK parties.
The Tories are also putting out leaflets urging people to vote for her in Glasgow:
…where she isn't standing either, having abandoned the region where she got just 1,845 votes in 2011 in order to seek a slightly easier seat in Tory-friendly Lothian.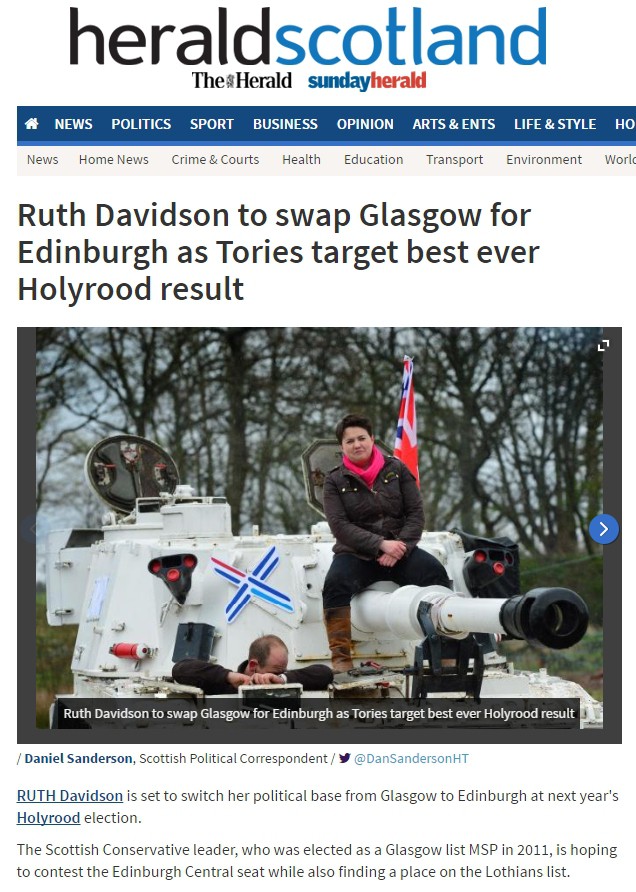 The same leaflet features a ringing testimonial to Davidson from a former Labour voter called Angela who lives, we're told, in North Ayrshire:
Which is odd, as just last week a remarkably similar-looking former Labour voter called Angela appeared in a Tory election broadcast claiming to be from Glasgow:
But it's not just the Tories who are all over the place.
Former Labour leadership contender Ken Macintosh is sending out leaflets in the hope of getting re-elected in "East Ren", which is short for East Renfrewshire.
The one hitch is that Ken Macintosh has NEVER been elected in East Renfrewshire, which is a Westminster constituency formerly held by ex-branch office manager Jim Murphy, and before that by the Tories since 1924.
The Holyrood seat being fought by Macintosh covers a significantly smaller area and is called Eastwood. But compared to "Keep Ken for East Ren" we suppose "Vote for Ken – he's not the least good in Eastwood" doesn't have quite the same ring to it.
(To help Ken out, on the map of East Renfrewshire constituency below we've shaded in roughly the parts that AREN'T in Eastwood.)
It's probably going to be asking a bit too much for the Unionist parties to win many constituencies at this election. But it doesn't seem excessive to hope that they'd at least know which ones they were standing in.