So it turns out that this:
…is even more amazing than it initially appears.
Firstly, though we launched at 9.00 yesterday morning, it doesn't even represent a full day's total – an Amazon Web Services crash last night saw the entire Indiegogo site down for over an hour, so the above figure is for only 23 hours.
Secondly, despite that it's still almost £20,000 more than the same period last year.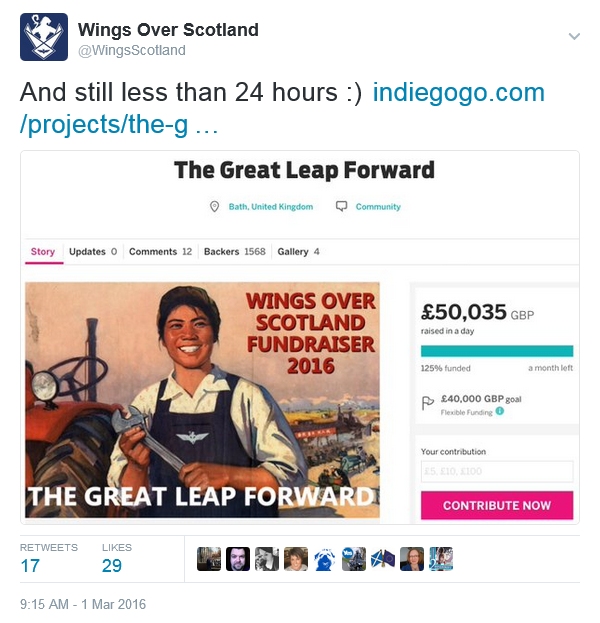 And lastly, the sum was achieved despite Indiegogo no longer taking donations via PayPal, which means it's been much more faff for people to donate than just the single click of previous years.
(We're very miffed about that. As far as we can tell Indiegogo didn't actually notify us about it, and the first we knew was when people started asking where the button had gone. Sorry, folks – if you want to donate through PP, or via a direct bank transfer which doesn't have any commission taken out of it, you can do so through our Donate page. You'll still be eligible for donor perks, but you'll have to email us and let us know your address and donation reference. Mark your emails "PERKS".)
We ran out of superlatives for our amazing readers years ago. Although some people are never short of things to say about you:
And your continued support has surprised others:
We know different. But the job isn't done. Even yesterday's incredible total is just a fraction of what we really need to effectively combat our millionaire-funded opponents. There's still over a month left to build the total into a serious fighting fund that'll terrify Unionists already running scared of the speed with which indyref 2 is approaching.
And as other Twitter trolls love to point out obsessively, the money comes from just a tiny minority of readers actually putting their hands in their pockets.
Imagine what we could do if you proved them wrong too.