Two nights of political debate on the BBC: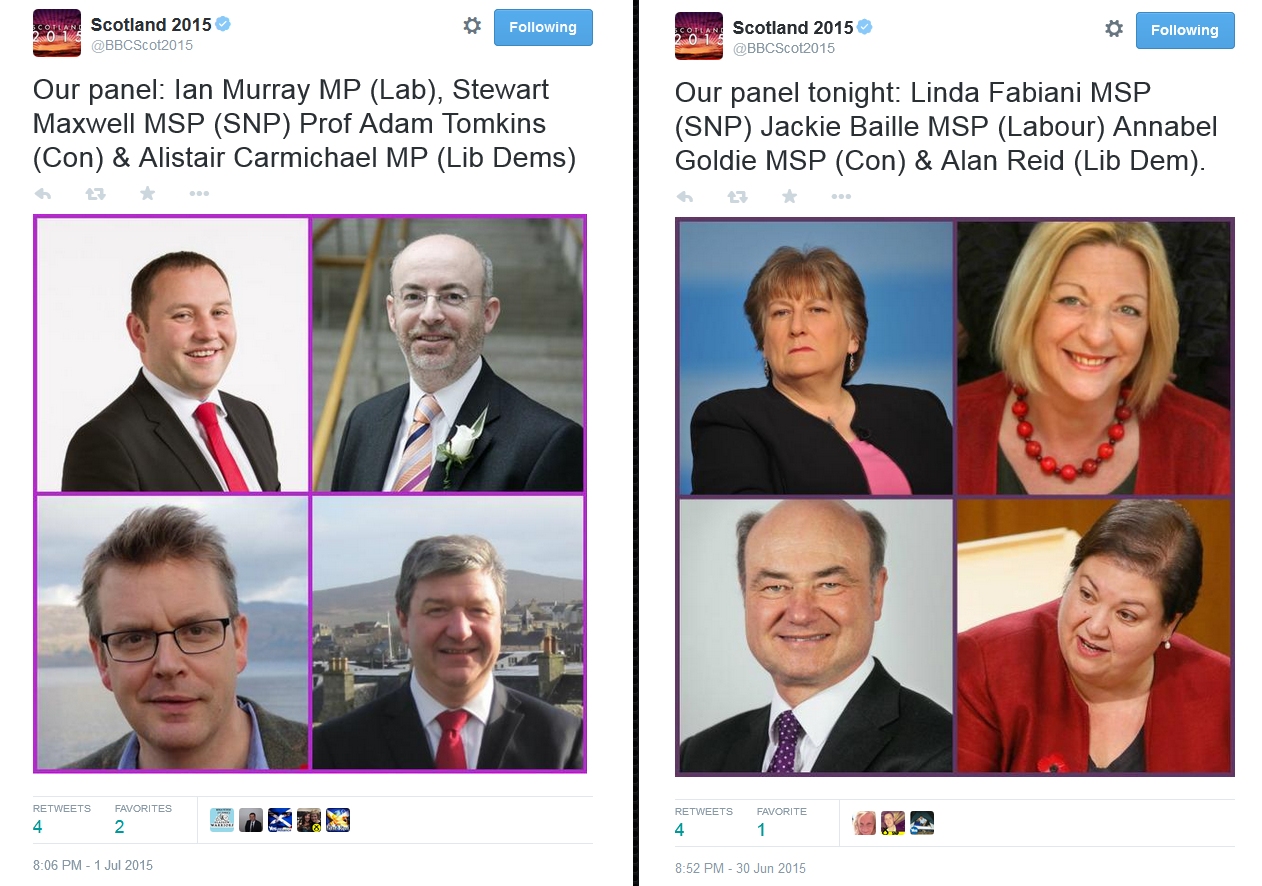 Six unionists, two nationalists. What's that all about, then?
Because by pretty much any sort of rational measure, that's not a fair or proportionate line-up. Those six Unionists are representing parties with just three MPs in Scotland, whereas the two nationalists are representing 56 MPs.
Now of course, that's an unfair quirk of the First Past The Post electoral system. If we were to instead go by votes cast, the Scottish electorate breaks down almost exactly 50/50 Unionists and nationalists, yet one side gets three times the representation.
"Ah, but Scottish politics isn't all about the constitution question", says someone tedious. And indeed it isn't. But the same thing applies as to the population count – three parties with a total of 50% of the vote are getting three times as much exposure as a single party with the same amount on its own.
And it's not as if their views are so different they need all three of them to present a wide range of views. Also, if that was the criterion you'd have the Greens on, who are more different from any of them than any of the Unionists are from each other.
One SNP, one Green and any two from Labour, Tory and Lib Dem would always give a broader sample of opinions, and the Greens only have one fewer MP than any of the Unionist parties so it's not as if they have no case. Are we to expect that if David Mundell had got just 900 fewer votes in May and lost, the Tories wouldn't be on?
Three-against-one was at least a semi-defensible position when the SNP only got 20% of the Westminster vote. But the political situation in Scotland has changed radically, yet media coverage doesn't reflect that fact in any way. To the BBC and (to a slightly lesser extent) STV it's as if the general election simply didn't happen.
At Holyrood, if you don't have enough MSPs you get less "airtime". That's why Willie Rennie doesn't get to ask questions at FMQs every week. Why are we still expected to tolerate such a blatant level of bias in our current-affairs shows?