It's true, we are. This blog supports Scottish independence, and therefore usually finds itself at odds with the Scottish Labour Party and its elusive "leader" Johann Lamont. So when she was apparently released from the basement of John Smith House to speak at the launch of the Labour council-election campaign for Glasgow (though the evidence, supplied by Scottish Labour's own Twitter feed, was somewhat inconclusive), we didn't think it would be fair to report on the contents of her speech ourselves.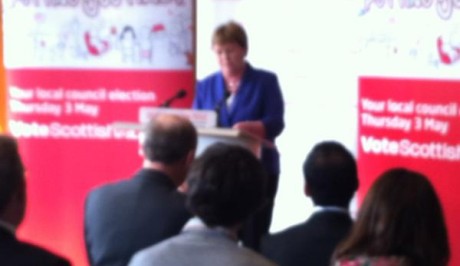 So instead, to ensure that Labour's positive policy prospectus for Scotland's biggest city gets impartial coverage, we're going to hand you over instead to the Scottish Political Editor of the Sunday Herald, the unimpeachably neutral Tom Gordon. Below is his full Twitter commentary on Lamont's speech as it happened. We have not edited Mr Gordon's tweetstream in any way. This is everything he said.
Well, I don't think we can be in any doubt about Labour's exciting, inspiring plans for Glasgow should it win control of the council again. The citizens can rest assured that should they place their confidence and trust in the people's party once more for the next five years, Labour will repay their faith with a tireless, focused and comprehensive programme of really, REALLY hating the SNP.