(Enter Nae Buttons, wearing a pageboy uniform and a tuba.)
NB: Hello, small, insignificant people
CHILDREN OF SCOTLAND: Boo! Hiss! Gerroff!
NB: Oh, I don't care what you think. I have friends you know. Very powerful friends. And we're going to make sure that Cindyrella never gets to the ball. After all, why should she? She's got no money. No one will look at her. And you know where she is now? She's scrubbing the kitchen, because that's all she's good for.
(Enter wicked stepmother, Mrs Darling.)
MRS D: Have you done what I asked?
NB: Yes, I have it right here, Ma'am.
(He tips a bag out of the tuba, which is labelled 'Nat Poison')
MRS D: Excellent. This kitchen is infested with verminous Nats. They're all over the place, and Cindyrella's making friends with them, so the sooner we get rid of them the better! Now, it's about time my beautiful daughters got ready to go to the ball. Did you hire a footman to escort them, as I asked?
BB: Yes, well, sort of…. Here he is, Ma'am.
MRS D: What's that?
NB: All I could find, Ma'am. You sacked the last one, and no-one else wanted the job.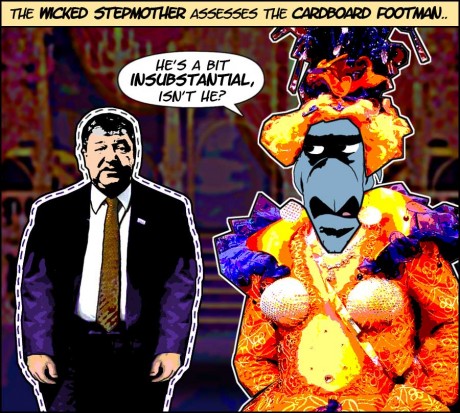 MRS D: Won't he go limp?
NB: I wouldn't like to say Ma'am; I don't go in for that sort of thing. But he's heavy – I dropped him on my foot earlier and it's left a slight bruise. I think I remember reading some sort of warning about that.
MRS D: I meant in the rain, you buffoon! It's raining outside. What does this thing do when it gets soaked?
NB: It calls for help.
MRS D: Useless! Leave it here where it can't do any harm. Now, where's that wretched Cindyrella? Cindyrella! Come here at once!
(Cindyrella enters She's dressed in a ragged, stained saltire and carries a clearly well-worn bucket and broom.)
MRS D: Is the kitchen clean?
CINDYRELLA: Yes, ma'am.
MRS D: That's good. You're a thorough scrubber, if nothing else.
CINDYRELLA: Please, ma'am – my work is all done. Won't you let me go to the Grand Referendum Ball?
MRS D: Honestly, child what a question! Of course you CAN go to the ball if you really want to. But you don't have any money, do you? And just look at your shabby clothes. There'll be all kinds of important people at the ball. Foreigners, probably. And you don't want to shame yourself, now do you? It really wouldn't be a good idea.
CINDYRELLA: But what about the sizeable inheritance my mother, Northcelia, left me? I could use some of that to buy nicer clothes.
MRS D: Don't be ridiculous! The family's up to its ears in debt, so we've pooled and shared our resources. We look after your – er, our – money and give you some whenever you need to buy a new scrubbing brush. What could be fairer?
CINDYRELLA: What if I kept it and bought my own scrubbing brushes, and stuff that I want instead of those cannons you keep buying and putting on the front lawn?
MRS D: That sort of silly childish talk is exactly why you need us here to stop you making a terrible mess of everything. That's the best of both worlds, isn't it, children?
CHILDREN OF SCOTLAND: No!
MRS D: Oh yes it is!
CHILDREN: Oh no it isn't!
MRS D: Oh yes it is! And you know why? Because I understand money. So when I say Cinders can't afford to look after herself, that's the truth.
CHILDREN: Oh no it isn't!
MRS D: I don't care what you think. What I say goes, because I'm respected. Now where are my daughters? Daughters!
(Three ugly sisters appear. They are dressed in shimmering, bejewelled Union Jack dresses, for which Mrs Darling surreptitiously checks the receipts before slipping them carefully into her purse. They're all carrying fur coats, and in matters beyond that we shan't speculate.)
MRS D: Wilhelmina! Ruthie! Jo! My lovely girls! How gorgeous you are! Now, have you got your little song ready for mama to hear?
(The ugly sisters sing:)
We're Willie and Ruthie and Jo,
the girls of the Grand UKOK show.
We all hate each other and don't much like Mother,
But we're better together you know.

You can count on wee Ruth to tell you the truth,
and Johann to have a debate
And as for our Willie, although she looks silly,
Her political future is great.

So we're better together – that's quite clear to all,
we belong to the great British state
Together we're off to have fun at the ball,
And Cinders will just have to wait.
MRS D: Wonderful! So inspiring! Such tunefulness! Now run along girls or we'll be late. And you, Cindyrella – back to the kitchen! (Aside to NB) You know what to do.
NAE BUTTONS: Yes indeed, Ma'am – sprinkle the poison.
MRS D: That's the fellow. When we get back there won't be a single Nat left. And good riddance to the scurrying little pests!
(Mrs Darling gives evil cackle and exits.)
NB (to audience): I can't wait to see those Nats writhing around in agony. I've got some really deadly poisons here. This is di-phenol-scaremongerae (sprinkles) And here's some eu-barossobiturate (sprinkles) And, best of all, some tricochranous vitriol (scatters neo-liberally). Now I'll hide and enjoy watching Cindyrella weeping over her stupid dead Nats. You won't tell her, will you?
CHILDREN OF SCOTLAND: Oh yes we will!
NB: Oh no you won't. Because if you do, I'll take away all your sweeties, one by one, until you have none left. So just remember that!
(He hides. Cindyrella comes sadly in, followed by several rat-like Nats.)
CINDYRELLA: Oh Nats, I'm so sad. Everyone's going to the ball, and I'm left here all on my own. (She sits down and sings. During the song, the Nats find the poisons and start eating them)
I just wanted to be normal, just like everyone else. To live and love, to choose for myself, to have my own life. But they tell me I'm stupid to make my own decisions and too poor to make ends meet. I'll be left on the shelf by all the princes of Europe and die alone, beset by evil space monsters.
(A sudden flash of light, and a beaming fairy godmother appears.)
FG: Don't you worry, Cindyrella, I'll see you get to the ball.
CINDYRELLA: Oh, who are you?
FG: I'm Alexa, the First Godmother.
CINDYRELLA: Aren't you a little, er, solidly-built for a fairy?
FG: I'll have you know I'm on a diet. I've given up curry and pies. Haven't I, kids?
CHILDREN: (mumbled, unconvincing cheers)
FG: Well, at least I'm trying. Now, we must hurry up and get you to the ball, Cindyrella. We're going to need a coach and some horses and a footman – but first we really must do something about your clothes.
(FG waves her wand: Cindyrella's shabby rags are transformed to a shining white ballgown, bordered with thistles and lions rampant)
There, that's better. And these Nats – we'll change them into horses, or maybe unicorns. But what are they eating? (picks up a handful of poison and sniffs it) Aha, someone's been trying to kill them off….
CINDYRELLA: Oh no!
FG: I wouldn't worry – they'll need something a lot stronger than this to damage them. It'll make them feel a bit sick, but it'll pass. Now we need a pumpkin for your coach….
NAE BUTTONS: I don't like the way things are going here. I'm off! (Tries to sneak out)
CHILDREN (to Alexa): Behind you!
FG (turns and sees NB): Ah, what's this? The perfect pumpkin! Round and vaguely orange – just the thing to help you get to your destination. Abracazam!
(There's a flash and a puff of smoke, and…)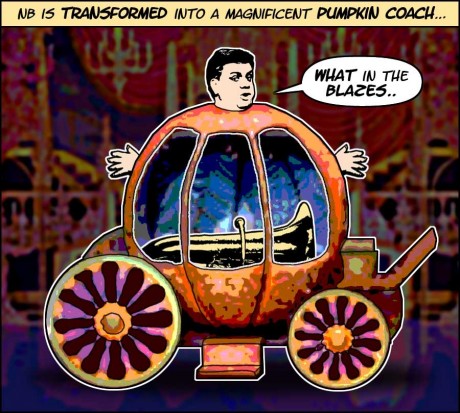 FG: And now we just need a footman.
CINDYRELLA: There's one over there.
FG: So there is! But why isn't it escorting the Ugly Sisters?
CINDYRELLA: Mrs Darling was worried it would go soggy in the rain.
FG: I expect it will. But it's pretty soggy already, so I shan't think anyone will notice the difference. Now, come along Cindyrella – we need to get you to the ball, so that everyone can see how much you deserve to be a Princess.
(Short blackout. The lights come up on a coach drawn by unicorns, with a somewhat battered footman in place. Cindyrella climbs in and the coach moves off, leaving the First Godmother on stage)
FG (sings):
And so Cindyrella was sent on her way
She should be a princess, wouldn't you say?
Where will she go next, and what will she do?
I can't tell you the future: that's up to you.
(Blackout and curtain.)