The BBC came in for a spot of criticism this week when its new BBC Scotland channel opted to show some snooker instead of Nicola Sturgeon's major speech about a new independence referendum. But then things started to get weird.
An alert Wings reader noted that they hadn't been able to locate any coverage by the state broadcaster of the SNP's annual conference this weekend either, even though they send live cameras to just about any other party's gatherings even if they amount to three people in a phone box (hi, Scottish Lib Dems).
The plot swiftly thickened.
There were plenty of links to the Scottish Conservatives 2019 conference, even though it hasn't actually happened yet:
And for Scottish Labour:
But of the SNP's 2019 event there was no sign:
The top story was a news piece about an SNP councillor getting suspended at last year's conference for some sort of kerfuffle, and then there were a couple of links to previous conferences from 2013 and 2011.
The list of results went on and on, still with nothing current.
At this point a lot of people were asking questions, and the Corporation's reporter Philip Sim stepped in to explain that it was because the search term "Scottish National Party" should have been used instead of "SNP":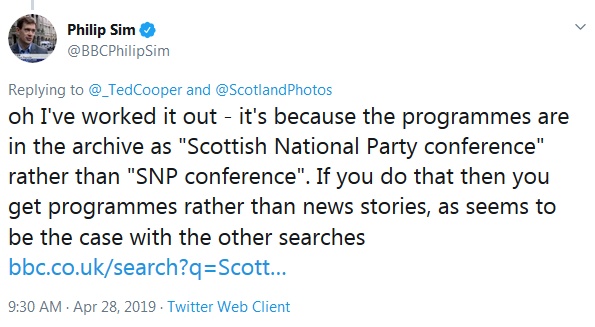 He even included a link to show it worked. Which was fine, except when other people tried the same term, they still got nowhere.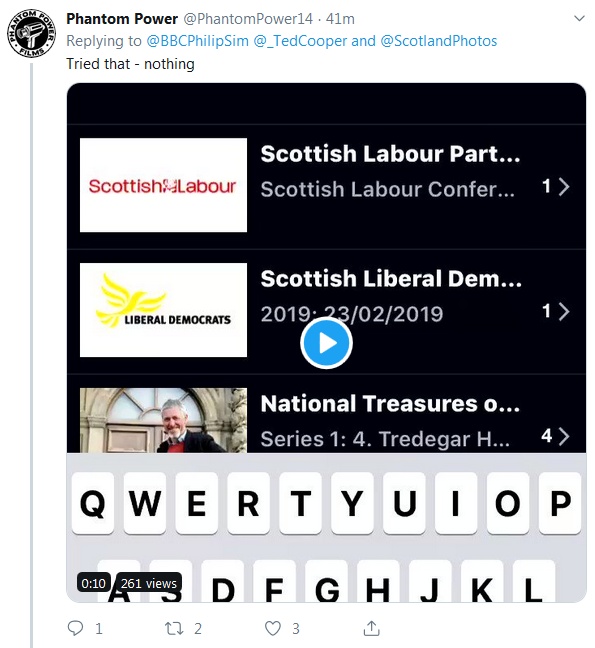 So we had a go ourselves, starting with the iPlayer app, on which our region is set to Scotland. And sure enough, searching for "scottish national party" or "scottish national party conference" both brought up conference coverage for just about every political party in the UK except the SNP:
Just for completeness we tried for anything political with "snp" too. No luck.
The iPlayer website (as opposed to the app) was no better:
By remarkable coincidence, the same thing happened with Plaid Cymru, on both the app and the desktop website:
There were no problems with Unionist parties, though, whether large or small:
So then we went and tried the standard BBC website – on which our location is also set to Scotland – on both an iPad and a PC:
Zero. Yet the same method worked fine for other parties:
This year's Scottish Labour and Scottish Lib Dem conferences showed up, and some Tory election broadcasts, but nothing from the SNP. And stranger still, adding the word "party" in the search box to "scottish national" actually REMOVED a programme called The Rise Of Scottish Nationalism (see the first two in the block of four pics above).
We're at a loss to legitimately explain why the BBC website and app seem to be suppressing search results for the main Scottish and Welsh nationalist parties, while enthusiastically pushing results for every Unionist party from the exact same technique. We very much look forward to hearing an explanation.