"Better Together" chairman Alistair Darling is in today's Telegraph, yet again demanding that people should be prevented from expressing opinions on the internet, unless those opinions are supportive of the Union. In Mr Darling's world, businessmen should be permitted to try to frighten their employees into voting No with mad, untrue rants and veiled threats that they'd be voting themselves onto the dole, but anyone responding to the threat with "Shut up, grandad" must be censored and silenced.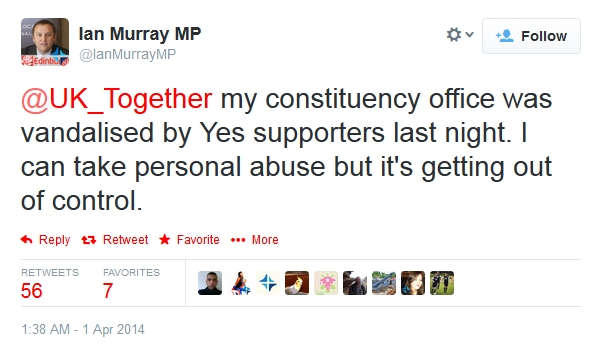 So far, so ho hum – if Unionist politicians are whining about "cybernats", there must be a Y in the day, is the general rule. But as we can see above, the former Chancellor wasn't the only Labour MP bleating about terrible Nat bully boys today.
The tweet above was posted this morning by Ian Murray, the Labour MP for Edinburgh South. Requests by several people to Mr Murray to clarify how he knew that "Yes supporters" were responsible for the alleged vandalism of his office went unanswered.
(In fairness, a tragic fatal accident in the constituency may have occupied his time, although almost two hours went by between the initial tweet, the requests for proof and the news that the female pupil at Liberton High School had died.)
So some of our alert readers who live near his office went round for a look.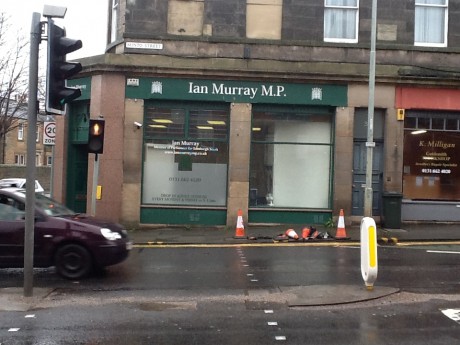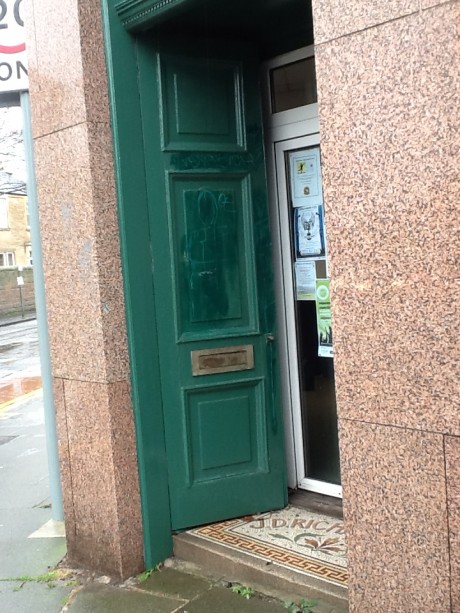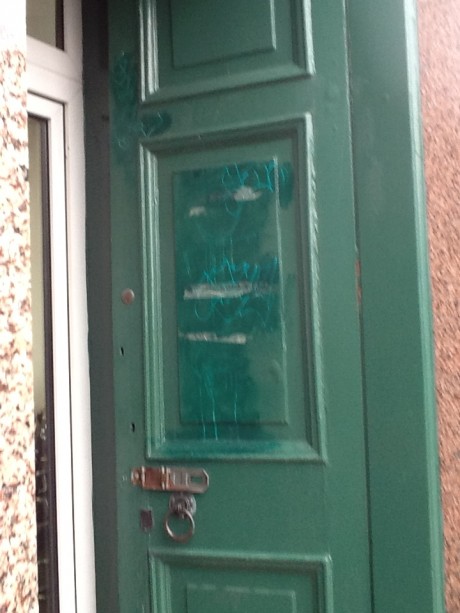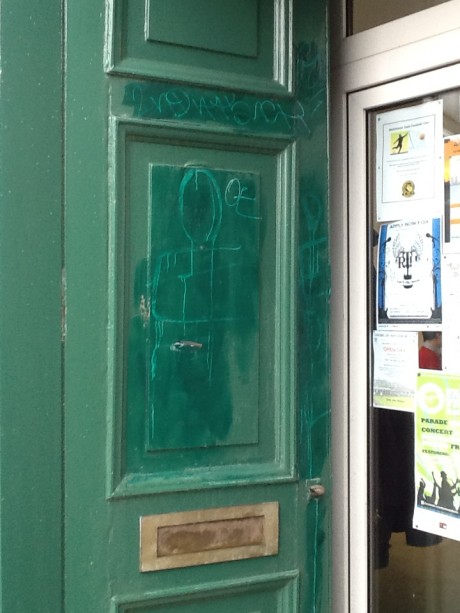 The only visible damage appears at first to comprise some indecipherable random graffiti scrawls, but on close examination of the last two pics it seems to be clearly possible to make out the letters "OE" in multiple locations.
(You may have to look quite hard to see them, so we've highlighted them below.)
If you do a bit of contextual Googling (say, "OE edinburgh graffiti") you quickly come up with this Scotsman article from a few years ago:
"11 held as police wipe out graffiti

Eleven teenagers have been detained in a police operation aimed at wiping out one of the city's most notorious graffiti 'tags'.

The distinctive signature OE – thought to stand for Owning Edinburgh – has been spray-painted across buildings, billboards and signs across the Capital in recent months."
Probe a little further and you'll find this in the same paper:
You can also turn up some surprisingly detailed academic research into the gangs.
Now, we don't profess ourselves experts on the Edinburgh middle-class graffiti scene. But it doesn't seem to require a particularly great leap of the imagination to posit that the damage done to Mr Murray's office – located towards the north of his constituency, which encompasses the territory of "DKM", and which we've marked with a wee RAF symbol near top centre on the map below (click to enlarge) – seems rather more likely to have been the result of a "turf war" than a political attack.
We're sure that when Mr Murray realises his honest error and gets a moment to attend to his Twitter account, he'll be quick to retract the defamatory, inflammatory allegation that the minor cosmetic damage done to his door was part of a disgraceful campaign of cybernat terror. He has, after all, been Edinburgh South MP for almost four years, and we presume must be aware of such issues.
No, really, we're all but positive he will.
We are, of course, using that word in its "case for the Union" sense.