We got an email from an alert reader today making an intriguing observation. We feel sure we must be missing something about it, but we can't figure out what it is.
Perhaps you can help.
Let's walk through it.
We know, by the DWP's own admission, that the UK government is obliged to keep paying the state pension to anyone who's qualified for it, no matter where they live. If you emigrate to Spain you still get your UK pension, because you paid for it during your working life and you're entitled to it, like any other pension.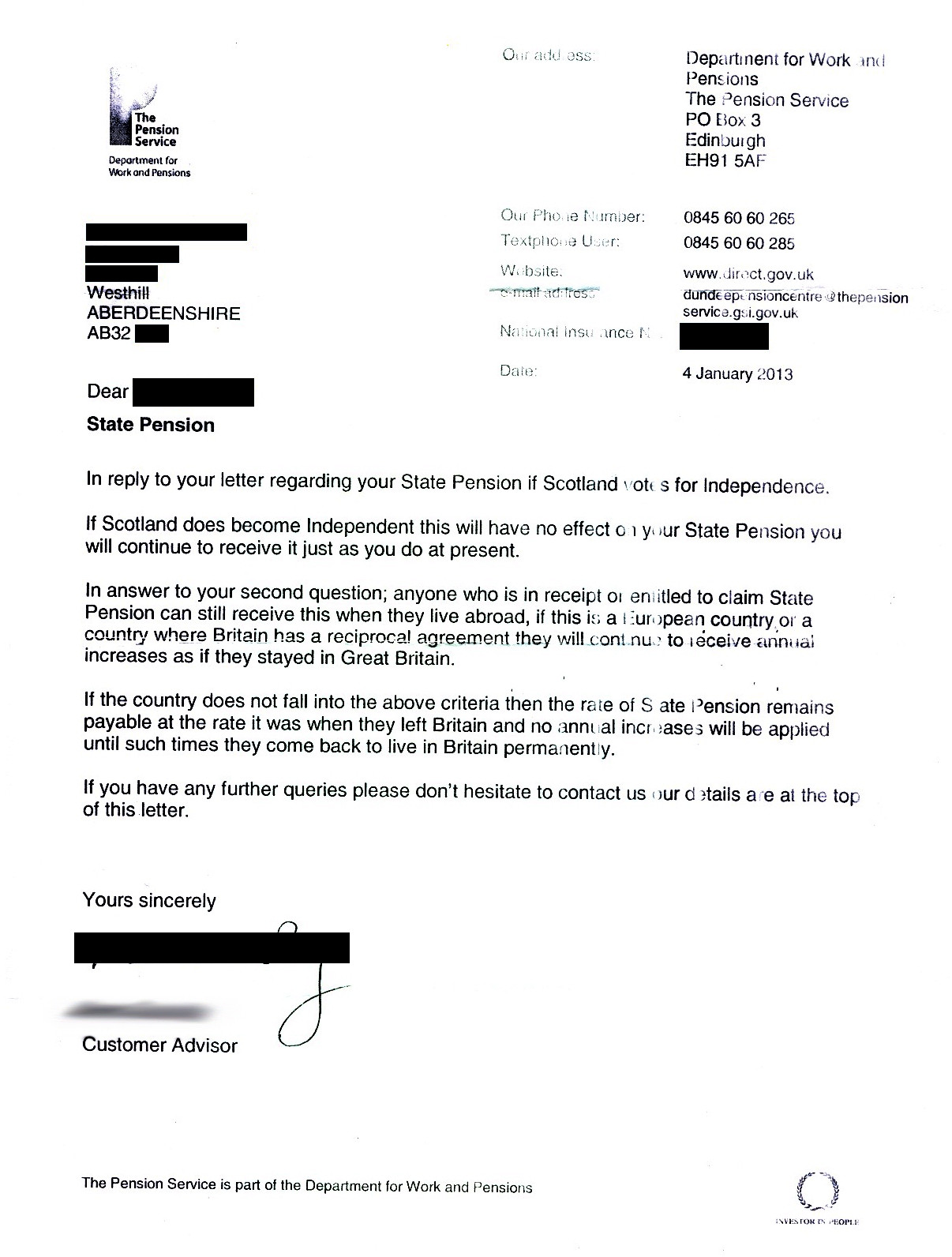 That applies to pensioners who live in Scotland the same as it does to anyone else. They've paid their contributions to the UK government and it's the UK government that owes them their pension even if they go and live in a foreign country.
The ramifications of that are that if Scotland becomes independent, every pensioner in Scotland will effectively "emigrate" overnight. They'll be living in a "foreign" country – as Labour in particular never tires of reminding us – but will still be entitled to their UK pension just like anyone who emigrates to Marbella is.
And what that means is that on day 1 of independence, Scotland will, to all intents and purposes, have no pensioners at all. Everyone of pension age (and, indeed, those who've already made sufficient contributions to qualify but haven't reached retirement age yet) will be the responsibility, pension-wise, of the UK government.
We also know that pensions take up almost half of the entire welfare budget. UK pensions cost about £74bn a year. Scots live slightly less long than their southern counterparts, so the Scottish share of that will be a bit less than the population share of 8.4%. Let's call it £6bn a year.
That would appear to be an extra £6bn straight into the Holyrood coffers. There's no corresponding liability – people who reach pension age AFTER independence day will have to have their pensions paid by the Scottish Government rather than the UK one, but state pensions are paid out of general taxation anyway, so that's normal. We know about that already, it's not an extra cost.
The "bonus" will decrease steadily over time as the pensioners – not to put too fine a point on it – die off, replaced by new ones for whom the Scottish Government IS liable.
But it'll last for roughly 20-odd years (based on average life expectancies), and if we assume – just for a ballpark illustrative figure – a straight-line graph going down evenly to zero over 20 years, and if we remember our geometry correctly, it'd lift a total of £60bn of pension burden off the Scottish Treasury over the whole period.
(And that's actually a pretty conservative estimate, as in reality more people will die towards the end of the period than at the start, especially if we put some of the extra money into health and social care and raise life expectancies. Plus, of course, if that money's available to spend elsewhere it'll generate growth and revenue.)
At the very least, it definitely seems to put the No campaign's constant shrill warnings about Scotland being predicted to have a very slightly more ageing population over the next few decades into some sort of perspective.
An extra £6bn a year (or more precisely a £6bn reduction in the welfare budget, for free, without having to make a single cut) for the first few years of independence will certainly take the edge off any startup costs. It would pay off a huge chunk of any debt Scotland inherited, or all manner of other things.
At the very least (and most likely in practice) it'd be a massive bargaining chip in negotiations, because the UK insists it'll the sole continuing state and Scotland will be a brand new country with no rights to the membership of organisations, currency etc. But it can't have that both ways. If it's the same UK and Scotland isn't, then the pension liabilities are Westminster's alone, as well as 100% of UK debt.
For perspective, Scotland's current UK debt repayments are around £4bn a year. If we walk away as a new country, the pension savings more than double the value of a clean break. £10bn a year is a heck of a strong card to play in negotiations.
(Not least because it would comprehensively wipe out the Scottish deficit. The No campaign likes to threaten that if Scotland created its own currency or used Sterling informally it would have to pay more for its borrowing. But freed from £4bn of UK debt repayments, £6bn of pension liabilities and £1bn in other savings, Scotland would be rolling in cash and wouldn't need to borrow a penny from anyone.)
Indeed, it's such a big deal, yet one that we've never seen anyone mention before, that we can't shake the feeling we must have overlooked something incredibly obvious and embarrassing. We just can't for the life of us see what it would be. We've asked a few people already, and nobody can spot the flaw.
Quick, someone tell us so we can delete this post and pretend it never happened.