The phrase most repeated by angry Unionists in the 16-and-a-bit months since the independence referendum is surely "once in a generation". While the SNP quietly gets on with the business of government, having not mentioned a second referendum in its 2015 manifesto and not being expected to do so in this year's either, the parties of the UK can't seem to shut up about it.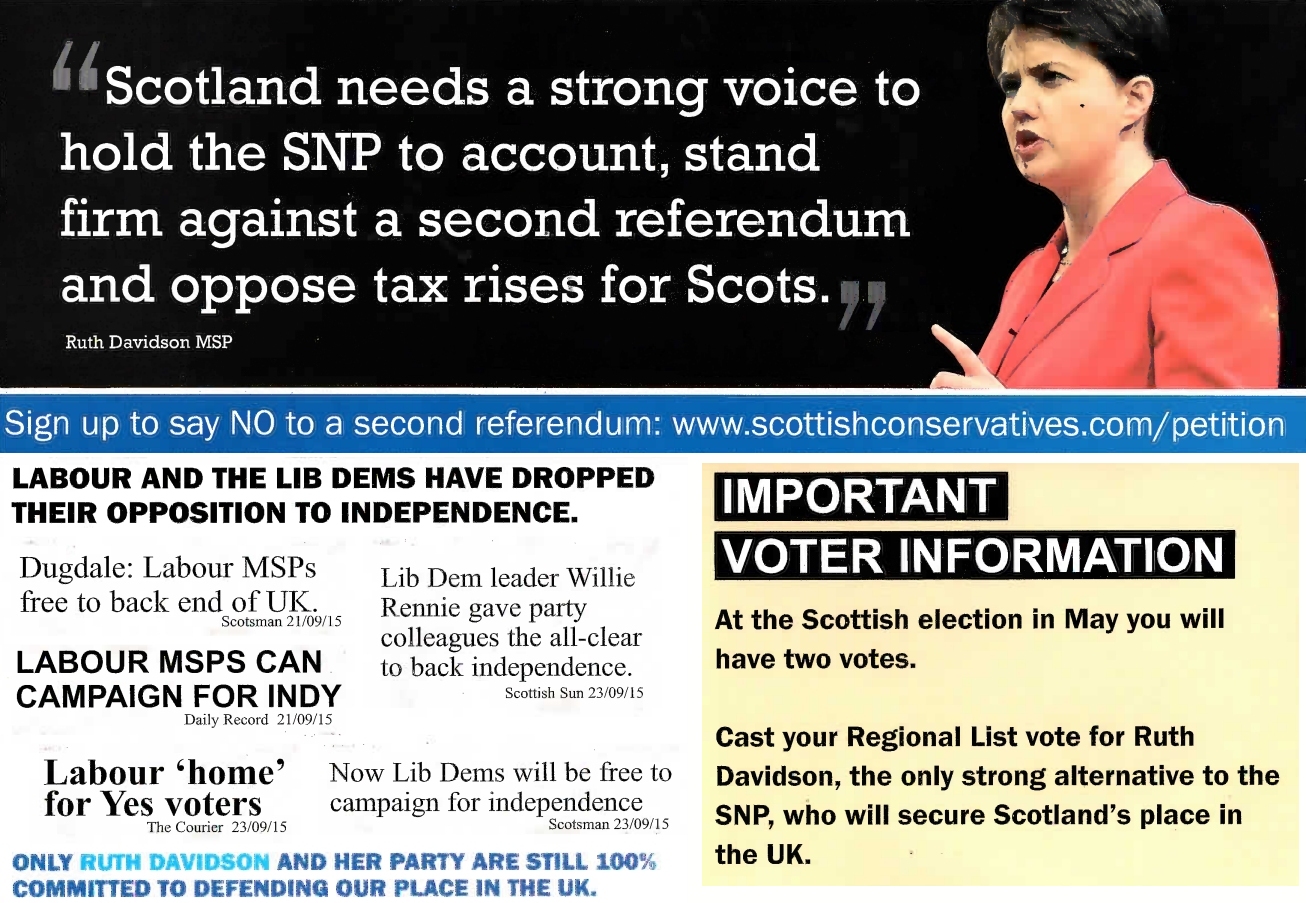 The Tories in particular seem determined to make "NO SECOND REFERENDUM" the main plank of their 2016 election campaign, despite nobody actually proposing one.
(This is happening despite Ruth Davidson having said just nine months ago that her party wouldn't block a second indyref, while Ed Miliband said that Labour would. However, Davidson's organ-grinder, David Cameron, joined Labour in ruling it out just a few months later, which may explain Davidson performing a sudden U-turn akin to her famous one over more devolution.)
And when you boil it down to the brass tacks, what that means is that the parties of the Union want to hold the Scottish people prisoner.
It's perhaps worth pointing out in passing that the constant wails of "you said once in a generation!" are based on a fundamental untruth about the nature of the comments made by Alex Salmond and Nicola Sturgeon. They're a deliberate misinterpretation of the words and their context, but to engage in a debate on that basis involves a lot of semantic nitpicking that, while entirely valid, just ends up sounding shifty.
(There are several reasons, but to offer just a single illustrative example: it's perfectly legitimate to say "I will only do [X] once a year", and yet still do it twice in two days, if those days are December 31 and January 1. You haven't actually broken your word. But there's no way of presenting that argument that sounds good.)
The underlying principle, though, makes a much stronger case. Imagine a scenario 18 months from now where, for one reason or another, support for independence has grown to a point where it's regularly polling between 55% and 60%.
While far from guaranteed, that's hardly an outlandish proposition – it only represents a slightly bigger swing than has already happened since the referendum, in a similar space of time, and there are several entirely plausible near-future events which could drive support higher, most obviously a Leave vote in an EU referendum.
What you'd have there would be a situation where as many 6 in 10 Scots wanted independence, yet the country was effectively being kept in the UK against its will and told there was absolutely nothing it could do about it.
That's clearly not a democratically defensible position. You can't tell a nation that it's not allowed to express its wishes for 20 years because of something that happened in the past. Imagine the Tories woke up tomorrow and said:
"Okay, you just elected us with a majority and we think we need 20 years uninterrupted to put the UK to rights, so we're going to outlaw elections until then for the good of the nation. There's been too much division and bad feeling already, and having elections every five years would just cause more. We don't want a neverection".
There'd be outrage, and quite properly so – the country would have been turned into a dictatorship. The opposition parties would howl in fury. The United Nations would be invoked. The Americans and/or Russians might start bombing. It's inconceivable. Yet it's exactly the position that Unionists want to take over a referendum.
An electorate can (and often does) change its mind, sometimes on a dramatic scale and with great speed. But you can't have an election after every opinion poll, so the democratic parts of the world have settled on a system whereby the people express their views every five years or so.
And if on one of those occasions the people vote for a party which has stood on a platform of having a referendum about something, then that's what happens. That's what democracy is. That's the absolute definition of it. The losers don't get to say "But you voted for us a few years ago, so you're not allowed to vote differently now".
Deep down, the Unionists know that perfectly well. They pretend that referendums are somehow different, and that they're immune from the normal rules of democracy because they're too important (the "irreversible" argument, which is of course complete cobblers anyway). But to say that is to say that the people are only allowed democracy for unimportant things, and that's clearly an insupportable position.
(Not least because it suggests that you're simply scared of losing.)
The real point of the matter is that neither Alex Salmond nor Nicola Sturgeon, let alone Ruth Davidson or Ed Miliband, have the right to make that decision. Whether and when there's a second referendum is a matter exclusively for the people of Scotland.
Should a time come when the majority of the population wants one, it seems a safe bet that a party will put one in its manifesto at the first opportunity and let the voters decide. And whether that's 20 years from now or 20 minutes, history shows that woe will betide anyone who tries to stand in the way of the people.