One thing you can always guarantee on GERS Day is that the latest set of figures for Scotland's devolved economy inside the UK will trigger another uncontrolled spurt of "SNP HONEYMOON OVER" articles from the nation's dogged commentariat.
Today we've seen already examples (links below) from two ex-Scotsman editors, Iain Martin and Magnus Linklater, the latter popping up in the Times by way of a rather crass and unpleasant analogy involving Oswald Mosley and the Blackshirts.
And since we'd rather watch "Suicide Squad" again than spend any more time going over the arguments about GERS (and trust us, readers, we don't say that lightly), we thought it'd be more fun if we finally got round to compiling a semi-definitive list of all the times the collective wisdom of Scotland's media and opposition has confidently predicted the SNP's imminent demise.
The Nats were first formally elected to government on 16 May 2007. We wouldn't have too long to wait after that.
22 MAY 2007
30 AUGUST 2007
"Alex Salmond and his SNP colleagues have enjoyed a long honeymoon since their dramatic narrow victory in May's Holyrood elections, but that could change when MSPs return from their summer recess next week."
15 SEPTEMBER 2007
"Wendy Alexander has promised to return Labour to power in Scotland as she became the party's first female leader.

She announced party reforms and launched a fierce attack on the Scottish National Party, claiming that its honeymoon at Holyrood was over."
4 OCTOBER 2007
25 JANUARY 2008
"While the SNP blunders through its honeymoon, the truth is beginning to dawn on the Scottish electorate. Meanwhile, Scottish Labour renews, and we wait."
18 APRIL 2008
"The Scottish Government will shortly celebrate a year in power. Perhaps the honeymoon is over already."
8 MAY 2008
"The honeymoon is over for the SNP. Wednesday, May 27, 2008 may well go down in history as the day the electorate stopped loving Alex Salmond and the Nationalists"
1 JUNE 2008
"Maybe it's wishful thinking, but could the longest-lasting honeymoon in Scottish politics be over? Opposition to the Salmond bandwagon has been feeble so far in the parliament, but in the town halls it will be fierce. Let the fight-back begin."
5 JUNE 2008
7 NOVEMBER 2008
"Honeymoon may be over for SNP after surprise by-election defeat in Glenrothes"
8 NOVEMBER 2008
"Glenrothes was the day that proved Alex Salmond's honeymoon is over and also the day Labour is fighting back, renewing our contract with the Scottish people."
11 NOVEMBER 2008
"Alex Salmond got it spectacularly wrong. Scottish politics has changed again. The honeymoon is over."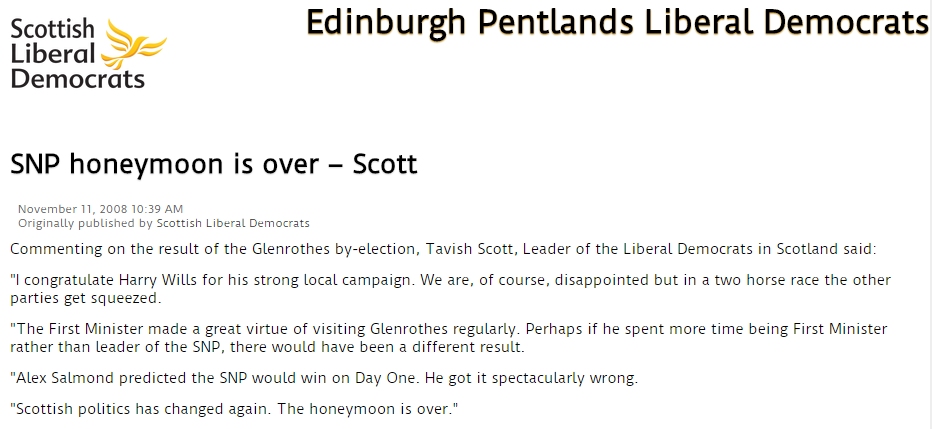 13 NOVEMBER 2008
13 DECEMBER 2008
2 DECEMBER 2009
"Mr Salmond – still smarting after a severe beating in the by-election in Glasgow last month and less than encouraging poll ratings signalling an end of the longest honeymoon in Scottish political history – apparently 'blinked' according to the opposition Labour leader Iain Gray."
14 FEBRUARY 2010
"After an inordinately long honeymoon normal political service is just reasserting itself."
5 AUGUST 2010
"The wheels have very definitely come off – the SNP have nothing to say and their honeymoon period in government is most definitely over."
21 OCTOBER 2010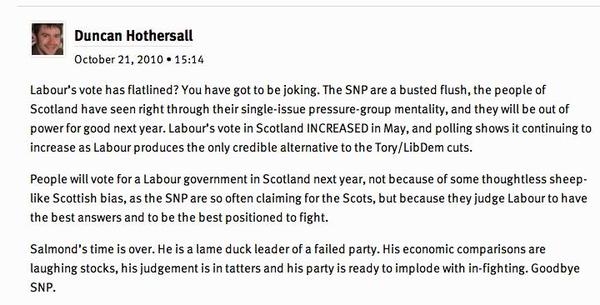 11 SEPTEMBER 2011
"How long will Alex Salmond's honeymoon with the voters of Scotland continue?"
4 MAY 2012
27 NOVEMBER 2014
"It felt like the start of a possible shift in the centre of political gravity, with the SNP perhaps even finding itself outside the consensus.

Scottish politics may gradually revert from being dominated by the grievances of the 45% who voted yes to independence, to the quieter aspirations of the 75% or more who tend to back increased powers for Holyrood."
8 JANUARY 2015
"Nicola Sturgeon's honeymoon spell as First Minister has disappeared over the Holyrood horizon."
13 AUGUST 2015
24 SEPTEMBER 2015
"Scotland may seem completely in the SNP's grip at the moment, but even as the Nats belt out 'Scots Wha Hae' at the end of their conferences, Justin Timberlake's 'What goes around, comes around' hums gently in the background."
4 OCTOBER 2015
"After eight years of defying the laws of political gravity, the normal rules of politics are back."
14 OCTOBER 2015
"The Guardian view on the SNP: lords of all they survey – but for how long?"
2 NOVEMBER 2015
"Adored, winning – so why is it all going wrong for Nicola?

The more cocksure Nats should remember the first rule of politics: outside of autocracies, the pendulum always eventually swings away from you. The public gets fed up looking at you. It decides it wants the other guys to have a shot. And regardless of how good a game you talk, people aren't fooled by words for long if they are not matched by actions.
9 NOVEMBER 2015
"The political ground has shifted and all great empires must eventually fall"
14 DECEMBER 2015
"Opposition leaders and spin doctors have been privately banging their heads against their office walls at Holyrood wondering what it takes to dent the SNP's seamless popularity.

So why should the latest political row over the closure of the Forth Road Bridge be any different – is it likely to result in any lasting damage for Ms Sturgeon?

A lengthy delay is sure to see the closure remain a live issue going into the Holyrood election campaign – and it may just provoke the kind of anger which sways floating voters."
17 FEBRUARY 2016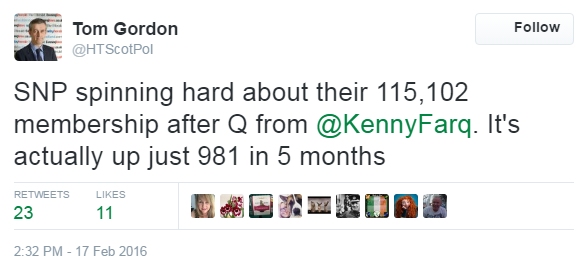 16 MARCH 2016
"Honeymoon is over for the Nats – it's time for tough truths"
27 APRIL 2016
"The honeymoon's over Nicola – now it's time to deliver. In keeping with traditional cycles of power, the SNP's halcyon days are unlikely to survive the next parliament."
18 MAY 2016
15 AUGUST 2016
24 AUGUST 2016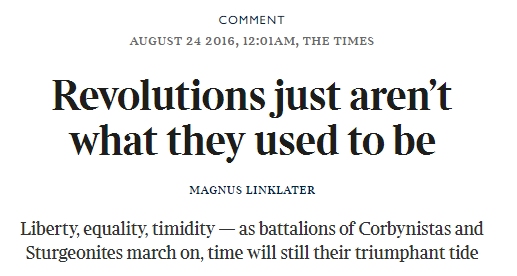 24 AUGUST 2016
"After a long period in which the normal rules of political gravity did not apply to the SNP, there are the first stirrings of a change. They are being found out."
5 SEPTEMBER 2016
1 OCTOBER 2016
"The SNP is in political landslip: it is its decline, not its rise, that is gathering momentum. The triumphalist narrative of 'inevitable' independence rings hollow from a party running out of steam and credibility. At last, the skids are under the SNP."
16 OCTOBER 2016
"Could the SNP bubble be about to burst? With thousands gathering for its largest ever conference this week and Nicola Sturgeon dominating headlines, it might seem an odd moment to ask if its decline is also underway. But away from the multiple ovations in the main hall, the cracks are starting to show."
26 DECEMBER 2016
"Meanwhile the mounting domestic crises in education, policing, council services, council tax increase and the unravelling SNP budget cannot be levelled at Westminster. Something has to give; next year it will be support for the reputation of Nicola Sturgeon and support for the SNP."
20 JANUARY 2017
"Ignore Nicola Sturgeon's swagger – 2017 is the year the SNP will reap the whirlwind."
30 JANUARY 2017
24 MARCH 2017
"The SNP came to power on a programme of deception; its power is now imminently dissolving in a welter of self-delusion."
22 MAY 2017
"Nicola Sturgeon's SNP, like Tony Blair's New Labour, is heading for a crash landing. I have a feeling that when the SNP does fall it will fall quite quickly. Its belief in its infallibility, its inability or unwillingness to do self-deprecation or apology, will increasingly aggravate voters."
CURRENT "SNP HONEYMOON OVER" COUNT: 44
One day, of course, they'll finally be right. Even a stopped clock, etc. But with five years until the next scheduled Holyrood election (which would require either the Tories to win a general election in Scotland or Labour to surge to victory from third place) it doesn't look as though it'll be any time soon.
So we'd advise readers to enjoy the articles above, because they might be in slightly shorter supply for a little while to come.
As ever, let us know if we've missed any. We'll keep the list updated.