Wings readership stats for 2014: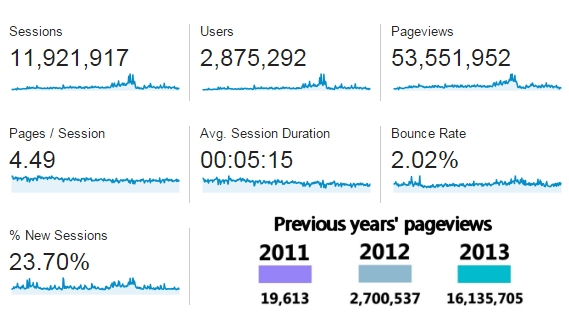 Could have done worse.
That traffic more than trebled in referendum year, of course, wasn't entirely surprising. Nevertheless, to realise that almost two thirds of the entire registered electorate of Scotland paid our wee site at least one visit this year is still a startling thing. 2015 is going to be a very interesting time politically, but somehow we suspect it's going to be a tall order to try to match this peak.
Pretty much everything that could be said about the most momentous year in Scottish history has already been said elsewhere, so we'll spare you a full-on retrospective. Robin McAlpine for Bella Caledonia, Iain Macwhirter in last Sunday's Herald and Ian Bell in today's National have covered most of the bases pretty comprehensively.
As far as the wider goal of independence goes, we're persuaded by the argument that Yes had to lose this time round. A 51% victory followed by the collapse in the oil price – irrelevant as it actually is – would have unleashed unholy chaos and the prospect of some truly dark events. As it stands, things are set fair for the subject to be revisited sooner than anyone would have thought this time last year.
So instead we'd like to take this moment to issue some thanks. The public face of Wings Over Scotland might be one idiot in Bath, but everything we've achieved has been down to a far bigger cast of characters.
The most obvious, of course, are our other voices. Be they regular bylines like Chris Cairns, Scott Minto, Doug Daniel, Andrew Leslie or the dozens of others who contributed more occasionally, our writers and artists give Wings breadth and depth and expertise it wouldn't have if it was just one guy ranting by himself.
But more even than those, we're indebted to the silent army of alert readers, whose tipoffs and inside information are the building blocks of what readers see on the pages. Keeping on top of the neverending flood of email and Twitter messages and whatnot is a Sisyphean task, but they're the lifeblood of the site. We'd be nothing without the thousands of eyes, ears and typing fingers who do so many of the hard yards to bring us stories to investigate.
And while we're talking about administrative tasks and manual labour, what can we say about Team WBB? Wings would have crashed to the ground in flames during August and September without the tireless work of the hastily-assembled emergency taskforce charged with getting a third of a million Wee Blue Books out to every nook and cranny of Scotland.
They didn't get nearly the credit they deserved at the time, so let's give a big, overdue shout out now to the people who worked a miracle after basically just being delegated and told to get on with it, without any experience or training or an action plan, and in what little spare time they had from their own separate campaigning activities.
The logistics were terrifying, the demand overwhelming (we had five or six times as many requests as we had copies) and the timescale ridiculous, but somehow the Wee Blue Book managed to reach Orkney and Shetland and the Western Isles and the depths of Argyll and the remotest corners of the Borders by the vanload, thanks to the Herculean efforts of people who were making the rules up as they went along.
So many people worked to push the WBB through the hubs and spokes of our ad-hoc distribution network that we haven't the slightest chance of remembering them all here (and indeed the full list would be far too long to print), so we apologise in advance to those appreciated but not named. Representing them all, our heartfelt gratitude goes out to Sandra Bothwell, to David Halliday, to Adrian Bruce, to Andrew Leslie and Chris Cairns and Doug Daniel again, to Ivan McKee, to Elisabeth Schmitz, to Angus Cheyne, and to the wonderful Andy Mushet at Wm Anderson & Sons.
[EDIT: See the comments below for more. Team WBB did such a great job of taking the work completely out of my hands that I simply never knew half of the names in the first place to remember.]
But perhaps most of all, we – I – salute Lindsay Bruce, the right-hand man to whom I owe my sanity and Wings owes its survival over those two insane months. Not only a key cornerstone of Team WBB but also a PA and a Fulfilment Department par excellence, it's thanks to Lindsay's inexhaustible drive that people got not only Wee Blue Books but also card games and Wings badges and leaflets and goodness knows what else. We literally couldn't have done it without him.
And of course, not a sliver of it would have been possible at all without the incredible generosity of the people who paid for it all – you. Having already kicked in a dizzying sum in February and March, our readers stepped up again with another dig deep into their pockets to raise the money to print well over 10 times the number of WBBs we originally planned to.
In the end we spent more than £70,000 on printing the book, over and above our other campaigning (putting out more than twice as many physical copies as the Scottish Government did with the White Paper, to go along with more than 800,000 downloads of the digital edition), and that was your money. We hope you feel you got value for it.
Wings gets lots of accolades (in amongst rather more smears and vitriol from the No camp and the media, and sadly some elements of the Yes movement) – we were the STV Devomax Daily Website Of The Year, we were ranked as the second most influential politics website in the entire UK by digital branding company Teads, and Spanish website ABC.es called us "Salmond's secret weapon".
But we're just the front of house. Behind us are legions – whether those mentioned above, or the thousands of readers who simply spread the word and help to put what we do in front of millions of eyeballs. At the end of this most remarkable of years, we thank you all, and we look forward to the battles ahead.
Happy New Year when it comes, folks.