Social media is alight today with the latest extraordinary opinion poll for next May's Holyrood election, which puts the SNP on a record-breaking 62% to Labour's 20%.
(The Conservatives and Liberal Democrats trail in with miserable stats of 12% and 3% respectively, which means that within the standard margin of polling error it's possible that NOBODY in Scotland is still planning on voting Lib Dem.)
Pollsters TNS report the findings under what might in the circumstances be seen as the slightly negative headline "SNP holds poll lead in spite of mixed views on record in government", which relates to figures concerning the Nats' performance in power.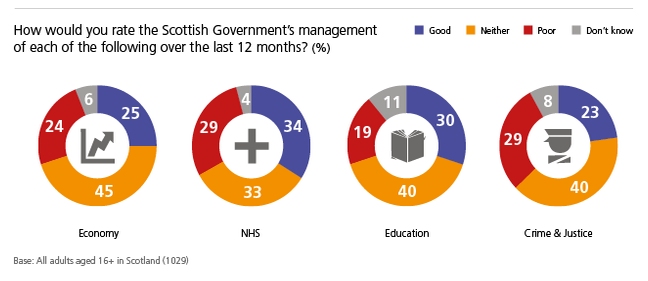 But there's an interesting quirk in those numbers.
It's often said that the SNP's continued high ratings, despite having now been in government for over eight years, are a result not of public support for independence but for the party's record of administrative competence, particularly in the face of an ineffective and shambolic opposition.
The poll backs that up – in three of the four categories the most common response is that the government is performing adequately ("Neither good nor poor" was the option given in the questions), rather than well, suggesting a sober and critical analysis by voters rather than the demented, unthinking cult often portrayed by pundits.
But we couldn't help noticing that if you discounted every last voter who rated the SNP "Good" in each category – who in each case are unsurprisingly mostly planning to vote for the Nats – they'd still be leading in the polls.
Remove the 25% "Good" respondents on the economy and you get:
SNP 37%
Labour 20%
Do the same with the 34% of "Good" on the NHS and it'd be:
SNP 28%
Labour 20%
Take out the party's keenest backers on Education and the numbers are:
SNP 32%
Labour 20%
And finally on Crime and Justice:
SNP 39%
Labour 20%
That's an average 14-point lead even after you've taken out the people who think the SNP are doing a good job. If it could be possible to more strikingly illustrate the total contempt that Scottish voters currently hold the opposition parties – and particularly Scottish Labour – in, we're at a loss to think of how.