When someone sent us a link last week to a picture of an Anas Sarwar election leaflet, we were immediately struck by the fact that it had the weird characteristic of being ostensibly handwritten but underlining every word in a sentence individually, which reminded us of one we'd seen from Douglas Alexander back in January.
So after a busy weekend of saving stray cats from going blind, we went to dig the two leaflets out, in the modest hope of getting a quick cheap joke about them both using the same fake-handwriting font. But instead we got a bit of a surprise.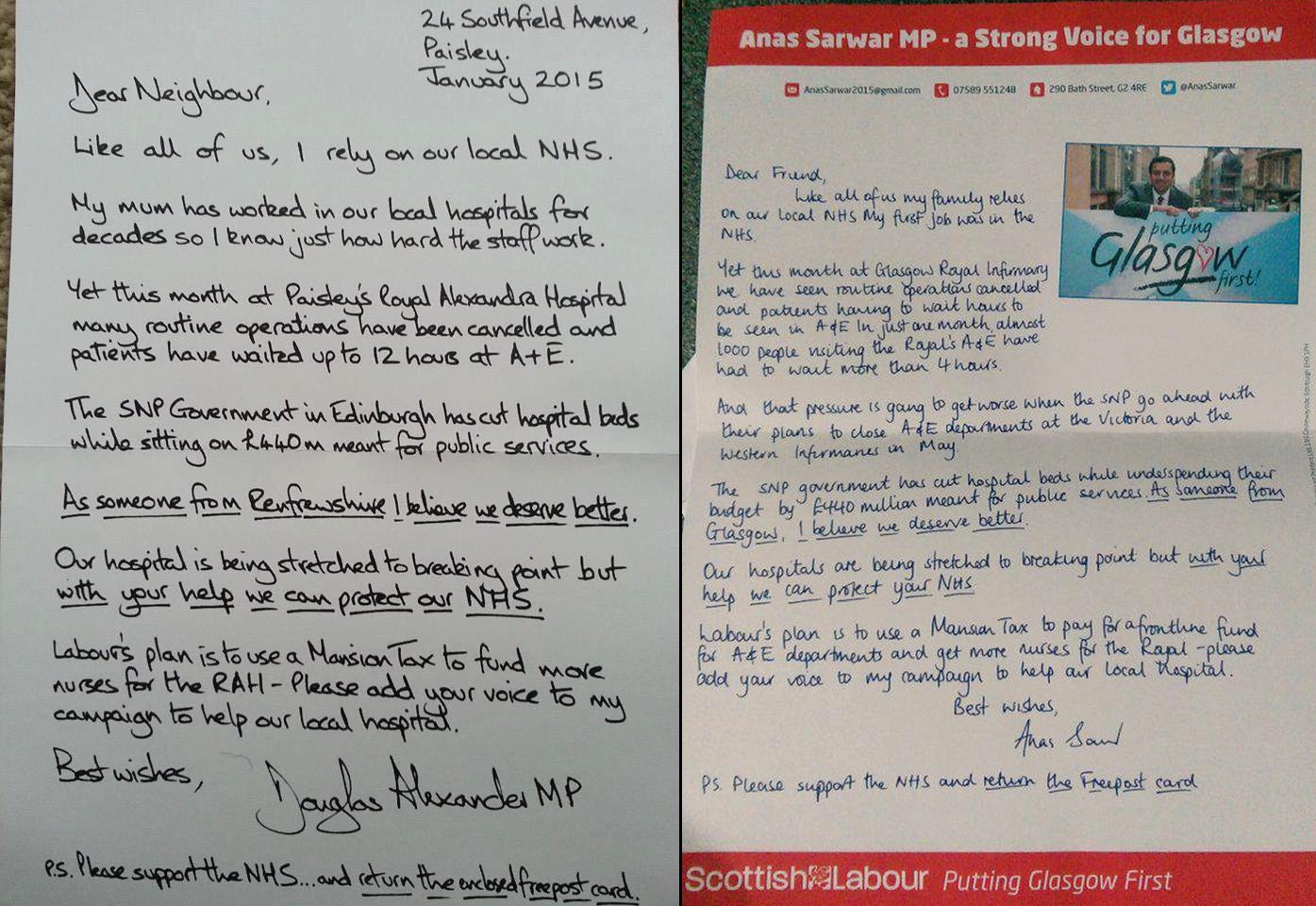 Because in fact they're in completely different fonts, which suggests (a) that Labour is making their MPs actually really write these things out themselves like a punishment exercise in school, and (b) that both Alexander and Sarwar had rather unconventional English teachers.
But what's more striking than that is that the two letters are almost word-for-word identical, with the exception of the first couple of paragraphs, which are tweaked for a bit of local detail – Sarwar worked in the NHS, whereas Alexander's mum did.
(We're not sure why any of it is relevant anyway, since of course the NHS in Scotland is fully devolved and this is a Westminster election, but let's not split hairs.)
From then on they're the same. "As someone from Renfrewshire" Alexander believes "we deserve better", whereas Sarwar believes the exact same thing, but "as someone from Glasgow", and they want different hospitals funded – though Sarwar curiously fails to mention the vast brand-new multi-hospital complex being built by the Scottish Government in his Govan constituency and due to open in 2015/16.
It seems, however, as though Sarwar has won some sort of internal battle. His letter ends with a banner proclaiming "Scottish Labour – Putting Glasgow First", which presumably must be bad news for Alexander's constituents in Renfrewshire. We don't know what their position in the priority list is. Perhaps they should be told.