The key exchange on currency from last night's debate:
At the end of the clip, a flustered Darling finally blurts out what the No camp have been trying not to admit for the entire campaign: "Of course we could use the pound".
Unionists and journalists are now frantically spinning that they'd never denied such a thing. But we know that's not true, and nobody got left with more egg on their face than Mr Darling's supposed superior, Scottish Labour "leader" Johann Lamont.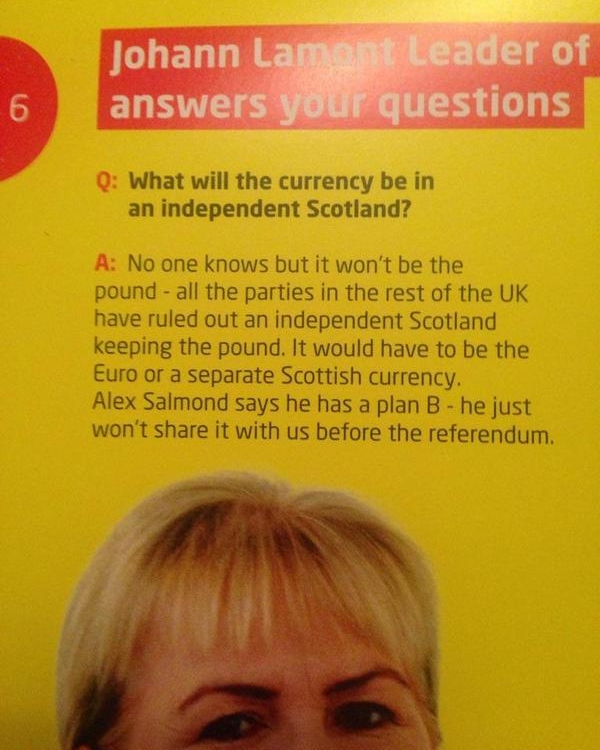 That's a leaflet that was popping through voters' letterboxes yesterday. It couldn't be any more unambiguously phrased – "No-one knows what the currency will be but it won't be the pound". And it was backed up by one from the UK government that's arriving all over Scotland this morning:
"Leaving the UK means leaving the pound." Fairly unequivocal, we'd say.
And it's not the first time we've heard that message, of course.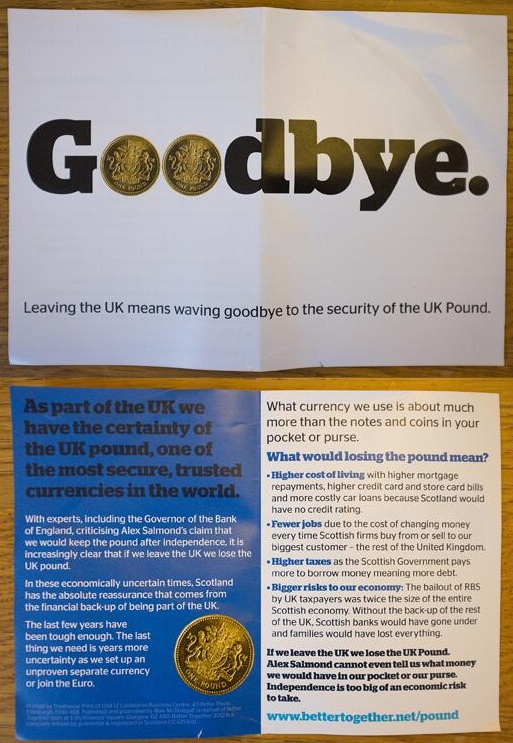 "If we leave the UK we lose the UK pound". Not a lot of room for interpretation there.
(And you can't try to wriggle out by claiming that "UK pound" is a semantic formulation that actually means a currency union, because the leaflet talks of "changing money" for cross-border trade, which wouldn't happen with "sterlingisation".)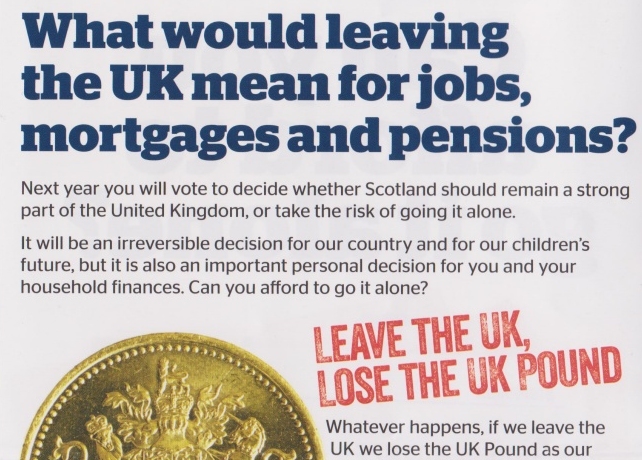 "LEAVE THE UK, LOSE THE UK POUND". What could it possibly mean?
Where "the only way" clearly means "just one of the possible ways", of course.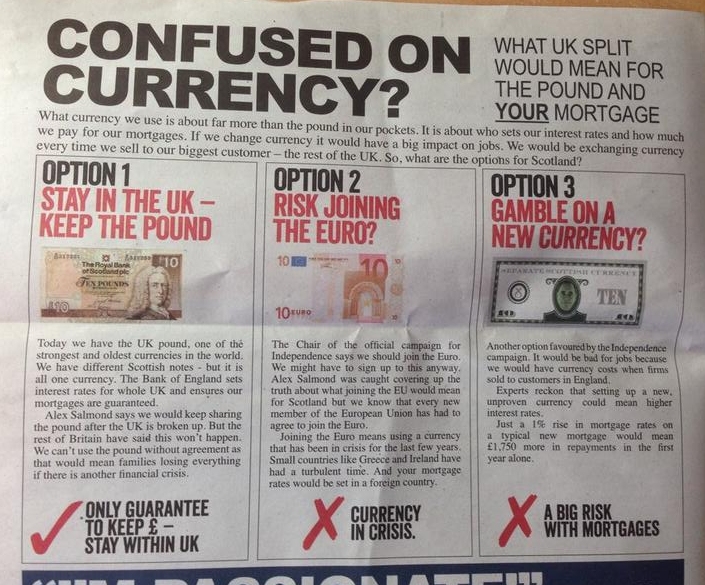 "We can't use the pound without agreement" pretty much annihilates any last lingering shred of doubt about whether "keep the pound" only refers specifically to a formal currency union.
And then there was this from the BBC:
And this in the Telegraph:
"Major: Scottish independence means 'walking away' from the pound"
And this from Scottish Labour:
"It is now clear the only way to keep the pound is to keep the UK"
And this from "Better Together" itself:
"You can have independence or the pound. You cannot have both."
We could, frankly, go on all day. "Better Together" and its friends have spent the last two years straining to convince the Scottish people that a Yes vote means losing the pound. Last night Alistair Darling was finally forced to admit openly in public – in front of a huge TV audience, not the tiny handful of politics nerds like us who watch Scotland Tonight or Scotland 2014 – that they've been lying the whole time.
It's a shame he didn't at least keep his "leader" up to date.