You can almost physically feel it. Scotland's opposition and media are absolutely champing at the bit today to try to make some "SNP BAD" political capital out of the tragic and appalling death of little Liam Fee at the monstrous hands of his mother and her grotesque, controlling partner.
Like kids at Christmas, some of them couldn't even wait for morning.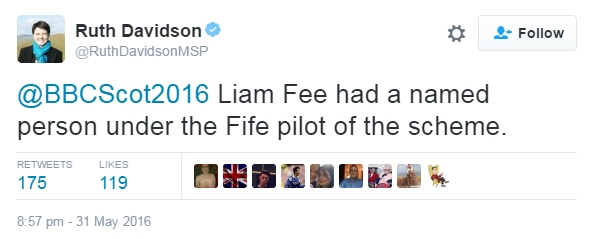 But something odd struck us as we surveyed the coverage of the case: if the poor wee toddler had a Named Person, how come nobody could name them?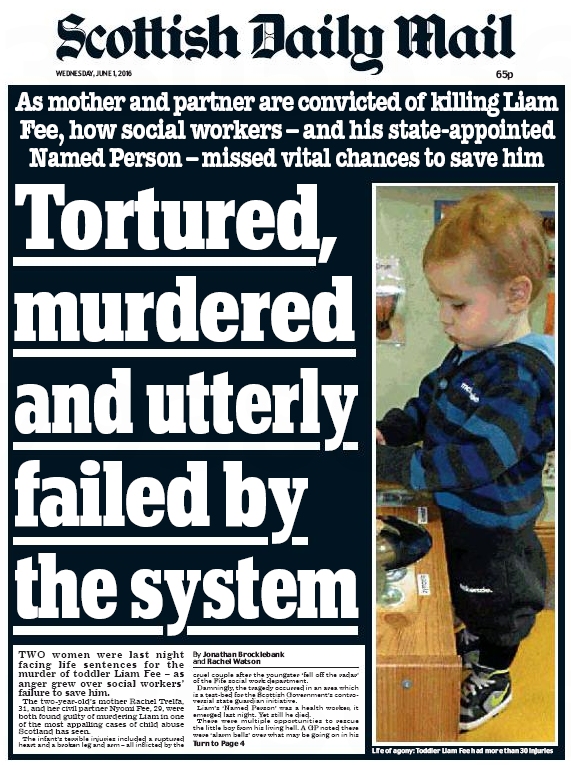 The Daily Mail, amid a nine-page orgy of lurid and tasteless reporting on the story (of which the low point might be blaming Named Person for failing to prevent the fatal stabbing of Aberdeen teenager Bailey Gwynne), was the most explicit, claiming that it had "emerged last night" that Liam Fee had a Named Person in the shape of "a health worker", which is an unusual definition of "name".
But that assertion, as well as failing even on its own terms and ignoring the fact that no system will or can ever be 100% successful at preventing abuse, is a complete and fundamental misrepresentation of what a Named Person is.
A Named Person is simply a first point of contact for concerns about a child's welfare. Their job is to pass those concerns onto social workers, not to solve the problems themselves. (For example, many Named Persons will be teachers, with neither the training nor the legal powers to intervene directly, eg by taking the child into care.)
And in the case of Liam Fee, whether he had a Named Person or not – something which still isn't clear – that definitely happened. As is exhaustively detailed in all the press coverage, the toddler's injuries were repeatedly flagged to the social work department and the police, who simply failed to do anything about them, for reasons yet to be established by an inquiry.
In a slightly more nuanced editorial, the Herald notes:
The logical conclusion of that is that had Named Person been fully in effect, there would have been a better chance of saving Liam. Yet even in a piece that is indeed expressly entitled "Liam Fee case highlights potential benefits of Named Person policy", the paper can't stop itself from adding:
"There are certainly pertinent questions around the implementation of the Named Person scheme, but its critics should not be allowed to use this single case as ammunition to kill it off completely."
(Our emphases. The implication of that sentence is that the scheme should only be partly killed off for now, until some other equally-irrelevant cases arise which allow the job to be completed.)
And even there, the Herald only goes to far as to say that the young boy had a Named Person "of sorts". The Children And Young People Act of which the legislation is a part wasn't passed until 27 March 2014 – five days AFTER Liam Fee's death on March 22 the same year, although partial trials and pilot schemes were already in operation.
The Times, meanwhile, carries an editorial leader saying "Liam Fee's death calls into question the effectiveness of the 'named person' legislation" even as it admits that the measure is totally unconnected to it: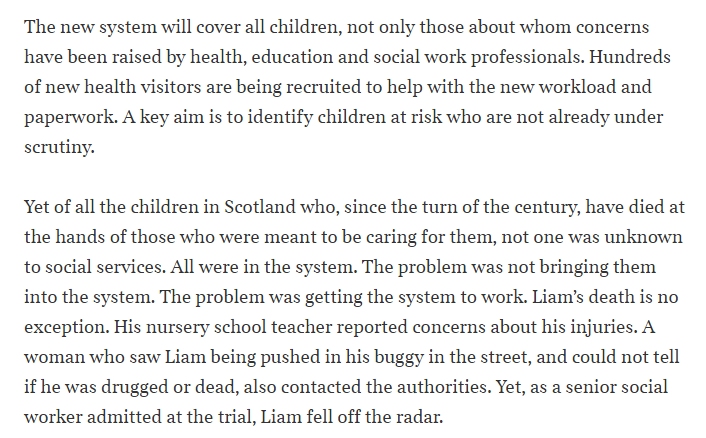 The piece acknowledges that it was failings lying far beyond the responsibility of the Named Person that led to tiny Liam's death, yet still contorts them into an attack on the new law. (The Times also carefully avoids saying that he had a Named Person at all, only vaguely noting that a pilot scheme was in place in Fife generally.)
The editorial ends with an insane paragraph of irrational drivel:

The paper frets about social-workers' caseloads right after noting that hundreds of new staff are being recruited to help. It conjures a "deluge" of "new information", ignoring the fact that if nothing's wrong there'll be nothing for a Named Person to report. And it turns a blind eye to the fact that there's no way of telling a "loving home" apart from an abusive one in advance – abusers don't all exceed a certain income level, support St Mirren or paint their front doors the same colour.
The only things we can say with certainty about the tragedy at this stage are:
1. There was a massive failing of the social work department
2. It was NOTHING TO DO with a Named Person.
A Named Person's job – and we'll repeat ourselves here because it can't be said enough times – is simply to flag up concerns. Other people are then meant to act on them. Concerns about Liam Fee WERE flagged up, repeatedly, but then not acted on.
What we DON'T currently know is (a) whether Liam Fee specifically had a Named Person at all, (b) exactly which of their responsibilities had been activated if he did, (c) whether – if they existed at all – they were among the numerous people who reported their worries about his welfare.
(Right now we're deeply sceptical, because if the Daily Mail knew for sure that there WAS a Named Person, we can't for a second imagine the paper declining to name them. And if an NP can stay anonymous then the entire concept of them being a Named Person is a self-evident nonsense.)
In the end none of those things are actually very relevant anyway, for the reasons noted above. But what we know for sure is that anyone jumping the gun on them in an attempt to use this horrible, shocking, avoidable tragedy for political gain or to sell newspapers should be treated as the loathsome filth they are.