Here's Ed Miliband, giving a speech this morning to literally at least 20 Labour MPs, Labour MSPs, journalists and possibly a stray member of the public who accidentally walked through the wrong door in Clydebank, a place where Labour leaders used to address gatherings of thousands.
Unusually, Miliband took a few questions from the hacks, all of whom promptly wasted the opportunity by lobbing completely pointless softballs about coalitions and deals, all of which (a) have been asked a hundred times already, (b) were rendered moot by Alex Salmond on the Marr show yesterday, and (c) were only ever going to be batted away non-committally.
So here's an actually worthwhile one they can ask instead next time.
"Mr Miliband, do you rule out being the Prime Minister after this election if Labour isn't the biggest party?"
Because unlike all the tedious coalition questions, whatever the response to that is, it tells us something significant. If Miliband refuses to discount the probability, either explicitly or via evasive waffling, then beyond any dispute Labour's entire election strategy in Scotland – which is based solely on "the ONLY way to stop the Tories is to make Labour the biggest party" – disintegrates to nothing on the spot.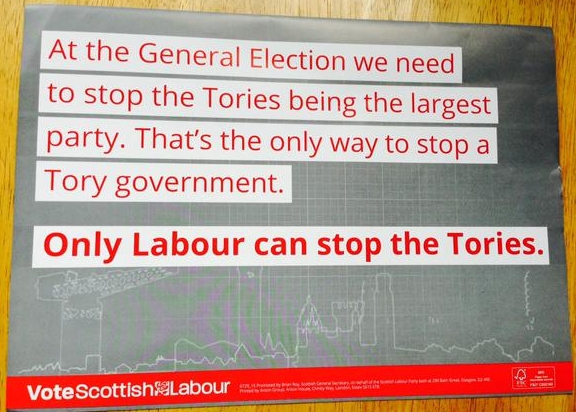 And if he DOES rule it out, it tells us something even more dramatic – that Labour cares more about its own political ego than about saving the UK from the Tories.
This, for example, is a perfectly plausible potential outcome of the election:
Tories 290 seats
Labour 285
SNP 40
Lib Dems/others 35
In that situation, Labour could win a government-forming confidence vote with the backing of the SNP alone. But the party is currently implicitly telling us that it would walk away and refuse to do so because it wouldn't be the biggest single party, thereby abandoning the country to the Tories (or an insanely wasteful second election).
Voters in the entire UK deserve to know whether that's really the case. The supposed job of the media is to establish that fact. Is there ONE journalist ANYWHERE in Britain who'll ask the question and actually tell us something useful for a change?