Yesterday we reported on the Sunday Herald's bizarre and blatant reversal of the plain facts about OBFA prosecutions in its front-page lead. But it wasn't the only paper pulling that trick this weekend.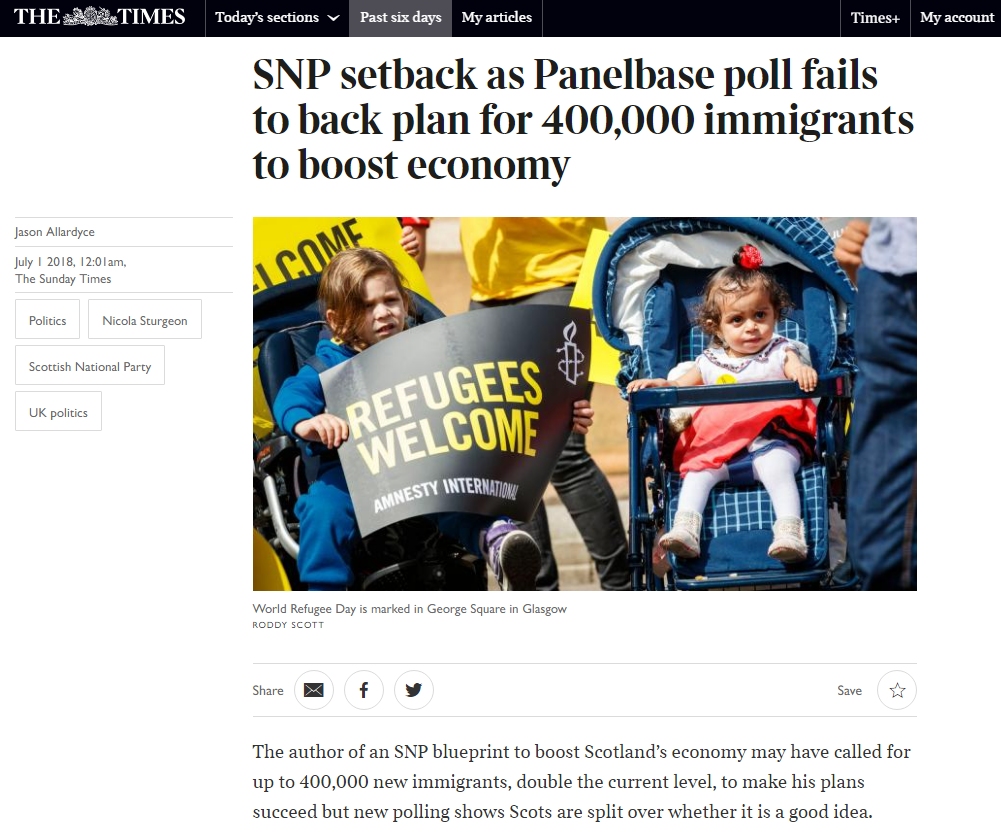 The Sunday Times ran a major piece on results from a poll it conducted at the same time as our most recent one, spinning the outcome as voters rejecting the SNP's plan to boost the Scottish economy via more immigration.
But as so many stories in the press do, the article simply disintegrated before readers' eyes almost immediately after the headline.
Anyone reading the splash would reasonably infer from its wording that the plan had been opposed overall by the poll's respondents. But as early as the first paragraph that apparent opposition had been downgraded to "Scots are split", and it quickly fell apart even further.
Wait, what? So 36% of voters backed the idea as a good thing for the economy, 30% were opposed and 34% had no opinion? In an actual vote on the subject, where Don't Knows and Don't Cares don't count, that would translate to this:
SUPPORT THE PLAN: 55%
OPPOSE THE PLAN: 45%
Funnily enough, that's the exact same margin which in the independence referendum was described as a "decisive" or even "overwhelming" victory, yet was presented here by the Sunday Times as a "setback" for the SNP.
And the data was even more revealing than that. Because only one party's voters were actually opposed to the plan, with all the others strongly united in support.
Again, let's strip out the DKs and see how those numbers would pan out in a vote:
SNP VOTERS
Support: 71%
Oppose: 29%
LABOUR VOTERS
Support: 61%
Oppose: 39%
LIB DEM VOTERS
Support: 77%
Oppose: 23%
CONSERVATIVE VOTERS
Support: 23%
Oppose: 77%
But we suppose "Setback for Ruth Davidson as Tory voters turn out to be an isolated bunch of racists completely out of step with the majority of Scottish opinion" isn't the sort of message the Sunday Times' readers are looking for.