The thinktank Reform Scotland is no mouthpiece for the Yes campaign. Wikipedia notes that it's "a sister organisation to the London-based right-wing, free market think tank Reform", and in fact it's closely involved with the forgotten "Devo Plus" campaign group created by politicians from the Unionist parties. Devo Plus itself is endorsed by "Better Together", to the extent that BT celebrated DP's birthday last year.
So we were pretty interested when Reform Scotland board member Professor Sir Donald Mackay appeared in today's Sunday Times rubbishing the UK government's pessimistic projections for an independent Scotland's oil revenues, and suggesting that in fact a more realistic figure was more than TWICE the one being claimed by the Office for Budget Responsibility.
That's a non-trivial matter of £8bn a year – enough to completely wipe out even the No campaign's inflated claim of a £7.6bn budget deficit for an independent Scotland.
Professor Mackay is pretty scathing about the UK government's figures, and in particular the comments of Chief Secretary to the Treasury Danny Alexander (who, he notes, also recently exaggerated the setup costs of independence by 1,200%).
But despite the article we've referenced above claiming that his full assessment was "written for this weekend's Sunday Times online", we've scoured the paper's website from top to bottom and it's not there, so we can't link you to it.
It does, however, appear in the digital edition for tablets and smartphones, so given its importance we've taken the liberty of reproducing it for you below.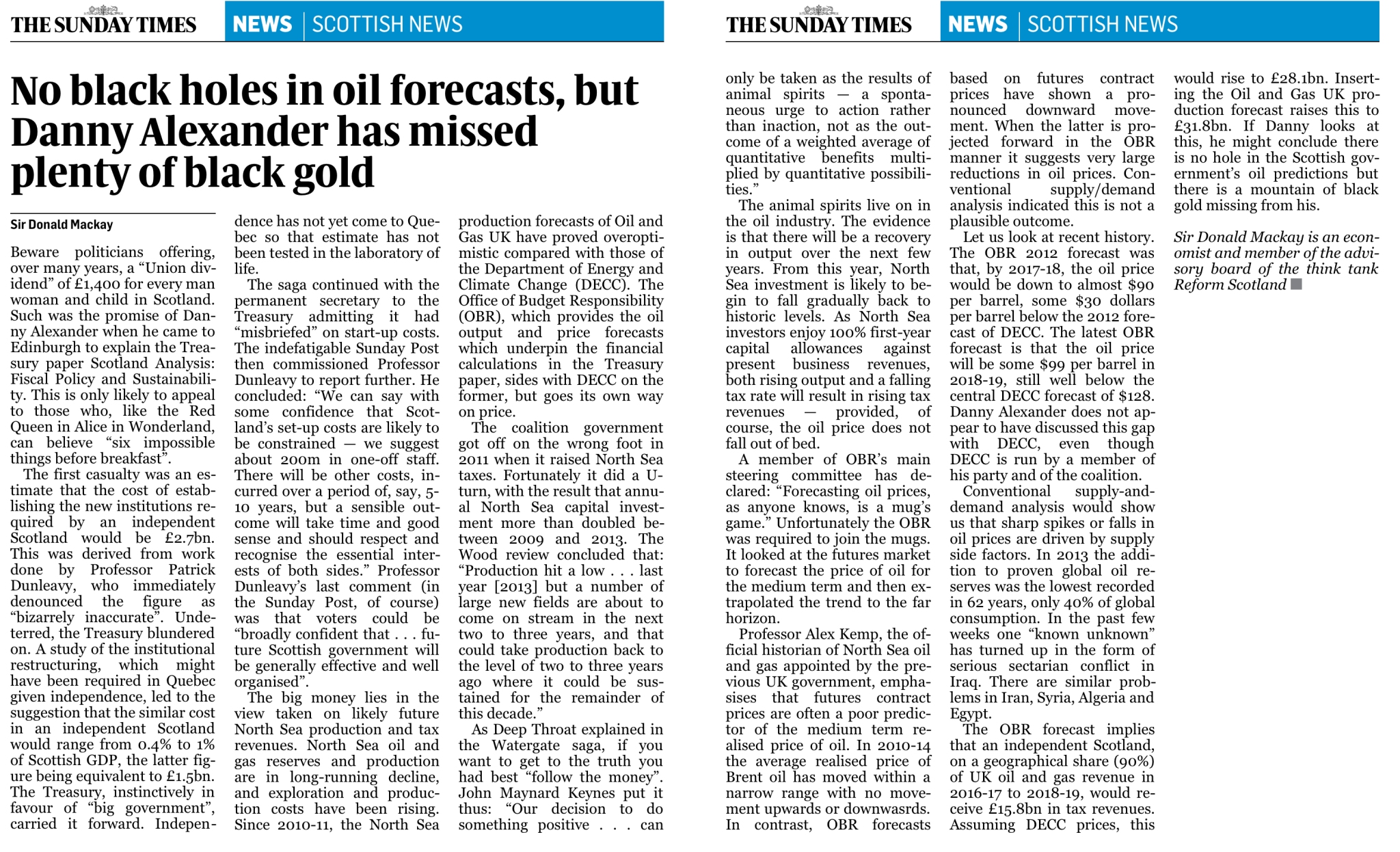 We recommend reading the whole thing, but if you're pushed for time the 'trailer' article does a decent job of summing up the key points, and we've emphasised one paragraph in particular for the REALLY lazy.
It's one thing for the Scottish Government to issue more optimistic oil forecasts than the UK government. But Prof. Mackay is a founder and director of an oil company (and many other companies), and was an economic adviser to the Secretary of State for Scotland for 25 years. His track record as a businessman, consultant and adviser is highly impressive. He seems to be a pretty impeccable expert source.
So we'll be looking forward to seeing if his projections, which make a spectacular difference to the economic case for independence, get as much coverage in the press as Danny Alexander's doom and gloom did.