This article from yesterday hasn't made it onto the Daily Record's website. When people told us about it, we thought they were joking. When someone typed the text out by hand and emailed it to us, we thought they were making it up. We had to get someone to scan the page for us before we believed it was real.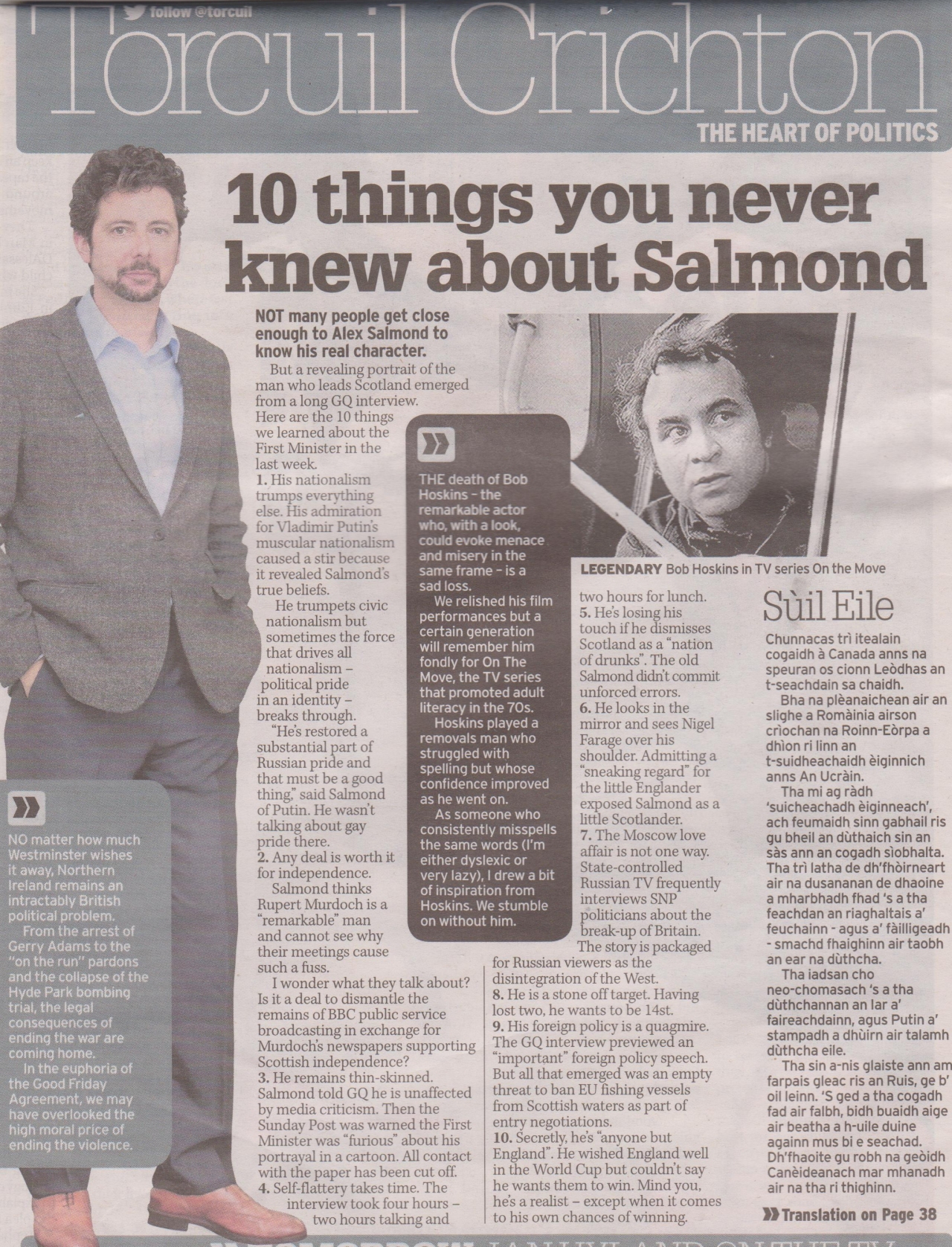 To save you straining your eyes, here's the text:
"10 Things You Never Knew About Salmond

Not many people get close enough to Alex Salmond to know his real character. But a revealing portrait of the man who leads Scotland emerged from a long GQ interview. Here are the ten things we learned about the first minister in the last week.

1. His nationalism trumps everything else. His admiration for Vladimir Putin's muscular nationalism caused a stir because it revealed Salmond's true beliefs. He trumpets civic nationalism but sometimes the force that drives all nationalism – political pride in an identity – breaks through.

'He's restored a substantial part of Russian pride and that must be a good thing', said Salmond of Putin. He wasn't talking about gay pride there.     

2. Any deal is worth it for independence. Salmond thinks Rupert Murdoch is a 'remarkable man' and cannot see why their meetings cause such a fuss. I wonder what they talk about? Is it a deal to dismantle the remains of the BBC public service broadcasting in exchange for Murdoch's newspapers supporting Scottish independence?     

3. He remains thin-skinned. Salmond told GQ he is unaffected by media criticism. Then the Sunday Post was warned the First Minister was furious about his portrayal in a cartoon. All contact with the paper has been cut off.    

4. Self-flattery takes time. The interview took four hours – two hours talking and two hours for lunch.  

5. He's losing his touch if he dismisses Scotland as a 'nation of drunks'. The old Salmond didn't commit unforced errors.    

6.  He looks in the mirror and sees Nigel Farage over his shoulder. Admitting a 'sneaking regard' for the little Englander exposed Salmond as a little Scotlander.      

7. The Moscow love affair is not one-way. State controlled Russian TV frequently interviews SNP politicians about the break-up of Britain. The story is packaged for Russian viewers as the disintegration of the West.     

8. He is a stone off target – having lost two, he wants to be 14st.    

9. His foreign policy is a quagmire. The GQ interview previewed an 'important' foreign policy speech. But all that emerged was an empty threat to ban EU fishing vessels from Scottish waters as part of negotiations.   

10. Secretly he's 'anyone but England'. He wished them well in the World Cup but couldn't say he wants them to win. Mind you he's a realist – except when it comes to his own chances of winning."
While we sometimes criticise things in the Record, it's by and large a respectable and honourable paper. Shamefully, we doubted people's word because we simply couldn't imagine that it would really run a page of abysmal, barrel-scraping sub-internet-troll drivel like this. We apologise to those people unreservedly.
We can't begin to imagine what was going through the editor's mind. It's playground bleating only (maybe) saved from being defamatory by the fact that it's not so much criticism as infantile name-calling. Point 4 in particular makes us physically wince.
We won't go on. You've read it for yourself. But if this is really the level that Scotland's former best-selling daily newspaper has sunk to, then things are a lot worse than we thought, and that's saying something. God help Scottish journalism.