If you raise the slightest voice of dissent to the increasing fetishisation of the military in the UK these days, you risk drawing down a barrage of foul-mouthed ire on your head from furious British nationalists, inexplicably enraged at the expression of the desire not to send the sons, daughters, friends, fathers and mothers of Scotland off to die pointlessly in foreign countries where we have no legitimate business.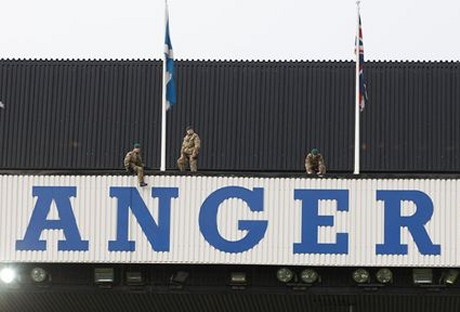 So it was nice to have our comments about the crass, jingoistic "commemoration" of last year's Remembrance Day circus at Ibrox echoed this week by the joint chiefs of Scotland's armed forces, who have ordered that the grotesque, "inappropriate" scenes will not be repeated in future. We hope the club's fans, and others of the same mindset, will pay more attention when rebuked by such impeccable authorities than they ever would to the objections of evil traitorous cybernats like us.
But, y'know, we won't be holding our breath.
(And what better way could there be to mark International Holocaust Remembrance Day – which is today, January 27th – than with a hearty "Fuck Nazi Scotland"?)