The media is aflame today with the claim that Jim Murphy has finally ended weeks of speculation about whether he'll stand again for his current Westminster seat of East Renfrewshire in the general election. Numerous sources including STV, the BBC, the Scotsman and Murphy's local press have all announced unequivocally that the MP has confirmed his candidacy.

The only slight hitch is that he's done absolutely no such thing.
The BBC piece doesn't bother to produce any sort of evidence to back up the claim at all, and there's nothing on either Murphy's Twitter feed or his website, but the other sources carry the same quote from a "Labour spokesman":
"Jim Murphy is currently the MP for East Renfrewshire and the candidate. If that changes his constituents will be the first to be told."
Readers whose native language is English will almost certainly recognise that those words bear no resemblance whatsoever to the statements made in the headlines. Since his election as "leader" Murphy's position has consistently been that he'd tell his constituents first, and what we can glean from that quote is that he quite plainly hasn't done that, or the quote would be in a different tense.
All it does is repeat what we already knew: Murphy is CURRENTLY the candidate, because he was reselected unanimously in November 2013, over a year before he succeeded Johann Lamont as Scottish chief.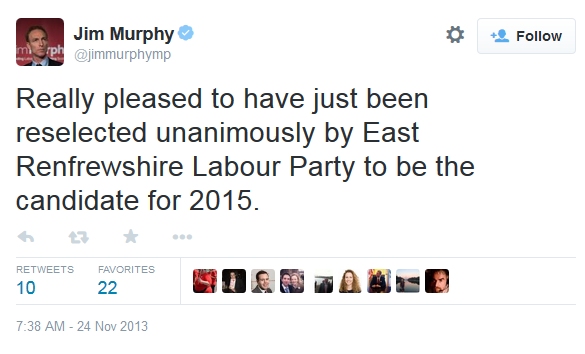 If he decides not to stand, that will indeed change, he'll tell his constituents, and we'd imagine that within minutes either one of them will tell the papers or Murphy's press office will release an official statement to that effect. It did NOT happen today, so instead we'll be headdesking in despair yet again as the Scottish press continues to demonstrate its remarkable inability to understand words or check its facts.
Seriously, folks, if this is what we've got for professional journalism, God help us all.