While we dig deep into the results of our latest Panelbase poll, we thought we should update you on the progress of this story from last month.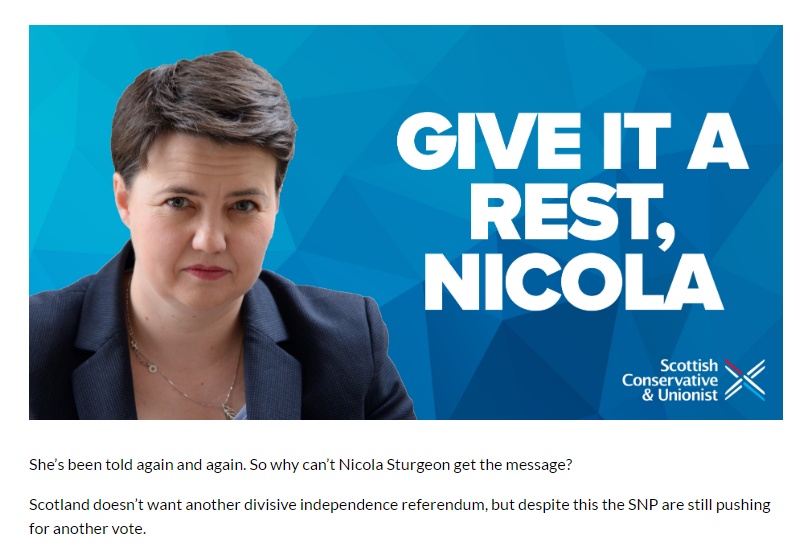 A few days ago we received a reply from the Information Commissioner's Office, and as a result have sent a letter to the Conservative Party's compliance department. You can read it below.
Dear Sir/Madam,

Information rights concern

It is my belief that your organisation is misusing personal data in breach of the General Data Protection Regulations. Having spoken to the Information Commissioner's Office (ICO), they tell me that I should give you the chance to deal with my concern before they take action, and I do so now.

My issue is with regard to a "petition" being conducted by your Scottish branch office here:

http://www.scottishconservatives.com/petition/

Said "petition" has now been live on the website for over three and a quarter years, since at least December 2015, as can be seen by this archived version from that date.

Since no closing date is stipulated, and since opinions gathered such a long time ago cannot possibly constitute valid and reliable current information, it therefore seems an inescapable conclusion that you have no intention – and have never had any intention – of ever actually delivering this "petition" to the notional intended recipient, and are instead using it to unlawfully harvest data under false pretences.

If that is not the case, please confirm for me the date on which the "petition" will be closed and delivered to the Scottish Government, and also whether the dates of all signatures will be included.

It is also unclear whether any data gathered by the "petition" will be appended to any data gleaned from the almost-identical one here:

https://www.conservatives.com/no2indyref

Both "petitions" are at the time of writing running on the Conservative Party website simultaneously. Please clarify which, if either, will eventually be submitted to the notional recipient, and when this will happen, and whether they are entirely separate or are in fact collecting combined data.

You can find guidance on your obligations under information rights legislation on the ICO's website (www.ico.org.uk) as well as information on their regulatory powers and the action they can take.

If I do not receive a satisfactory response from you within one calendar month from today's date, I will raise a formal complaint with the ICO.

Yours faithfully
Stuart Campbell
We'll let you know when we hear back.