Of tonight's debate.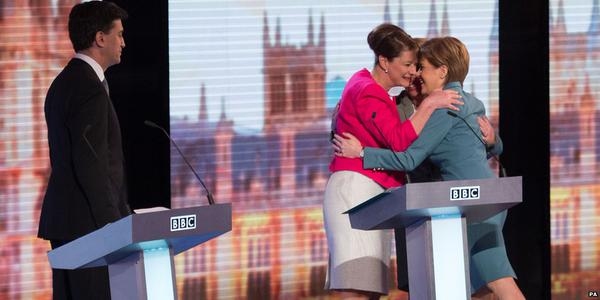 WINNERS
1. Nicola Sturgeon
Ran away with the debate, far more so than any of the previous ones. Polls without exception gave her the victory, mostly by huge margins. Deftly handled a couple of potential banana skins when talking about Trident and immigration in front of a UK audience without compromising any principles, and her attack on Miliband over working to keep the Tories out made lead quote on the news.
Her performance was universally praised across the media, and even managed to turn an English audience member away from voting UKIP. A flawless night.
2. Natalie Bennett and Leanne Wood
Both women were largely side-shows, in truth, but Bennett in particular continued her recovery from a bad start to the election campaign, avoiding any gaffes on any of the Greens' zanier policies and managing to get in a couple of strong hits on Miliband on welfare and immigration.
3. The BBC
Needed a win after the Sunday Politics disaster, and pulled it off. A lean, snappy format was tightly controlled by Dimbleby, who had little barbs and traps waiting for everyone but didn't try to make himself the focus of events. A good referee is invisible, and he came about as close as possible.
4. David Cameron
Was taking a kicking from everyone on the stage and gifting Miliband a chance to look Prime Ministerial by not turning up, making Miliband the most "senior" figure present. Then Miliband made a complete pig's ear of it at the end, enabling Tory pundits to say there'd be "chaos" if he tried to form a government, as he rejected everyone's offers of co-operation if he'd be just a little more left-wing.
Cameron will also have been relieved at Nigel Farage's failure to make any significant impact (see below).
LOSERS
1. Ed Miliband
So close. Needing only to avoid defeat rather than win, the Labour leader swam the Channel then hitched a lift on the Costa Concordia for the last mile.
He was doing well for almost the whole show, looking like a mature, consensual, sensible and even gentlemanly alternative PM. But then right at the death (and possibly under pressure from Scottish Labour) he launched into two suicidal attacks on Nicola Sturgeon and the SNP, appearing to suggest he'd walk away from Downing Street in a huff if he needed SNP support to form a government. It looked small, petty and churlish when he needed to be statesmanlike.
His final address was poorly-judged too, focusing on himself rather than policies and demanding a one-on-one with Cameron that isn't going to happen. Most polls put him second-last and only just ahead of Farage, though a single Survation one did give him a narrow win over Sturgeon.
2. Nigel Farage
Was largely sidelined by the Sturgeon-Miliband battle, marginalised politically by four opponents to his left, and stumbled and stuttered when he did get some airtime, even attacking the audience at one point early on (never really getting them back). By the end, in all honesty, we'd actually forgotten he was there.
3. Jim Murphy, Ruth Davidson and Willie Rennie
The debate was calm, civilised and substantial, with only a couple of very brief moments of people talking over each other. Sturgeon being part of that shifted the blame for three bad-tempered, shouty Scottish debates firmly onto them.
4. Danny Alexander
Had clearly written his script well before the debate, and didn't have the wit to improvise after it didn't turn out to be the "rabble" he claimed. Dug himself deeper into a hole with every second he spoke.
5. Jon Pienaar
The BBC's man in the spin room made a complete boorish oaf of himself, with undisguised partisanship and rudeness. Behaved disgracefully towards Humza Yousaf of the SNP in particular.