It can be hard to keep up with the Scotsman's constant "finessing" of its news stories. For example, last night we followed a link to an interesting-sounding piece with the headline "UK's Scots independence claims 'on very thin ice'".
It led to a David Maddox article on Professor David Scheffer's recent comments suggesting that the UK Government's official position – that an independent Scotland would inherit a worst-of-both-worlds share of the UK's debt obligations, but none of the UK's memberships of international bodies – was somewhat less than robust.
So when we saw the same story prominently featured on the front page of the paper's website this morning, something seemed amiss.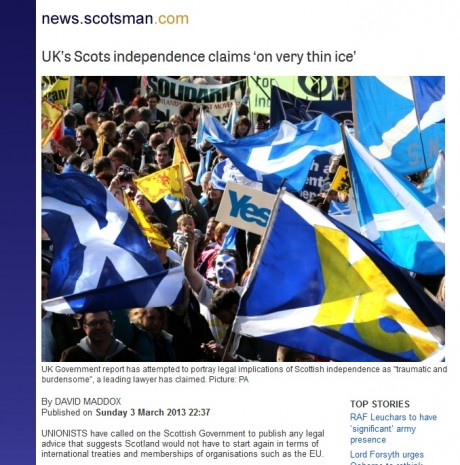 Somewhere along the line, the Scotsman had decided that it couldn't tolerate an opening line so critical of the anti-independence campaign, and inserted a standard "SNP accused"-type paragraph at the beginning, changing the tone of the piece from an attack on the No side to an attack on the Yes one, with the usual implication that the Scottish Government was being shifty and had something to hide.
The only thing that surprised us about the second version was that the original headline had been allowed to remain, perhaps because it's clumsily-worded enough that people might actually overlook the "UK's" part and assume that it was claims in favour of independence that were on shaky ground. So we cast a suspicious eye over the print edition for a third opinion: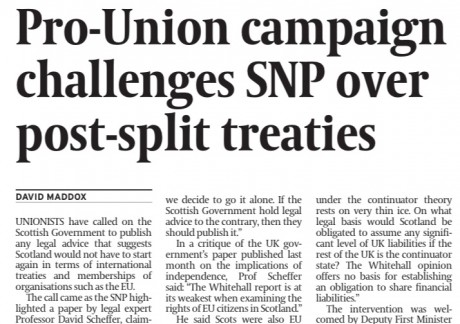 Ah, that's more like it.