Last month there was a mild flurry of activity in the press about the so-called "missing million" – Scots entitled to vote, but who choose for one reason or another not to. Catchy as it is, the phrase seems a significant understatement. Around four million people in Scotland meet voting criteria, but fewer than half of those turned out for the 2011 Holyrood election, and under 2.5m at the 2010 Westminster one.
Obviously that's a bad thing in principle in its own right. But it could also be seriously distorting polling for the independence referendum, because – perhaps for the only time in their lives – an awful lot of those missing millions ARE going to go out this September and put a cross in a box. And nobody knows which one.
The Survation poll we looked at earlier today illustrates the issue neatly. It asked a question which explicitly noted that only 50% of those eligible to vote had done so in 2011, and asked its respondents whether they had or not. 74% of the sample said yes.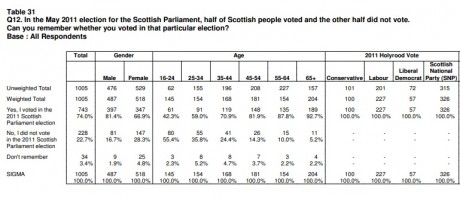 Alert readers will deduce that – not unreasonably – polling companies produce results tilted heavily towards people who are more engaged with politics. And that's all well and good, except when you get to a one-off event like the referendum.
The lowest estimates for turnout in September are 75%, and many are closer to 85% or even more. That's hundreds of thousands of people who, like folk who only gamble once a year when they bet on the Grand National, we know almost nothing about.
(Of course, there's a flaw in those figures, because they too come chiefly from opinion polling. Nevertheless, few pundits are prepared to predict a turnout lower than 75%. The Survation poll we're discussing records 86% of respondents saying they're at least 8/10 likely to vote, and 90% if you widen it to 7/10.)
Except we know some things about them. Non-voters tend to be those from the lowest income groups, the "C2DE" demographic. Which is coincidentally the same band that tends to be most in favour of independence. And even the simplest analysis of any poll reveals that these people are dramatically under-represented in samples.
Indeed, they're often not even tabulated. Look at the graphic above – the Yes and No votes are broken down according to whether people voted SNP, Labour, Lib Dem, Tory or other in 2011, but there's no column for non-voters. We made some enquiries recently about doing a poll solely of such abstainers, but polling companies just don't have enough of them on their books.
If there's an 80% turnout in September, that'll be 3.2 million people – 1.2m more than voted at Holyrood, and 700,000 more than in 2010. Even if they only divide slightly more favourably to independence than those who turned out in 2011, their sheer numbers will make a significant difference to the balance.
It's just one of many reasons we always advise caution about polls. The referendum isn't an election, and anybody treating it as one might be in for a rude awakening.