Alert readers will be familiar with a phenomenon we often like to highlight in these pages – that of the dramatic newspaper headline which rapidly turns into something completely different by the time you read the text of the story.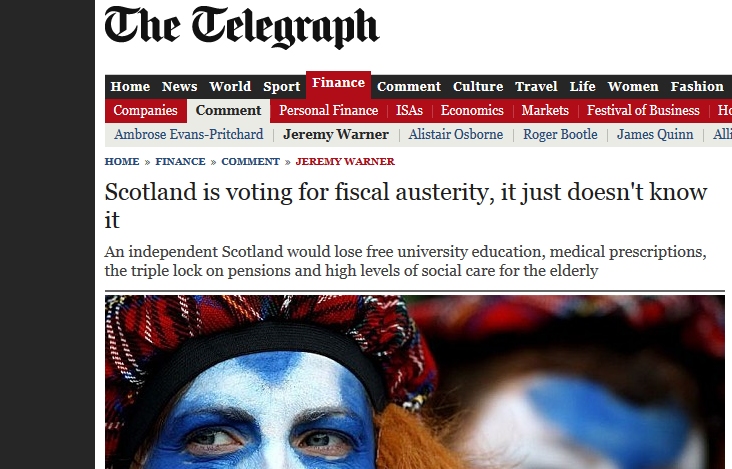 There's an especially fine example in today's Telegraph.
The article is a superb piece of hyperbolic fearmongery, depicting a Scotland where:
"Gone will be free university education and medical prescriptions. Gone too will be the triple lock on pensions and high levels of social care for the elderly. The First Minister's promise of both lower taxes and higher spending will have been exposed as a cynical deception.
"I raise this spectre not to alarm."
But in this particular instance that's not even the good bit. Because the paragraphs preceding the above doom-laden warnings (and all the further doom-laden warnings that follow them) run like this:
"What will Scotland look like after 10 years of independence? If Alex Salmond's vision is fulfilled, Scotland will have become a prosperous, high-income, high public expenditure, social democracy on the Nordic model, fully at ease with its position in the European Union, and possibly even a signed up member of the euro.
An equally plausible scenario, however, is that it will by then have been forced into a vicious fiscal consolidation that will have cut many public services and entitlements to the bone."
Our emphasis, there. Because while the column devotes 1,204 words to the "disaster" scenario and just 52 to the positive one it deems "equally plausible", it does nevertheless concede that either could happen.
So the headline and sub-head thundering that "An independent Scotland WOULD lose free university education, medical prescriptions, the triple lock on pensions and high levels of social care for the elderly" isn't only deeply contentious as a statement of fact, it's also a flat-out lie even when taken only on its own terms as a description of the article below.
Mind you, we also couldn't help raising an eyebrow at the use of present tense in "Scotland is voting for fiscal austerity, it just doesn't know it". It does rather sound as though the Telegraph, with its rheumy eyes on the polling trends, is preparing to sorrowfully wash its hands of Scotland and get ready for life as a diminished rUK.