Last year's argument over the referendum franchise saw the Scottish Government's view win the day – that the matter should be decided according to a civic definition of nationality, rather than along the ethnic lines proposed by some in the No camp.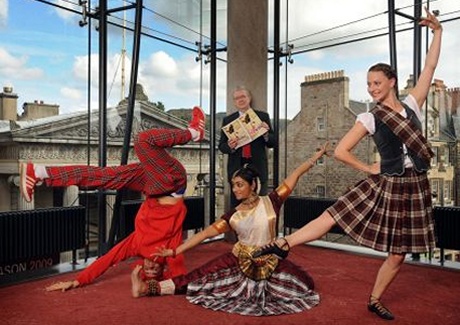 But what of the people of non-Scottish ethnic origin who've been thus enfranchised and entrusted with the future of the nation they've chosen to make their home?
"New Scots" contribute to our taxes, our culture and our shared history, often living in Scotland for many years, marrying and having Scots children. They are members of their local communities, without whom businesses and public services would struggle to meet skills shortages which damage the economy.
Yet some of these immigrants may still feel, amid a barrage of ugly talk from the "Better Together" campaign about "foreigners" and so-called "Real Scots", that this is not their fight, that to vote either way in next year's referendum would be to interfere in the governance of Scotland in a way that would not be appropriate.
But the decisions made in the independence referendum could have far-reaching consequences, especially for European citizens living and working in Scotland.
Hundreds of thousands of people from across Europe have made their homes here in Scotland. 7.6% of the total UK population is made up of EU nationals, which is 4.8 million people. With Scotland's 8.4% population share we could reasonably extrapolate that something like 400,000 EU nationals are living in Scotland (not including the 413,924 from other UK nations living here), although the actual number will likely be a bit lower because immigration isn't equally spread across the country.
Many thousands are able to take this opportunity mainly due to the freedoms provided by membership of the European Economic Area (which includes all EU member nations and three of the EFTA states – Norway, Iceland, and Lichtenstein). Within the EEA, freedom of movement is promoted.
It's this policy that allows a citizen of one European country to freely move to another without the need for a visa. And while it may be an increasingly unwelcome one in many areas of England, the situation in Scotland is quite different.
Without this ability there would be fewer people coming to Scotland and playing a productive role in both culture and the economy. This influx of the young and talented is something that benefits the slowly aging population of Scotland by supporting the economic activity that the country needs to prosper. Without EU membership we wouldn't be part of the EEA and therefore not privy to this benefit.
The upcoming independence referendum is an opportunity for the people who have come to Scotland to settle, to have their voices heard in what is now their home. Threats from the No camp that an independent Scotland would not be a member of the EU are implied as a very bad thing for our new Scots, as the rights that allow them to move, live and work here without visas would be lost.
But even in the unthinkably absurd scenario of Scotland being ejected from the EU, EFTA has made it clear that Scotland is welcome to apply. So either way it seems clear that an independent Scotland would remain within the EEA, ensuring that EEA nationals resident within Scotland could continue building their lives unmolested.
The danger to non-ethnic Scots, of course, doesn't lie in the referendum of 2014, but in another referendum, currently slated to be held in 2017.
As we know, it's the voters of England who elect the UK government, with Scotland only getting the government it votes for if the people of England also choose it. And the voters of England are increasingly hostile to both immigrants as a group and to the EU. Polls currently show that should there be a UK referendum on EU membership in 2017, the UK will be on its way out of Europe.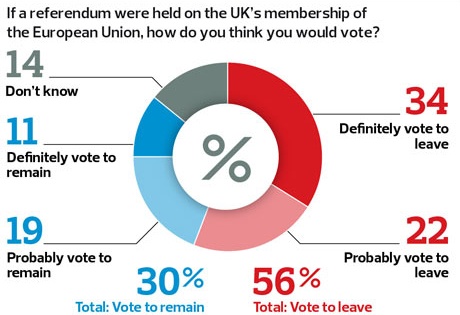 (Despite Scots being likely to vote overwhelmingly in favour of staying in.)
This is not, as commonly believed, only a possibility in the event of a Conservative-led government after 2015. There is considerable pressure within the Labour Party to respond to public opinion by also committing the party to an in-out referendum. A bill last month to bring forward such a referendum by 2017 was voted through to a second reading in the House of Commons unanimously, by 304 votes to zero.
In that event, it's unlikely that the EFTA escape route available to Scotland would be viable for the UK, even if there was a public appetite for it. The largest country in EFTA is Switzerland, with a population of 7.9 million. For EFTA it would be like sharing a bed with an elephant and something they've already subtly rejected, when second-largest member Norway suggested the UK should remain in the EU.
Clearly, then – despite some quite outrageous allegations from No campaigners that independence would lead to a growth in racist attacks – the main risk to the happiness of non-ethnic Scots comes not from a Yes vote but from a No one.
Voting for the Union means voting to stay in a country which currently seems set to deprive them of the right to residence, and which has a growing dislike for immigrants bordering on hatred. It doesn't seem like a tough choice.