We've already run a small collection of our own ham-fisted snapshots, but here are just a few of our favourite pics of yesterday's rally in Edinburgh that were taken and sent to us by Wings Over Scotland readers.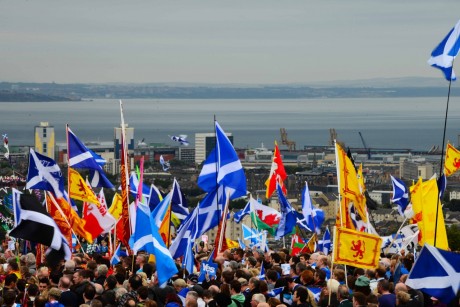 Click all the pics for larger versions.
A shot from the main body of the crowd.
And a nice panorama from way back at the fringes.
This, we think, is the furthest-away corner, on the south-eastern edge behind the National Monument, where another video screen was set up.
This one is from near the opposite corner. You can just see the Wings flag dead centre, but the impressive thing is being able to see at the left-hand side how far the crowd stretches back.
And here's a side view.
Thanks to the many fine men and women who took turns carrying the Wings flag.
We must confess, we're not entirely sure why there was a sizeable group of people on Arthur's Seat as well. But we salute their fitness.
Not much longer to wait now.
Though again, one of the most striking things about the event was how many other nations (and past and future nations) were represented.
Looking north from somewhere near the back.
And slightly further along.
"We're going to win, aren't we, Dad?"