I've been a nationalist pretty much all my life, or at least since I was old enough to grasp the basic concept of politics (probably from about the age of 10 or so). Leaving aside any precocious notions of specific policies, I've never been able to grasp the basic concept of a people who consider themselves to be a nation being afraid to actually stand up and take responsibility for running that nation themselves.
If you think you're a country, you shouldn't be having foreigners pick your government for you. And if you don't, you need to accept that you're just a region with ideas above its station, and act accordingly – no more "national" football teams, no rugby teams, no flags, no anthems, no different laws or any of the rest of it.
To me, the idea goes far beyond anything so base as cowardice, and belongs instead in the realm of "simply too mad to understand". It's like not believing in gravity or evolution or the Earth being round and orbiting the Sun – that is, once someone's pointed it out to you, it's just a bit mental to keep disputing it.
Nobody can have two countries, or at least not simultaneously. You can be a citizen of somewhere, carry a passport for it, live there for as long as you like, or whatever else, but countries are like wives and livers – you can only have one at a time. You can change your nationality, if that's what's in your heart, but not have two at once. I've only agreed with Norman Tebbit about one thing in my entire life, and it's that.
I'm Scottish. I'm British too, just like I'm from West Lothian and from Europe and from the Northern Hemisphere and plenty more things, but only one of them is my country. As such, I believe that it's a self-evident truth that the government of Scotland should be chosen by the people of Scotland, and the people of Scotland alone.
But occasionally, just very occasionally, I have the misfortune to witness something like BBC Scotland's "Big Debate" last night, and I'm not so sure we can be trusted.
Because if last night's special programme on independence is a representation of who and what we are as a nation, then maybe we ARE too pathetic and feeble to go it alone. The entire hour was a cringing national embarrassment from start to finish, from which almost nobody emerged with the tiniest scrap of credit.
Heck, maybe that was the plan all along. Maybe the BBC, the "impartial" broadcaster that actually has a massive vested interest in keeping the UK intact, cooked up a grand Unionist conspiracy with Labour and the Tories to make the entire population feel so bad about itself that we'd obediently bow down, doff our cap, tug our forelock and apologise for even momentarily suggesting we might be fit to join the community of nations in our own right.
I don't imagine that's true, of course. But it would actually be a much more palatable explanation than that we're just so useless we can't even conduct an argument.
"Let's try to get some answers", proclaimed the show's host Isobel Fraser by way of introduction, then proceeded to preside ineffectually over a pitifully childish 60-minute playground squabble like a timorous supply teacher. Fraser is an excellent one-on-one interviewer, but even the insipid Glenn Campbell handles a crowd better. She has previous form for failure in the field, as anyone who saw the Sunday Politics (as it was then) debate before the 2011 Holyrood election degenerate into a horrific and toe-curling four-way shouting match will recall.
We have no idea (save for the grand-conspiracy theory, of course) why the BBC doesn't employ Newsnight Scotland's fearsome inquisitor Gordon Brewer to referee such potentially inflammable occasions, because his iron-fist Paxmanesque style is far better suited to making participants shut up and behave like civilised human beings when it's not their turn to speak.
If the host was feeble, the audience was a million times worse. The BBC, it appears, had taken out adverts in the Cretin's Gazette for people who'd been living under a rock for the past 13 years and couldn't even construct a basic question. "I'd like to ask the panel what living in an independent Scotland could do for me" was the pre-vetted opener, neatly setting the idiotic tone for what was to follow.
The questioner, one Karen Tait, wasn't for giving the panels any clues as to what she was looking for by way of answer. Was she an entrepreneur, a stay-at-home mother of three, a carer for an elderly relative, a bus driver, an anti-nuclear protester, an unemployed divorcee in negative equity? We hadn't a clue, and neither did the four politicians on the stage, so she may as well have said "Could the panel give us a vacuous, meaningless soundbite, please?", and they duly obliged.
Nicola Sturgeon got the poisoned chalice first, and made a brief attempt to point out that the referendum was about making choices for ourselves, before wandering off into some necessarily (given the question) vague "things will be better" boilerplate, of which the only solid policy was "We'll get rid of Trident and spend the money on something more useful". It was practically the only contribution the Deputy FM was allowed to make all night without interruption.
Labour's "deputy" Scottish leader Anas Sarwar was next up – Johann Lamont having once again not been let out in front of the cameras – and true to character he started off with a big fat lie. His opening sentence that "The power already lies with the people of Scotland" will be surprising news to anyone wondering why we can't set our own VAT rates or kick Trident out, and why we're currently toiling under the lash of a Tory government that only has one MP out of 59 from Scotland.
Sarwar was ready for that, though. After bizarrely asserting how much he loved Scotland (something only Unionists ever seem to feel the need to do in such debates, and which you might imagine wouldn't be necessary for a Scottish politician sitting on a stage with other politicians in front of a Scottish audience in Scotland), the real leader of Scottish Labour claimed that "most of us hate the Tories", seemingly oblivious to the fact that he's about to spend the next two years allied to them.
It was the first point in the evening where Sarwar departed strikingly from Labour's official party line, but it would be very far from the last, as we'll hear later. (We don't, however – you'll be relieved to hear – plan to analyse the debate line by line. We're just setting the scene here, okay?)
Perhaps the only commendable thing about the entire event was that it featured a balanced panel: two pro-independence and two anti-independence, compared to the usual three-Unionists-ganging-up-on-the-SNP approach, which meant that Green (co-)leader Patrick Harvie spoke next. While the debate happened too late at night for today's newspapers, we suspect the widespread view of commentators will (rightly) be that Harvie was the "winner", and he got off to a good start by answering the question honestly: he said he didn't know.
As well as mostly staying out of the cacophonous slanging matches which would erupt later, Harvie spoke a lot of common sense (inevitably mixed in with a little bit of Green fantasy-land nonsense), and his opening comments pointed out that not only could we not predict the makeup of a post-independence Scottish government (meaning that linking the referendum result to its policies was a futile pursuit), but that we didn't know what we'd get if we stayed in the UK either – except that it would assuredly be more of the same neoliberal consensus that has landed the country in the appalling state it's in now, and which Scotland consistently rejects.
Oddly, the Scottish Conservative leader Ruth Davidson didn't get a turn at this point, with Fraser turning instead to a complete idiot in the audience who was allowed to ramble on for a staggering one minute and 20 seconds with an endless, incoherent, and unbelievably stupid monologue about the collapse of RBS and HBOS, (which he apparently blamed for the entire world economic crisis), and taking in the "arc of prosperity", Scottish membership of the Euro and Rupert Murdoch along the way, before conspicuously failing to end in any sort of question.
Sturgeon, sitting helplessly on stage, looked bewildered as the "question" droned on into the night with no point looming anywhere on the horizon, and the unfortunate adolescent sitting next to the buffoon blinked furiously in an attempt to stay awake. It was like a Tom Harris' Greatest Hits performance, every word packed with studied, deliberate and sustained ignorance and misrepresentation – less a question than a party election broadcast on behalf of the Havering Numpty Tendency – and by the time Fraser finally got a grip and got round to telling him to put a sock in it, the audience was already audibly sniggering at the directionless farce unfolding in front of them.
That didn't, however, stop them from applauding it. The selected audience applauded pretty much every sentence said by everyone on or off the stage for the entire duration of the proceedings, sometimes even interrupting them to applaud in the middle of a sentence before applauding again at the end. Since it was uniform, directed more or less equally at every participant, and we'd already been told that the audience had been chosen to represent a range of views, it was completely meaningless and simply served to reduce the effective length of the programme by about a quarter.
(I have no idea why TV producers haven't continued the excellent practice begun in the 2010 Westminster general election debates, where the audience were forbidden from applauding except at the beginning and end of the show, and which vastly improved the quality of discourse. TV is expensive to produce. If I wanted to hear from a load of clueless boneheads from the general public, I could read the Daily Record letters pages. If you're going to drag politicians up onto a stage, at least let's hear them speak without a bunch of clapping seals butting in every 15 seconds.)
Astonishingly, Fraser then demanded that Sturgeon respond to this scattershot mindspew, which she made a very creditable stab at before Ruth Davidson finally got a chance to answer the audience, and then the show really began its descent into national humiliation. Patrick Harvie interjected over the end of her reply, and provoked a testy reply from Davidson, who would get steadily more and more ill-tempered and rude as the evening went on.
Another microwit in the crowd (accompanied by what appeared to be a cross between Churchill the insurance dog and a dribbling mental patient on his right) was then allowed to read out a Labour Party press soundbite completely ignoring pretty much everything that had been said on stage and directed specifically at Sturgeon, but which she wasn't allowed to respond to. Another couple of chumps got to say nothing of any merit, and then we got to the next "proper" question, which was the point at which switching the show off and doing something more worthwhile instead (like shaving your face with a cheesegrater) started to look an attractive prospect.
A paralysingly pompous and vacant young woman demanded "some straight answers" to what Scotland's economic situation would be in 10 years, as if everyone on stage knew but was keeping it a secret. The world's economists currently barely know where we're going to be in 10 hours, but this glaikit-faced eejit wanted cast-iron guarantees a decade in advance, presumably accompanied by next week's lottery numbers and the weather for her summer holidays in August 2026.
(And remember, these were the pre-vetted questions that were specifically selected for broadcast by the BBC – imagine, if you dare, how awful the rejected ones must have been. Presumably just people grunting and screaming and throwing faeces.)
Harvie again made a commendable attempt at a meaningful answer, but it was practically the last time anyone was allowed to get to the end of a response without the others talking over the top of them. The next question, about membership of the Euro, would really set the fur flying, but it was preceded by one of the few interesting moments of the whole event.
Apropos seemingly of nothing, Fraser decided to conduct a quick straw poll of the audience to determine how many of them wanted a devo-max option on the ballot paper. The cameras showed the response: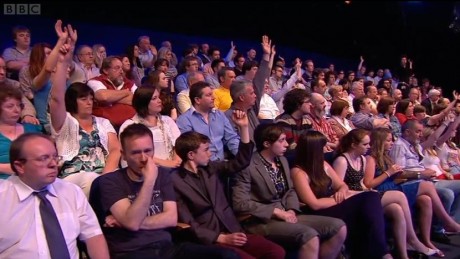 To viewers helpfully possessed of the power of sight, the result was a pretty conclusive rejection. At best, maybe 15% raised their hands, but Fraser could only manage to describe the audience position (basically a quite surprising landslide No to the idea of a second question) as "divided". Rather than attempt to analyse it, or invite the panel to reply, she moved straight onto the Euro question, and from there on the participants just talked all over each other, two or three or sometimes even all four at a time, telling the viewer nothing.
Now, this feature is already a lot longer than it was supposed to be, and we're getting angry and depressed all over again. We're only at the halfway point (29m) in the broadcast as we write this, so we're going to abandon our plans to highlight the few remarkable things that were said in the debate and put them in a separate piece when we've calmed down a bit. The point is,the entire event was a waste of time.
If the BBC or anyone else is going to make any sort of programme like this again, it needs to follow a few simple rules:
1. Find, from somewhere, an audience of which at least 60% could be reliably counted on to be able to tie their own shoelaces.
2. When vetting questions, maybe pick out at least some that aren't completely brainless, vague, unfocused and puerile. (Having some of them actually be questions at all, rather than empty rhetoric impossible for anyone to answer sensibly, would be a bonus.) If you've failed at Point 1 and the entire audience is comprised of semi-evolved retards, at least plant a few researchers in there with something halfway-intelligent to ask.
3. Tell the audience that if they clap at any point during the proceedings other than the beginning and end they'll be taken out and brutally violated with electric cattle prods. Labour supporters clapping Labour panellists, SNP supporters clapping SNP panellists and Tory supporters clapping Tory panellists tells nobody anything and just fills up a big chunk of the broadcast with useless white noise.
4. Get a host (Brewer, or STV's Bernard Ponsonby) who can actually control the participants and tell them to shut the hell up when it's not their turn. If our elected representatives still won't stop behaving like ill-raised children, then switch their microphones off when someone else is speaking until they learn.
Either that, or just come out and say that we're a nation that couldn't organise a convivial social evening in an alcohol-manufacturing plant, and that not only should we not be independent, we should burn all our flags, withdraw all our national sports teams from competition, scrap our legal systems and NHS, charge crippling tuition fees for education, and make Kelvin MacKenzie the Regional Gauleiter For North Britain. It'd still be better than having to endure another night like last night.