While normally the Unionist media deploys the ever-reliable blunt sledgehammer in its tireless war against Scotland controlling its own affairs, it's also occasionally capable of more subtlety, slipping in a sneaky stiletto of a lie in passing. Take this piece from today's Mail On Sunday: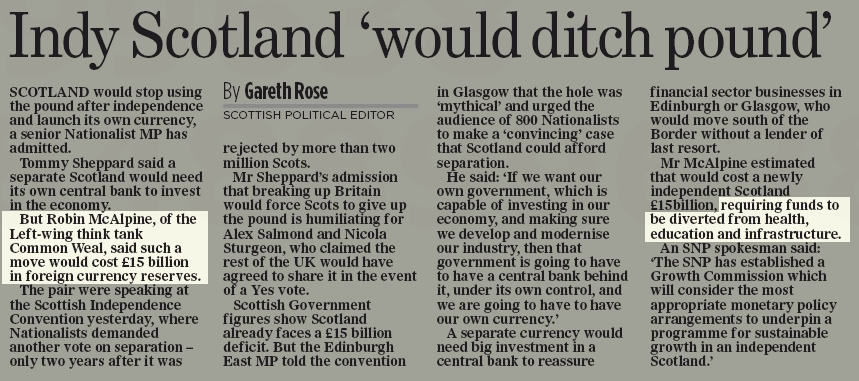 The thing is, that's not how currency reserves work.
There isn't a single paragraph of the story, in fact, that doesn't have some sort of a falsehood in it. (Well, okay, except the last one.) But a currency reserve wouldn't be taken out of everyday spending – the UK's foreign currency reserves are at present somewhere in the vicinity of £112bn and nobody thinks those were obtained by cutting them from schools spending.
(That UK figure, incidentally, suggests that pro-rata Scotland would require more like £9bn for its own reserves, not £15bn.)
The Mail knows perfectly well that this is complete drivel, but it slides it casually into the article right at the end as a little booby-trap for those more experienced newspaper readers who expect all the lying to be in the headline and the opening paragraphs, with the truth grudgingly revealed at the end when most people have already lost interest and wandered off.
At this point we'd normally go into more detail, perhaps commissioning an article expanding on all the ways in which Scotland could acquire a foreign currency reserve without having to completely abolish education and the NHS, but since we already ran one of those six months ago we'll just link you to that and take the morning off.